News
February 17, 2016
NWS Plays Film Festival in Berlin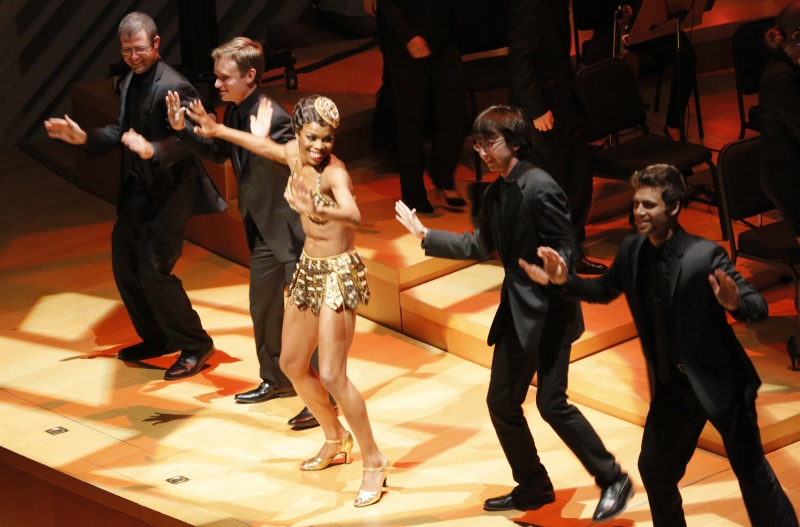 New World Symphony will be screening two video projects at the Avant Première Performing Arts Film Festival in Berlin, Germany on February 17th. The two works that are being featured are Antheil's A Jazz Symphony and Making the Right Choices - A John Cage Celebration. American composer George Antheil's work was performed and filmed by NWS in October 2014, complete with jazz dancers, (and also repeated at the 2015 Gala in February 2015). The Cage videos are taken from New World's John Cage Festival from February 2013.

The works being shown are segments of videos of five selected works performed at the Cage Festival. Those and much more can be watched on New World's John Cage website. Similarly, clips are being shown from the in-house video recordings of A Jazz Symphony. Video recordings of concerts made at New World Center have the benefit of using the latest technology and highest quality equipment.

Executive Vice-President and Provost John Kieser represented NWS at the festival and screening. "New World seeks to push the boundaries of artistic expression in the concert hall and in the digital world. This showreel is emblematic of this mission. Some background - in celebration of John Cage's 100th birthday, we presented a week-long festival of Cage's music in February 2013. That festival was the starting point for our project. Some of the videos primarily capture the live event. Others take the performances much further, adding layers of visual interpretation that provide deeper insight into the spirit of his works. The final product is a modular one - using videos of the works and interstitial material we can make a program of any length. Supporting the program is a robust website with all the material. 

"The last clip on the showreel is from our performance of George Anthiel's Jazz Symphony - another maverick composer. We have included video, theatrical lighting and stage action to bring an entertaining context to this work."
---
Avant Première is the international trade fair for performing arts films. Presented by IMZ (International Music Zentrum), it is an annual screening of new films for outlets across the world - buyers, producers, record companies, distributors, publishers. Anybody involved with classical music, dance, and jazz comes to talk about projects and potential co-productions and acquisitions.

"While premières are shown on film festivals, Avant Première presents performing arts films even before: music and dance films, documentaries, portraits, concerts, live recordings - with a majority of classical music, complemented by contemporary or pop. Over 500 film productions are featured in the Avant Première Screenings as an exclusive preview to major international public and private broadcasting stations, distribution and production companies, to go on air on TV. Providing a comprehensive synopsis on the latest state-of-the-art productions from all around the world, the Avant Première Screenings offer a great information advantage to all participants."

The Avant Première audience is complemented by funding institutions, opera houses, orchestras, music labels, dance companies, festivals, and entrepreneurs like directors, script writers and artists, valuing the event as a framework to advance the international art film business. A comprehensive program around the film screenings includes panels, special presentations on industry innovations, and much more. Over 70 international companies are presenting works at the festival.

Click here for more information on Avant Première
---
Also in attendance at the festival was NWS videographer Jonathan David Kane as one of the creative talent behind the videos. Kane was in Berlin as a participant in the 2016 Berlinale Talents program at the 66th Berlin International Film Festival. He was one of only twenty Americans selected among the 300 invited to the event.
---