News
July 23, 2021
NWS represents at Alaska's Sitka Music Festival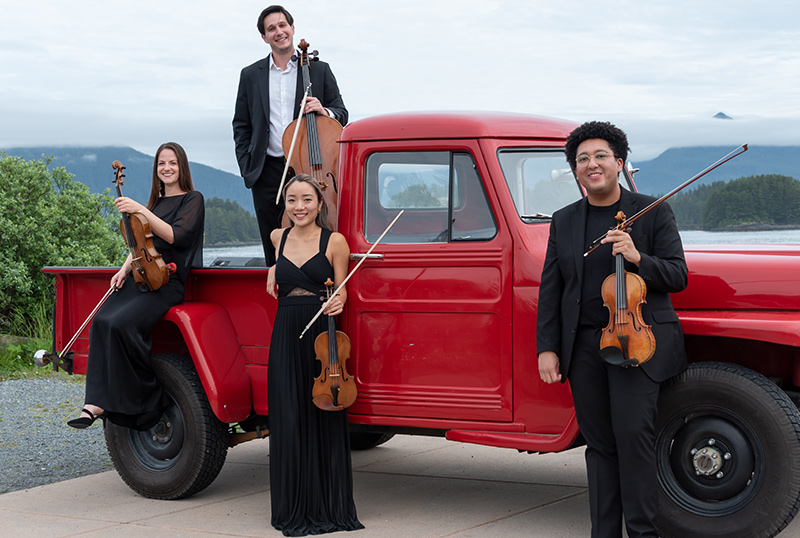 Quartet of NWS Fellows and Alumni: Natsuko Takashima, Alex Gonzalez, Stephanie Block and Ian Greenberg

During summer months, NWS Fellows and alumni participate in music festivals around the globe, often in unique settings far from Miami Beach. A string quartet comprised of NWS Fellows and alumni recently traveled to Sitka, Alaska—a quiet community nestled on an island over 3,400 miles from the New World Center that is only accessible by air or sea—to perform as artists-in-residence at the Sitka Music Festival (SMF).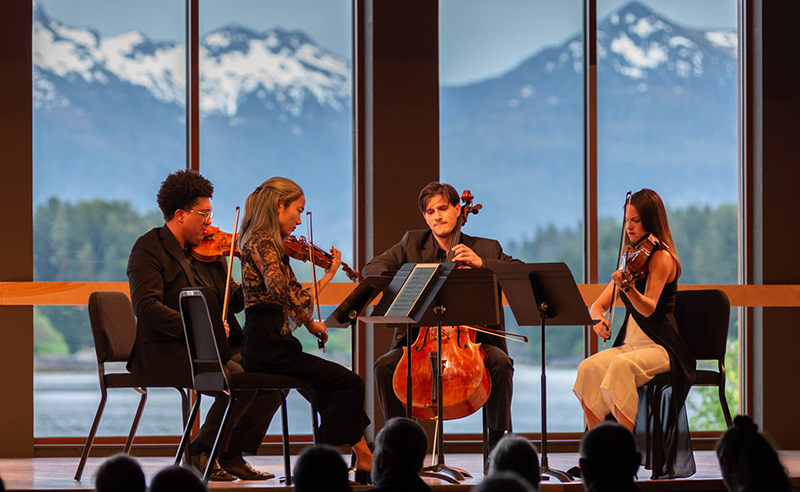 Founded in 1972 by violinist Paul Rosenthal, the Sitka Music Festival brings over 20 concerts to Alaskan residents and tourists every June. Renowned cellist Zuill Bailey—who makes his NWS debut in March 2022—serves as Artistic Director and welcomed the quartet, comprised of current NWS Fellows Natsuko Takashima (violin) and Stephanie Block (viola), and alumni Alex Gonzalez (violin) and Ian Greenberg (cello), to celebrate SMF's 50th Anniversary season. Martin Sher—NWS's Senior Vice President for Artistic Planning and Programs, and longtime SMF guest artist—facilitated the quartet's residency and performed alongside them throughout the festival.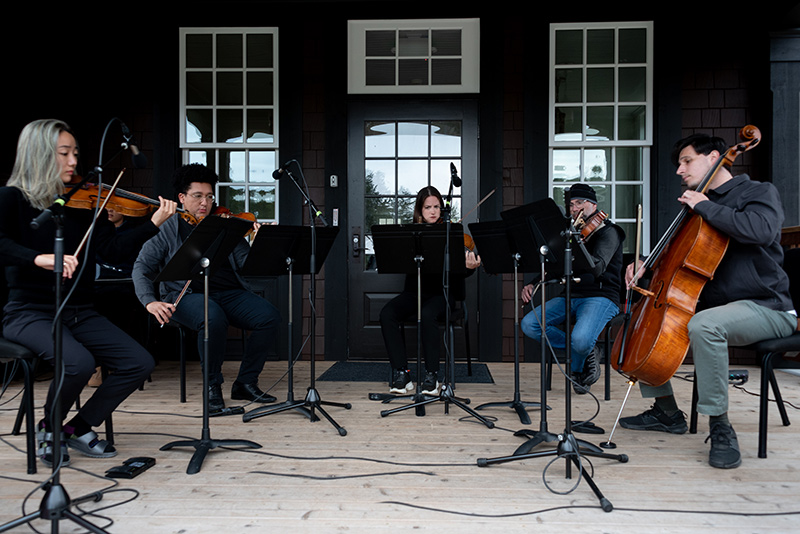 Martin Sher performing with NWS string quartet

"I have been fortunate to attend the Sitka Music Festival for several years," said Martin. "My friendship with Artistic Director Zuill Bailey goes back decades, when we were students together and met at a summer music camp in the late 80s. The SMF is difficult to sound bite—it is almost more family than festival. Musicians live in a communal environment—living, eating and making music together in a highly intimate setting. The supporters of the SMF are incredibly loyal and in addition to attending concerts, embrace the musicians as friends, host them in their homes, and take them fishing and hiking. What happens in Sitka is truly the epitome of what a summer festival should be.
It was wonderful for our quartet of NWS Fellows and alumni to experience the festival in the way they did—a full month of intense chamber music making, while also becoming a part of the community and representing themselves and NWS as the face and talent of the next generation. The quartet were excellent ambassadors for the New World Symphony—onstage and off—and I know that Zuill and the SMF family join us in hoping that we can continue to find ways to collaborate in the future."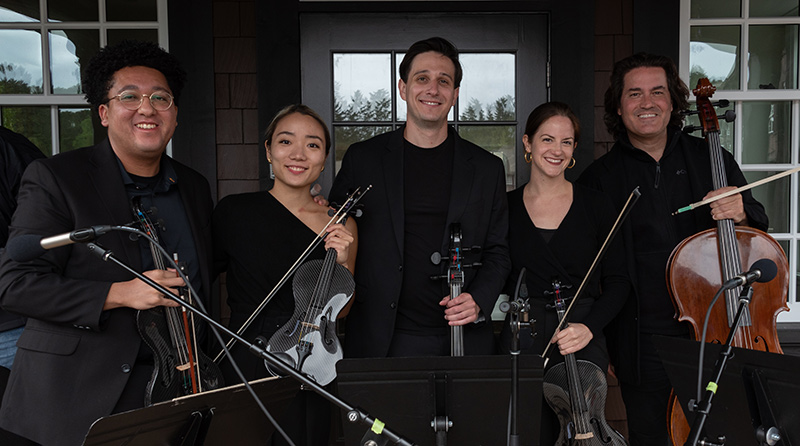 NWS string quartet with Zuill Bailey
Reflections from Fellows and Alumni
"Our residency in Sitka was really special. After more than a year of playing in isolation, it was a healing experience to rediscover the things that are essential to our artform. Connecting with friends old and new, getting to know the community, and taking in the nature that enveloped us made for an experience I won't soon forget." – Alex Gonzalez
"It was such an honor to be a part of the Sitka Music Festival for their 50th Anniversary season. Upon arriving in Sitka, I immediately felt the special environment of SMF that is made up of the beautiful nature surrounding the town, the extraordinary group of performing artists, and the local community that has passionately supported and loved the festival for so many years. After a long year of tight covid-19 restrictions and online livestream performances, it felt surreal to be performing music for a live audience again. I still remember the rush of warmth and excitement that filled me every time my fellow quartet members and I went up on stage and saw the smiles of the audience." – Natsuko Takashima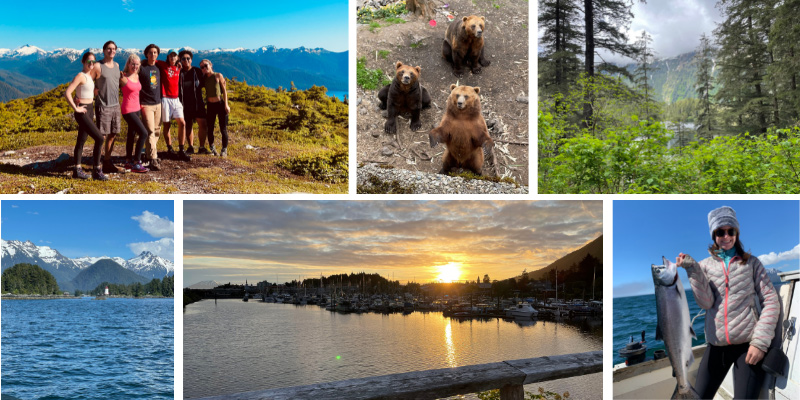 Photos by Stephanie Block and Ian Greenberg
"I felt so lucky to perform so many times and be in Alaska for an entire month! It gave me a chance to find the stillness I needed, as well as the excitement that I had missed performing for live audiences. One of my favorite things about being there was the community of Sitka, which is just as beautiful as the town itself. We would see the same people at nearly every program and I felt like I had new friends in the audience. It was amazing to be feel totally immersed in nature and in the music we were playing. I even caught my first fish – a 15-lb salmon! I will never forget this experience. I've definitely fallen in love with Alaska and its beautiful simplicity." – Stephanie Block
"The Sitka Music Festival was an incredible experience. After a difficult year, it was all the more special to be surrounded by wonderful friends playing music together for live audiences. I was continuously inspired by the natural beauty of Sitka—the views, wildlife and late-night sunsets never ceased to amaze! It was a joy performing and rehearsing with my friends from NWS and collaborating with other artists in a very intimate setting. It was the perfect reminder of how music is community and how much better our lives can be with music in it." – Ian Greenberg
Connect with Sitka Music Festival
Website: www.sitkamusicfestival.org
Facebook: www.facebook.com/SitkaMusicFestival
Twitter: @sitkafestival
Instagram: @sitkamusicfestival
Festival photos by Christine Davenport, courtesy of Sitka Music Festival
Posted in: Alumni, Fellows, Staff
---