News
June 3, 2019
NWS's 2019 Carnegie Hall Tour: A Recap

The New World Symphony gave two triumphant performances at Carnegie Hall last month, which concluded Michael Tilson Thomas' season-long Perspectives Series at the legendary venue. Both performances—the first in the grand Stern Auditorium and the second in the more intimate Zankel Hall—were sold out and marked marked NWS's fifth appearance at Carnegie Hall. Click here for a look back at its previous tours.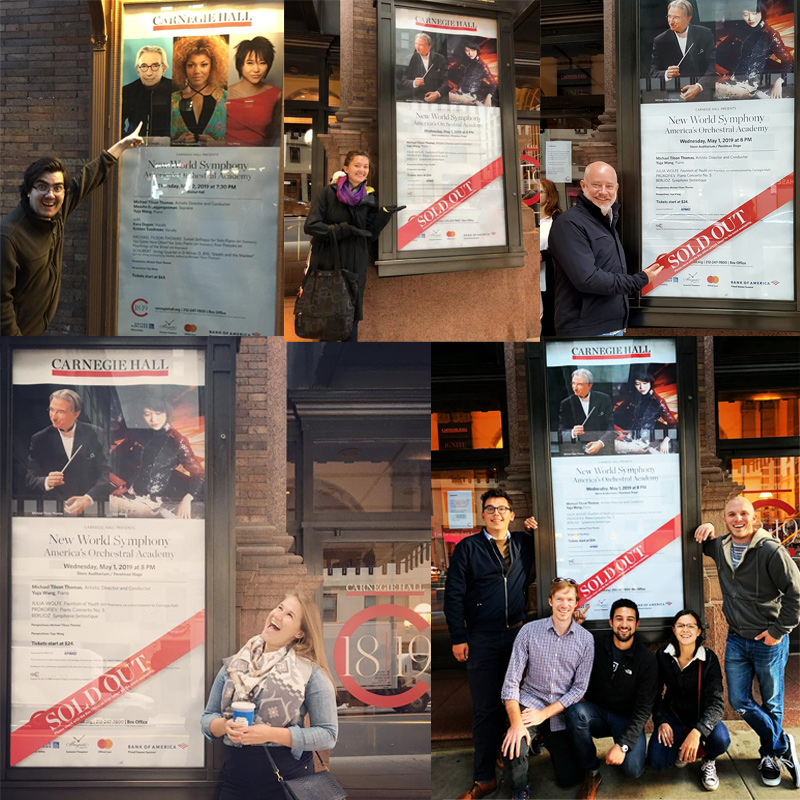 For many Fellows, the tour marked their first time to take the stage at classical music's hallowed performance hall. Cello Fellows James Churchill and Alexa Ciciretti documented their tour experiences with Travel Journals.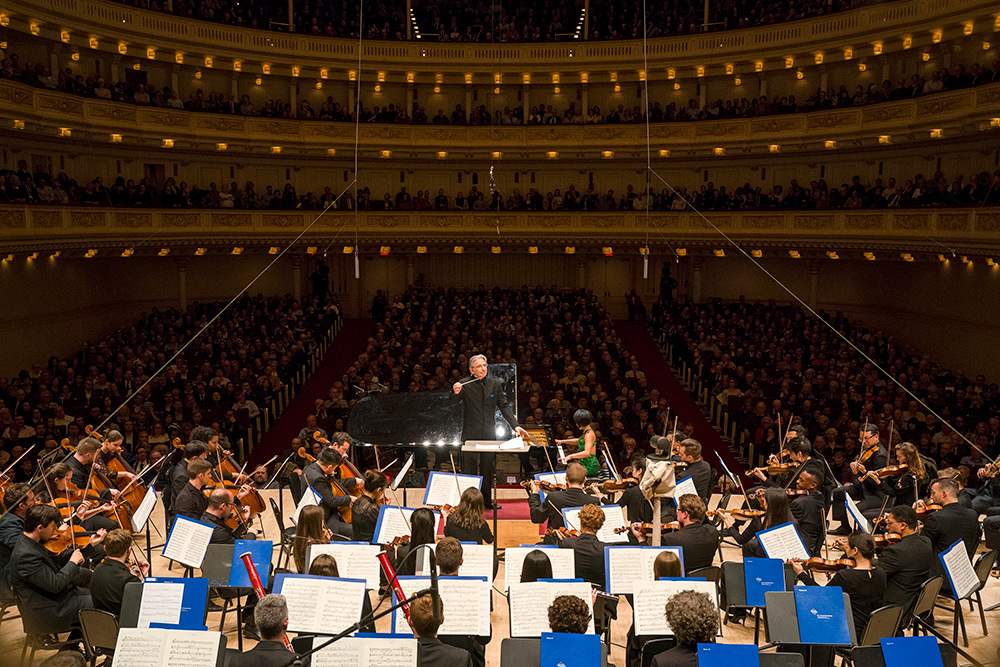 Photo by Richard Termine
The energy and enthusiasm for which NWS is known captivated the New York audiences, particularly in its offering of Hector Berlioz' Symphonie fantastique on May 1. That concert also featured pianist Yuja Wang performing Prokofiev's Fifth Concerto and the NY premiere of Julia Wolfe's Fountain of Youth, a co-commission by NWS and Carnegie Hall.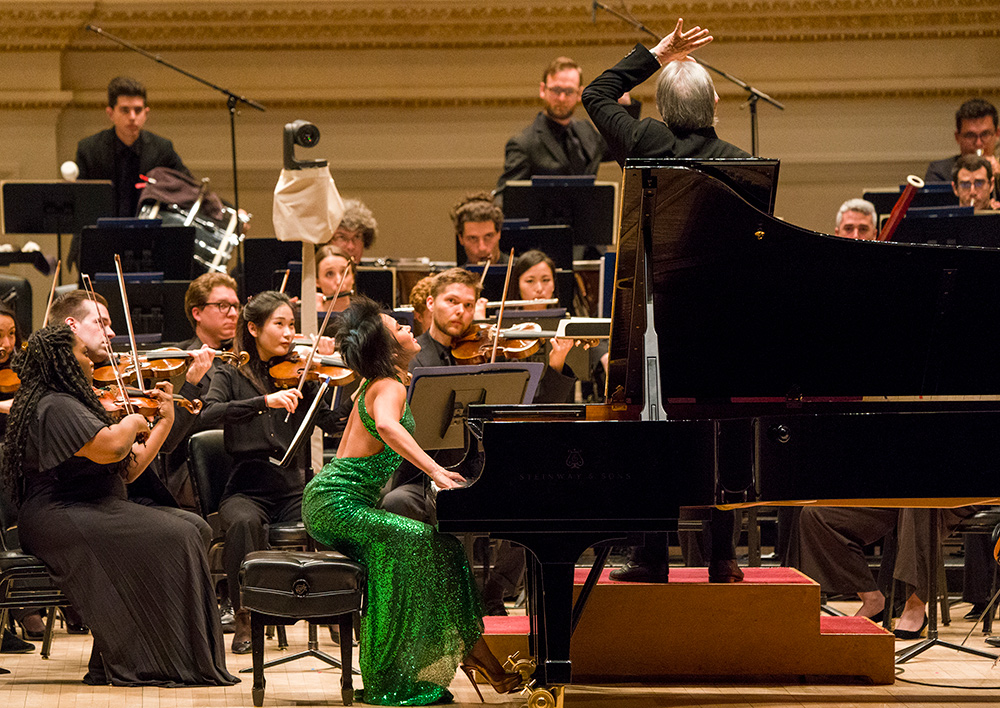 Photo by Richard Termine
"MTT's New World Symphony has confidence and zest. No orchestra in America plays with more incisive rhythm, or fearlessness, or sense of purpose."
    – Brian Taylor, Cadenza
"…one of the best accounts of Berlioz's Symphonie fantastique I've heard in years."
     – Anthony Tommasini, The New York Times
 "The fruits of Tilson Thomas's bond with these young musicians were on ample display in this shapely account. NWS was alert, elegant, and disciplined here, playing with enviable subtleness and nuance. This was a special reading indeed, one in which a unique connection between conductor and orchestra resulted in one of the finest and most detailed interpretations of this masterly warhorse I can recall."
     – Clive Paget, Musical America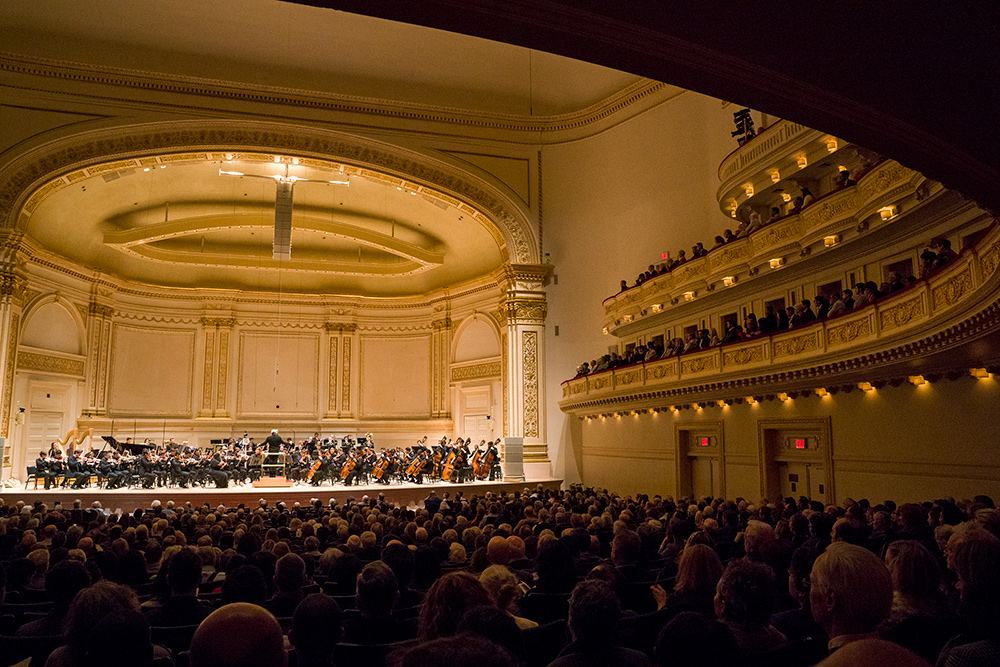 Photo by Richard Termine
The second performance included works of MTT's own, including solo piano works performed by Ms. Wang, the NY premiere of his Four Preludes on Playthings of the Wind with soprano Measha Brueggergosman and his string-orchestra edition of Schubert's "Death and the Maiden" quartet.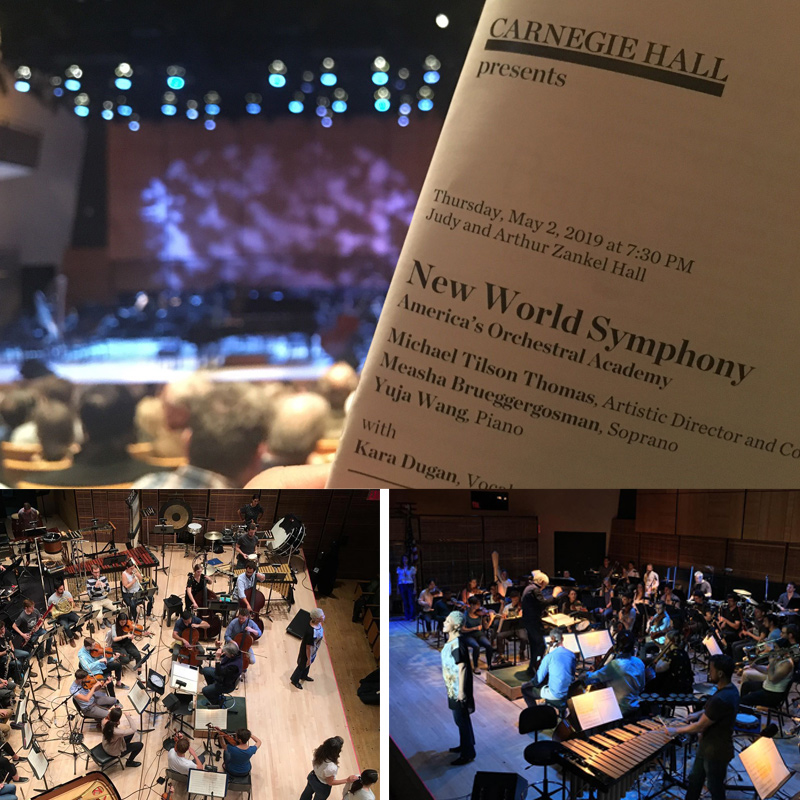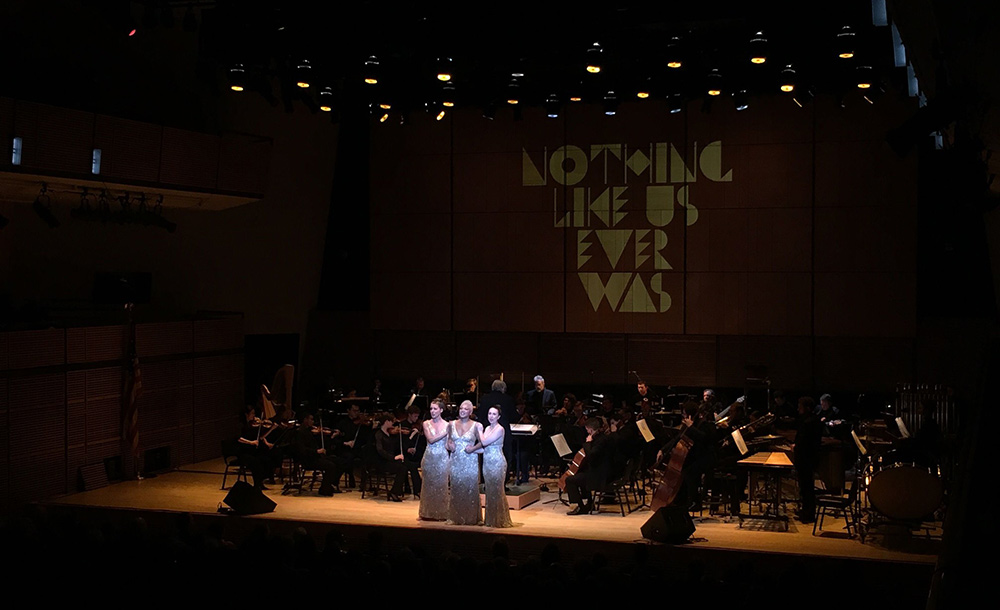 NWS on the Global Stage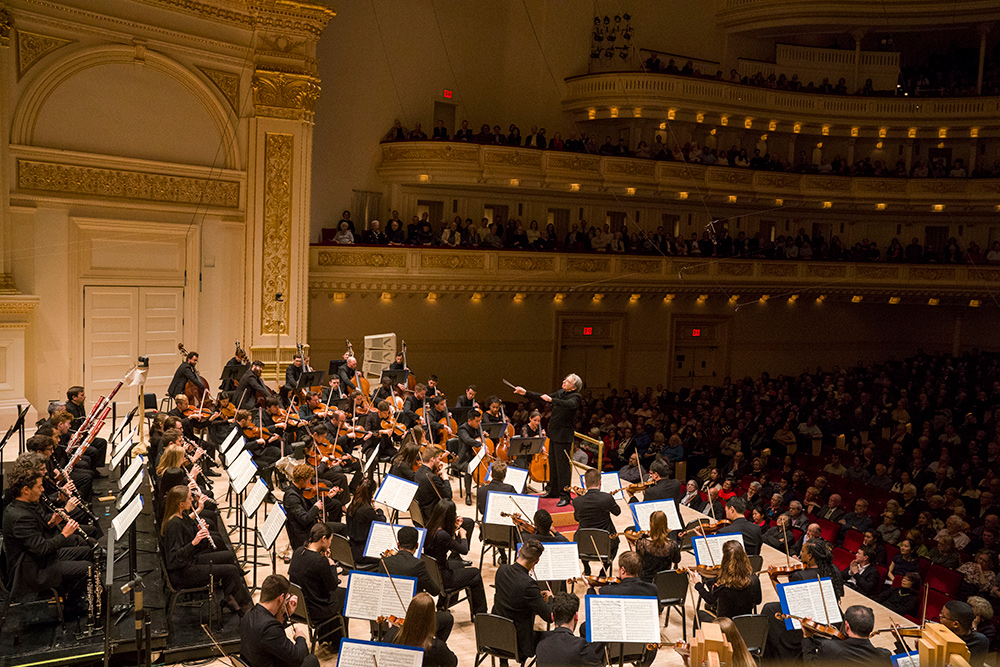 Photo by Richard Termine
Audiences around the world also witnessed the May 1 performance through its live stream on medici.tv. By creating an account, you can watch it for free through August!

NWS Alumni Homecoming
Joining Fellows on tour were 16 alumni who now perform and teach across the nation. They were excited for a reunion in Miami Beach for NWS's Season Finale concerts before joining the orchestra in New York.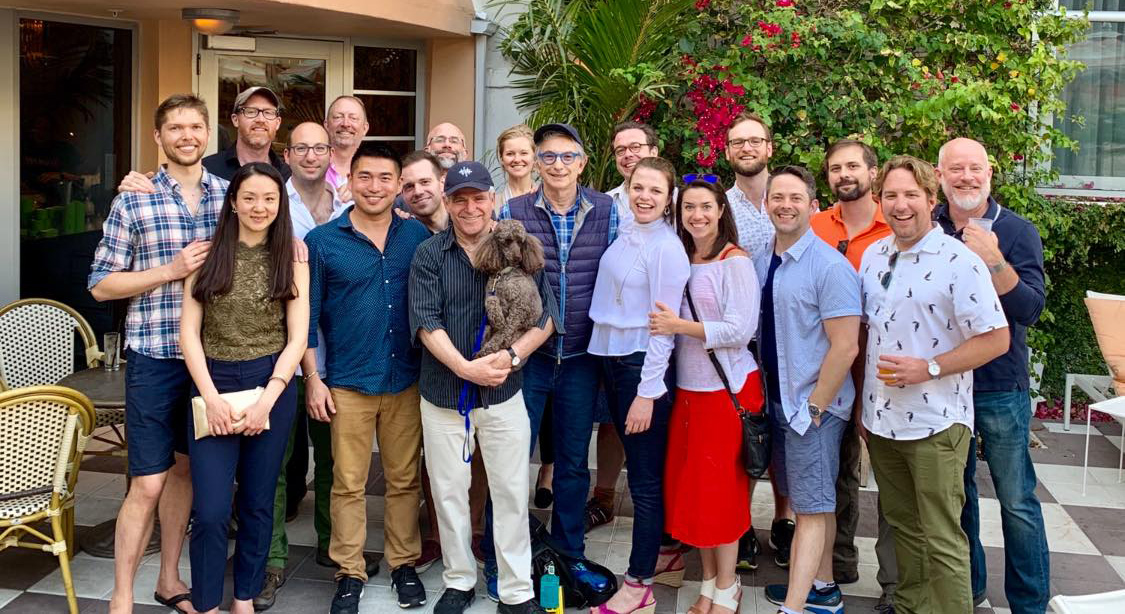 The tour alumni included:
Will Haapaniemi, Second Violin, Detroit Symphony, NWS Fellow 2010-12
Heidi Han, Second Violin, Detroit Symphony, NWS Fellow 2008-11
Rebecca Reale, First Violin, Los Angeles Philharmonic, NWS Violin Fellow 2015-16
Marc Rovetti, Assistant Concertmaster, The Philadelphia Orchestra, NWS Fellow 2005-07
Isabel Trautwein, First Violin, The Cleveland Orchestra, NWS Fellow 1994-95
Caroline Gilbert, Principal Viola, Buffalo Philharmonic, NWS Fellow 2014-17
Christine Grossman, Principal Viola, Kansas City Symphony, NWS Fellow 2003-04
Andrew Wickesberg, Viola, Pittsburgh Symphony, NWS Fellow 2006-08
Kari Docter, Cello, Metropolitan Opera Orchestra, NWS Fellow 1997-98
Si-Yan Darren Li, String Chamber Music Coordinator, Cleveland Institute of Music, NWS Fellow 2008-09
Brendon Kane, Bass, Metropolitan Opera Orchestra, NWS Fellow 2007-12
Gabriel Beavers, Bassoon, University of Miami Frost School of Music and Nu Deco Ensemble, NWS Fellow 2003-06
Anthony Prisk, Second Trumpet, The Philadelphia Orchestra, NWS Fellow 1998-2002
Dennis Nulty, Principal Tuba, Detroit Symphony, NWS Fellow 2003-06
Grace Browning, Principal Harp, Rochester Philharmonic and Santa Fe Opera, NWS Fellow 2011-14
Alex Wadner, Principal Timpani, Chattanooga Symphony and Opera, NWS Fellow 2012-16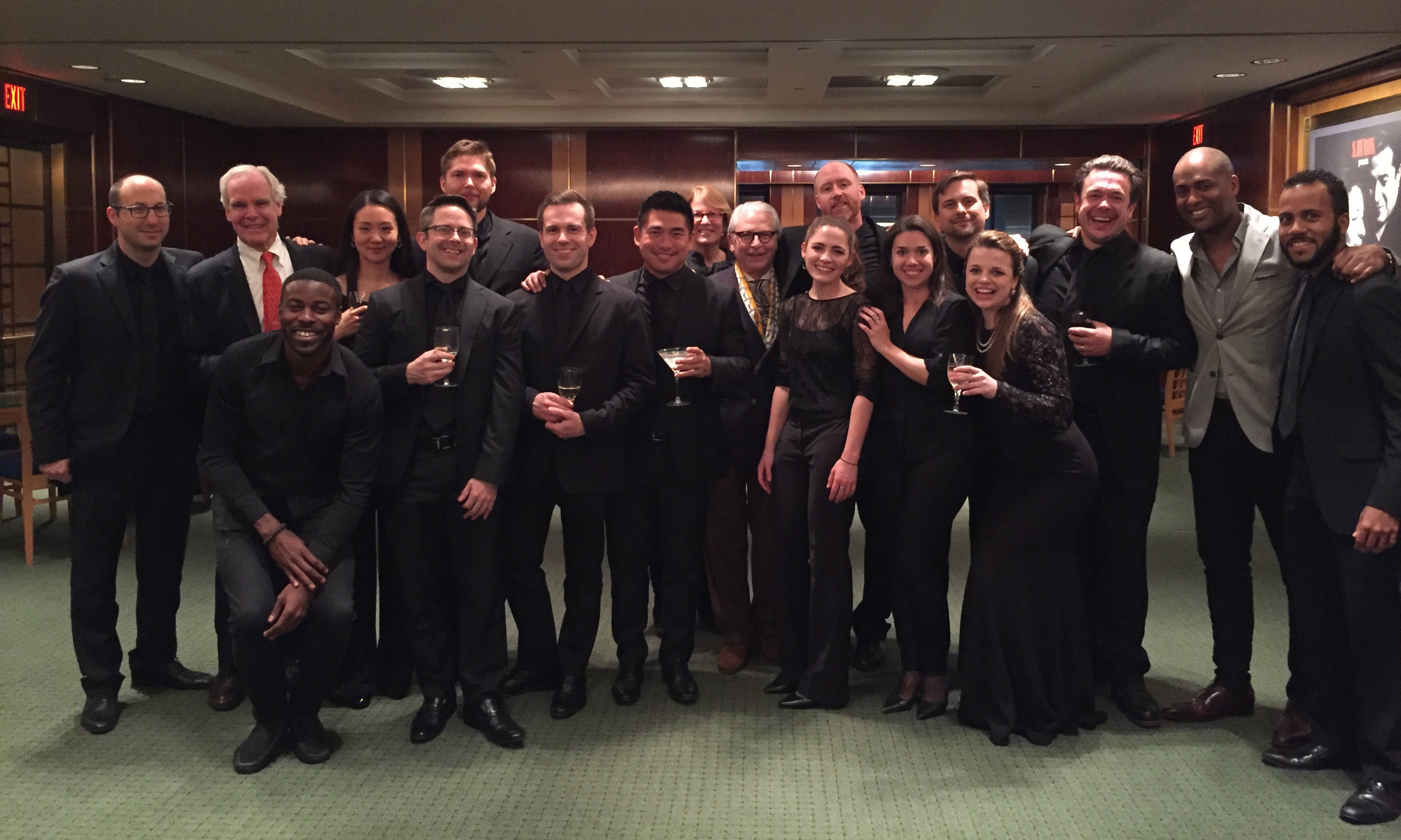 Additional tour performances
While in New York, select Fellows also performed two special recitals. The first was a quartet performance at Yamaha's Artist Services studio, where they gave the world premiere of The Abandoned Castle by New York Philharmonic Very Young Composer Jordan Millar.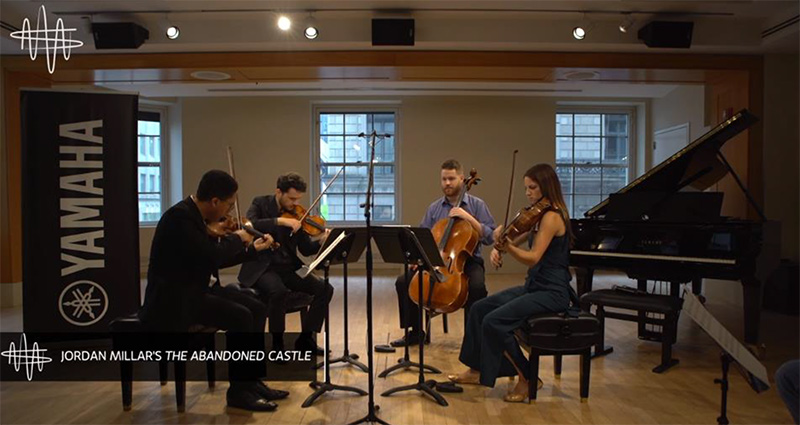 Other Fellows performed a chamber music recital at the Parrish Art Museum in Southampton.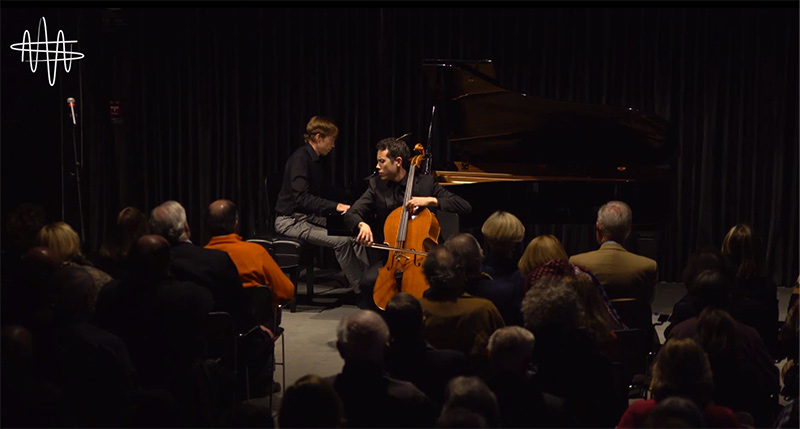 2019 Carnegie Tour Sponsors
The New World Symphony would like to recognize the following donors for their support of its 2019 Carnegie Hall performances: Bruce and Suzie Kovner / The Kovner Foundation, The Wilhelmina Harrell Fund, Bruce and Martha Clinton / The Clinton Family Fund, Susan and David Edelstein, Mr. and Mrs. Louis K. Meisel, Melanie and David Niemiec, Stuart Subotnick, Mr. and Mrs. Jeffrey Akin, Alan and Jayusia Bernstein, The Andrea & Charles Bronfman Philanthropies, Dr. Matthew Budd and Ms. Rosalind E. Gorin, Jim and Jean Crystal, Peter and Sue Gottsegen, The Hite Foundation, Jorge and Amanda Mejia, Susan D. Kronick and Edward Manno Shumsky, Jerry and Adrianne Cohen, Betty and Joseph Z. Fleming, Susan and John Freund, Saul and Jane Gross, The Jeffrey Solomon Fund of the Jewish Community Foundation, Janet Shein, Kristin Podack, Koniver Stern Group, Mr. and Mrs. Robert Hertzberg, David J. Phillips and Denis J. Jacobs, and Coregami.
Posted in: 2019 Carnegie Tour, Alumni, Concerts, Events, Fellows, MTT
---