News
May 9, 2022
NWS's Kewan Smith receives Legacy Miami and Sphinx Honors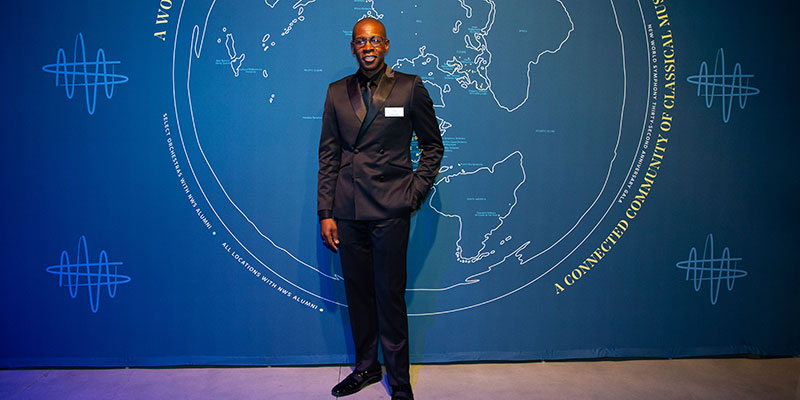 Kewan Smith at NWS's 2020 Gala, photo by Ezequiel Williams / Moment77.com
Legacy Miami has named its Most Influential and Powerful Black Professionals of 2022, an impressive list that includes Kewan Smith, New World Symphony's Senior Director of Corporate Partnerships. All awardees are included in Legacy Miami's signature Power Issue (May 2022) that showcases #BlackExcellence and #BlackLove. Click here to read.
The awardees will be formally highlighted at an all-star awards gala hosted by NBC 6 News Anchor Constance Jones. The 16th Annual Legacy Power Gala is scheduled for May 14 at The Diplomat Beach Resort.
"We are very proud of Kewan, who has been a valued member of our development team since 2019," says Maureen O'Brien, NWS's Executive Vice President for Institutional Advancement. "His stewardship of the corporate portfolio has resulted in meaningful relationships with numerous corporate partners, a vital component of NWS's success. This recognition from Legacy Miami is a testament to his accomplishments as well as his potential."
Legacy Miami and Legacy South Florida magazines are the region's authoritative publications of record documenting the progress and success of South Florida's affluencers and influencers.
"Black excellence and Black love are always at the forefront of Legacy Magazine. Our content reflects the quality of our community and contributions we consistently deliver to South Florida's business, political and civic sectors," said Russell Motley, Associate Publisher, and Editor-in-Chief, Legacy Magazine. "This can't miss issue should be on everyone's radar!"
Established in 2004, Legacy Miami and Legacy South Florida are news/business publications serving South Florida's black professional community with insightful articles and information on business, careers, politics, lifestyle, culture and social commentary. The magazines are distributed throughout South Florida via partnerships with the Miami Herald and the Sun-Sentinel. For more information, visit miamediagrp.com. 
Sphinx LEAD
Earlier this season, Kewan was also named as one of 11 to the Sphinx LEAD program's fourth cohort. Standing for Leaders in Excellence, Arts and Diversity, Sphinx LEAD is a competitive two-year leadership program designed to evolve the industry landscape by empowering the next generation of executive leaders. Each cohort is comprised of Black and Latinx arts leaders selected from around the country. Through in-person and remote learning opportunities, Sphinx LEAD will provide the skill sets, professional networks, career mentorship and inspiration needed to develop and support these future leaders.
"Sphinx is an incredible organization with demonstrated success in developing great leaders," said Kewan. "I am thrilled to be part of the newest LEAD cohort and look forward to growing professionally as we impact the arts community."
A key component of the program is Leadership Learning Retreats, which are structured for LEADers to learn from experts in the field, spend time with fellow LEADers, and take advantage of networking opportunities. These retreats occur virtually and in-person in conjunction with leading arts institutions throughout the country. Throughout his cohort's program activities, Kewan will join members of Sphinx LEAD cohort 3, which includes Eduardo Delgado, NWS's Director of Corporate Partnerships.
The Sphinx Organization is a national nonprofit organization dedicated to transforming lives through the power of diversity in the arts. Its four program areas – Education & Access, Artist Development, Performing Artists, and Arts Leadership – form a pipeline that develops and supports diversity and inclusion in classical music at every level: music education, artists performing on stage, the repertoire and programing being performed, the communities represented in audiences, and the artistic and administrative leadership within the field. Sphinx LEAD is made possible with underwriting support from the Knight Foundation and the Fund 2 Foundation.
Posted in: Staff
---