News
April 13, 2016
NWS Sounds of the Times: Desert Music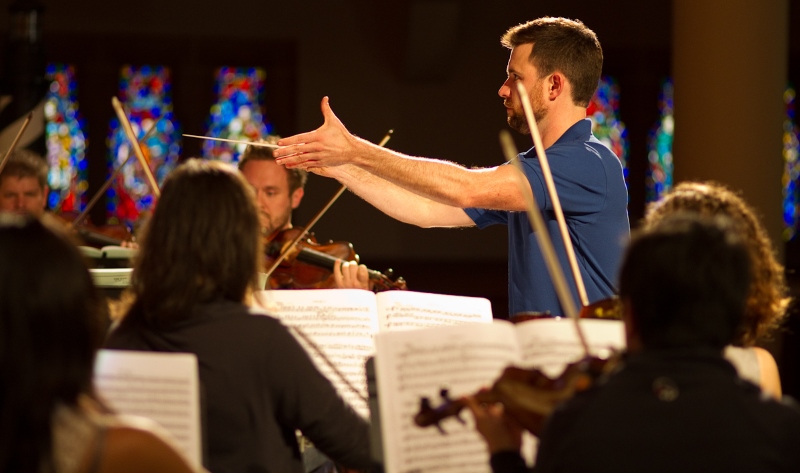 In November 2005, when this weekend's guest vocal ensemble, the Miami-based Seraphic Fire, first performed with the New World Symphony, it had been in existence for only a few years, but was already considered a local cultural treasure. Founded and still led by Saturday's guest conductor Patrick Dupré Quigley when he had only just turned 25, Seraphic Fire performed a concert of Baroque music that dazzled the critics.



The Miami Herald wrote "The combination of the New World Symphony and Seraphic Fire on Saturday night… was a match made in musical heaven" and  "Patrick Quigley's chorale was nothing short of superb."

And while they also wrote "Hopefully there will be future collaborations between New World Symphony and Seraphic Fire", it's taken over a decade for the latter to return to perform again with NWS. Quigley, however, did make his guest conducting debut with New World in November 2013, leading the orchestra in the Mini-Concerts for both the general public as well as attendees for Cycling Night and Yoga Night.

Click here to watch excerpts
Seraphic Fire also recorded with Shakira! Click here to read about it
---
Also in 2005, the Sun-Sentinel wrote "Among the New World Symphony's esteemed musical qualities, perhaps the most impressive is its flexibility. The players can shift gears and musical styles quicker than pols flip positions." So it's not surprising that this Sounds of the Times concert includes works from both the 17th and 20th centuries. And all four pieces are being played by New World for the first time.

While many of Gyorgy Ligeti's works have been performed by NWS over the years 1994 to 2014, only one other of Monteverdi's has been done at all by NWS, and he hasn't been heard here since a Chamber Music concert in November 2001. Steve Reich, who has the featured work on Saturday, The Desert Music, has been a popular staple of the New World Symphony's repertoire since 1988. And he actually had his own Sounds of the Times concert on March 3, 2001, entitled appropriately enough "The Steve Reich Stuff." The composer was in attendance and sat onstage talking about his works.

From the Herald, "Nearly 30 years ago when Michael Tilson Thomas performed Steve Reich's Four Organs at Lincoln Center, there were boos and yells for the music to stop, mixed with applause to hasten its end… But Saturday night at Miami Beach's Lincoln Theatre, Reich's minimalist music was greeted with stormy applause…"

Reich returned to New World Symphony, digitally, on February 5, 2004. He appeared via Internet2 to "sit in" on a rehearsal of one of his works with NWS and MTT (see screencaps below).

Interesting fact: New World alumnus Rhett Del Campo (Percussion 2002-2006) is now the Executive Director of Seraphic Fire. And coincidentally he was one of the featured percussionists performing Steve Reich's Nagoya Marimbas at concerts in December 2003.

---
This concert is also South Florida Classical Review's Critic's Choice:

"The two South Florida classical ensembles with the highest national stature will combine forces Saturday in Miami Beach for a concert that will span four centuries of music."
---
CLICK HERE FOR MORE INFORMATION & TO PURCHASE TICKETS
---

Posted in: Composers, Concerts, From The Archives, Guest Artists
---