News
January 15, 2020
NWS welcomes new leaders to Board of Trustees in 2019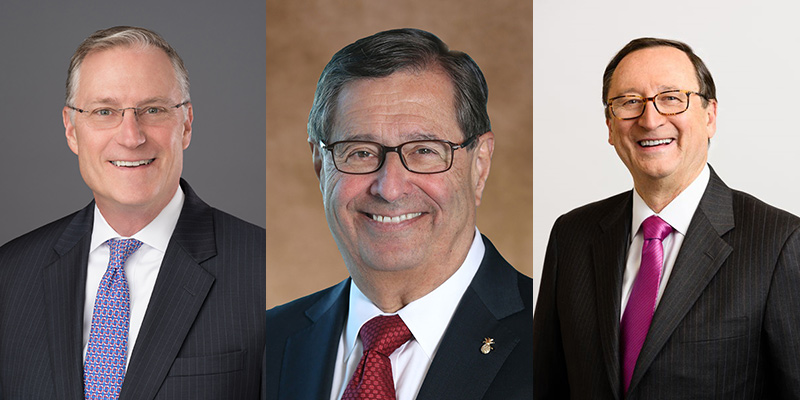 From left to right: John Fumagalli; Michael Zinner, M.D. and John Haley
The New World Symphony (NWS) is proud to recognize its 2019 elections of John Fumagalli, Michael Zinner, M.D. and John Haley to the Board of Trustees. Each brings expertise that will inform institutional policy making and advancement.
These three trustees join the team of dedicated trustees, Michael Tilson Thomas and the rest of the NWS staff in creating a strong and secure future for classical music. Their insights help NWS redefine, reaffirm, express and share the great traditions of this legacy art form with as many people as possible.
John Fumagalli
John Fumagalli joined Northern Trust in Chicago as a Second Vice President in 1989. He was named Vice President in 1992 and a Senior Vice President in 1999. While in Chicago, he served as the Managing Director of Northern Trust's Oak Street Financial Center and was responsible for the Northwestern Memorial Financial Center. In 2001, he was appointed President and CEO of the Saint Louis Financial Center. In 2005, he assumed responsibility for the Southwest Florida Region. In 2011 he was appointed Regional President of West Florida, directly responsible for all activities on the west coast of Florida.
Mr. Fumagalli earned a B.A. degree in Economics in 1983 from The College of the Holy Cross in Worcester, Massachusetts, and a master's degree in Business Administration in 1997 from the J.L. Kellogg School of Management at Northwestern University.
As the President of the Florida Region, Mr. Fumagalli has the responsibility for managing the company's investment management, trust and estate planning, private and business banking and financial consulting business in Florida. He was promoted to Executive Vice President of Northern Trust in February 2016. John is also a member of the firm's Wealth Management Executive Leadership Team and serves on the firm's Business Leadership Council.
Mr. Fumagalli is past Chair of the Foundation Board for Florida Gulf Coast University. He is also member of The Board of directors for The Beacon Council, Florida House, The Miami Foundation, and the Perez Art Museum Miami. John serves as a Trustee for Barry University, Palmer Trinity School and is on the Council of Advisors For Imagine Solutions.
"The New World Symphony is one the jewels of this community in so many different ways, and I am thrilled and honored to be part of this exceptional organization that prepares amazingly gifted musicians for future leadership opportunities," says Mr. Fumagalli.
Michael Zinner, M.D.
Michael Zinner M.D is Chief Executive Officer and Executive Medical Director of the Miami Cancer Institute at Baptist Health South Florida.
"We are thrilled that Dr. Michael Zinner has joined the board of the New World Symphony. As a senior executive of one of Miami's great institutions, Mike brings a strategic and operational perspective to his role as a trustee. Equally important, Mike loves classical music, having formerly played the viola, and recognizes the importance of the unique contributions that music and education play in the growth of our local community and the world beyond," says Edward Shumsky, Chairman of the NWS Board of Trustees.
A distinguished cancer surgeon and researcher, Dr. Zinner was named founding CEO and Executive Medical Director of Miami Cancer Institute at Baptist Health South Florida in October of 2015. Prior to leading Baptist Health South Florida, Dr. Zinner was the Clinical Director and Surgeon-in-Chief at the Brigham and Women's Hospital. He also co-founded and co-directed the Gastrointestinal Cancer Center a multidisciplinary clinical program of surgeons, oncologists, radiation therapists, radiologists and pathologists at the Dana-Farber Cancer Institute. The author of more than 230 academic papers, he was a member of the editorial boards of Annals of Surgery, Journal of Gastrointestinal Surgery and the Journal of the American College of Surgeons until his move to Miami.
Throughout his career, Dr. Zinner has been widely recognized for his clinical accomplishments, his contributions to cancer treatment and research and his mentorship to students, physicians and researchers worldwide. A Miami native, Dr. Zinner received his M.D. degree from the University of Florida and conducted his surgical residencies at The Johns Hopkins Medical Institutes in Baltimore. He currently serves on the National Advisory Board of The Johns Hopkins School of Engineering and on the Board of PBS South Florida.
"As a fellow musician, this opportunity combines both my passions for music and mentorship, awarding me the privilege to support the next generation of musicians as I've done throughout my academic surgical career with students, residents and fellows," says Dr. Zinner.
John Haley
John Haley is currently the Chief Executive Officer and a Director of Willis Towers Watson, a leading global advisory, broking and solutions company. With roots dating to 1828, Willis Towers Watson is the third largest insurance broker in the world with over 45,000 employees serving more than 140 countries and markets. He has served in these roles since January 2016.
Mr. Haley joined the company in 1977 and throughout his career served in a variety of roles including consulting actuary to several of the company's largest clients, manager of the Washington, D.C. consulting office and leader of the global retirement practice. He was named CEO in 1998. Under his leadership, the company went public in 2000, and completed three historic mergers, in 2005, 2010 and 2016, that formed present-day Willis Towers Watson.
"We are also thrilled that John Haley has joined the Board of the New World Symphony," says Edward Shumsky. "I have known John for almost three decades, and admired the strategic leadership he has brought to one of the world's largest and most important multinational risk, insurance brokerage and advisory companies. John brings an important global perspective to our organization and is a valued addition to our leadership group."
Mr. Haley also serves on the board of directors of MAXIMUS and the Miami Cancer Institute. He is a Fellow of the Society of Actuaries and the Conference of Consulting Actuaries, and has served as a trustee of The Actuarial Foundation. Previously, he served on the board of Hudson Global, Inc., an executive search, specialty staffing and related consulting services firm.
Mr. Haley has a bachelor's degree in mathematics from Rutgers College and studied under a Fellowship at the Graduate School of Mathematics at Yale University. He is also a co-author of Fundamentals of Private Pensions (University of Pennsylvania Press).
"I am delighted to join the leadership of this special organization," said Mr. Haley. "I have watched the evolution of New World Symphony since I moved to Miami, and I have particularly enjoyed mentoring NWS Fellows for the past several years. NWS's vision of sharing classical music traditions with as many people as possible has great resonance with me, and I look forward to continuing that important work."
---