News
July 13, 2018
NYO2 Travel Journal: The Road to Miami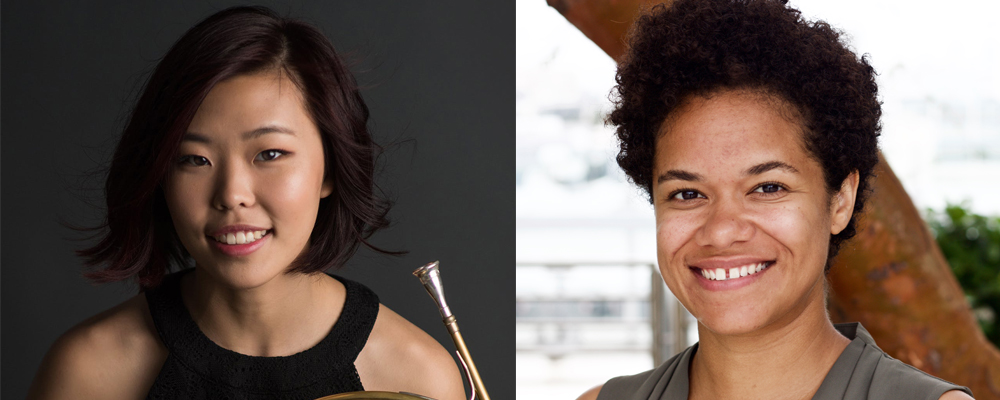 The countdown to the South Florida debut of Carnegie Hall's NYO2 is on! For three weeks NYO2's 80 young musicians have been working alongside faculty mentors and guest artists (including 21 NWS Fellows and alumni) at New York's Purchase College. This weekend they'll arrive in Miami for a six-day residency that will culminate in a performance with Gil Shaham at the New World Center on Saturday, July 21.  
NYO2 horn player Hannah Suh and NWS fourth-year Horn Fellow and NYO2 mentor Priscilla Rinehart share their immersive NYO2 experience by journaling during their time in New York. Come see Hannah and Priscilla at the New World Center for their performance on July 21!
Friday, July 6
Hannah: We had our first master class with (NWS alumna) Denise Tryon today! She is an amazing coach and fantastic horn player. The NYO2 horns and I have definitely started playing more as a section than as individual players. Unlike a typical master class, we didn't play for Mrs. Tryon. Instead, she gave us advice on important skills to have as a horn player, including meditation, fundamentals and a warm-up routine. It was the first master class I "participated" in, and I feel blessed to have been mentored by a professional hornist. After lunch, all of the NYO2 musicians gathered for orchestra rehearsal. Since this was only the third rehearsal, thankfully (NWS Fellow) Priscilla Rinehart was able to lead and help us through the pieces. Conductor James Ross led us in the repertoire for NYO in NYC, which will occur tomorrow. These pieces include Saint-Saëns' Organ Symphony, "America the Beautiful," Manhattan Skyline and a few others. Even though I've been to NYC before, this will definitely be a different experience. That evening, Nick Demeris led a group of both NYO and NYO2 musicians in a Circle Singing session where we made music with our own bodies, something we don't get to do on a regular basis. At first, I had my reservations because I hate singing in public. However, I eventually got the hang of it and really enjoyed myself.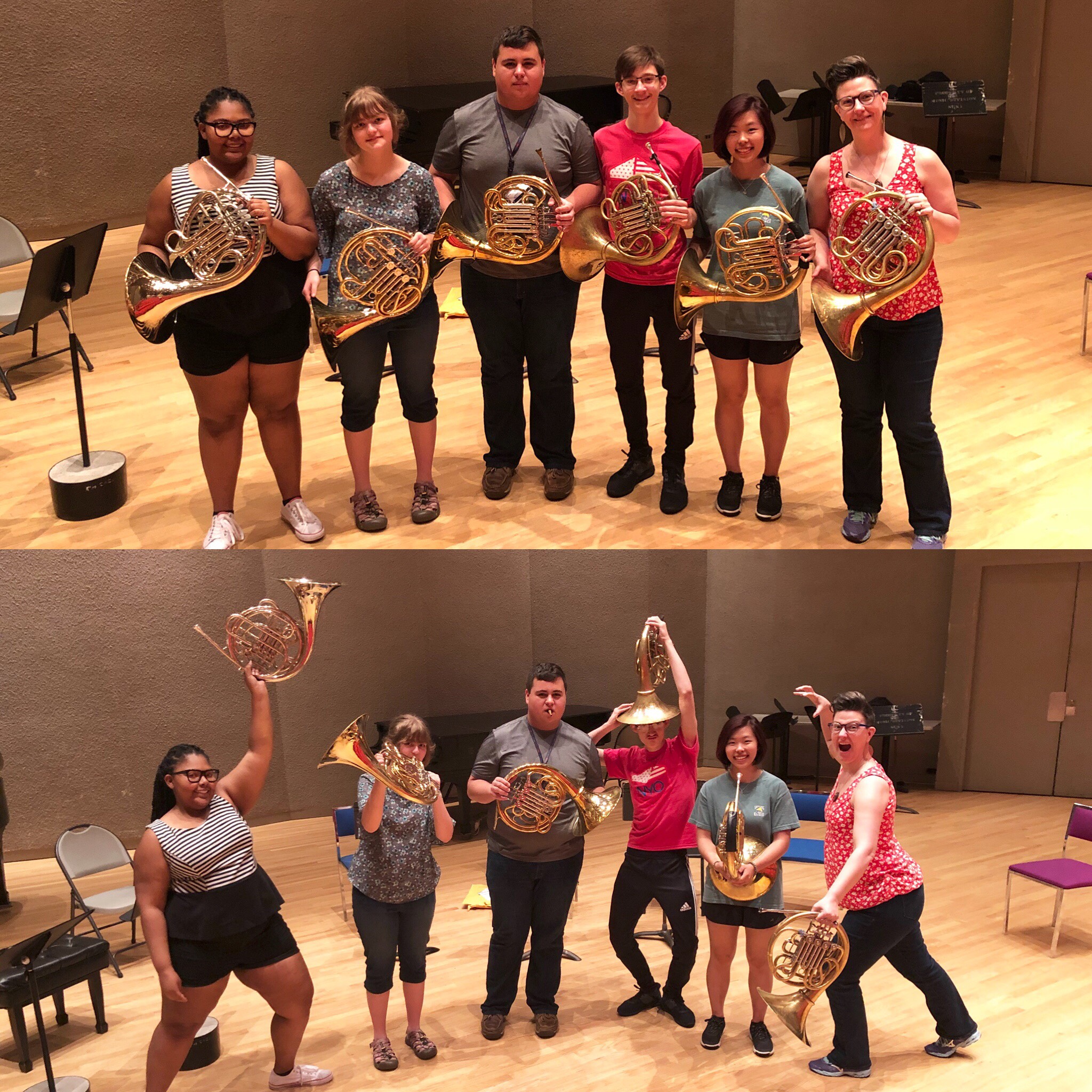 Priscilla: Watching NWS alumna Denise Tryon share her wisdom in this morning's masterclass was a special treat, because I have known Denise quite a while. We first met in the summer of 2010 at an audition workshop she presents with Karl Pituch, called Audition Mode. Denise's tried-and-true thoughts about horn playing were well received by the students (and myself). I found there were new ideas I hadn't yet considered, and some that I agreed with from my personal experiences. Later, the NYO2 horn section and I played together for the first time in a full orchestra rehearsal. One work on their program has sentimental value to me: Shostakovich Symphony No. 5. At a week-long orchestra program during MY high school years I encountered that symphony, which greatly influenced my decision to become a professional musician. It was one of the few times I played in a high-level ensemble at that age, so it is heartwarming to know that these students are being impacted in a similar way -- and I get to witness it!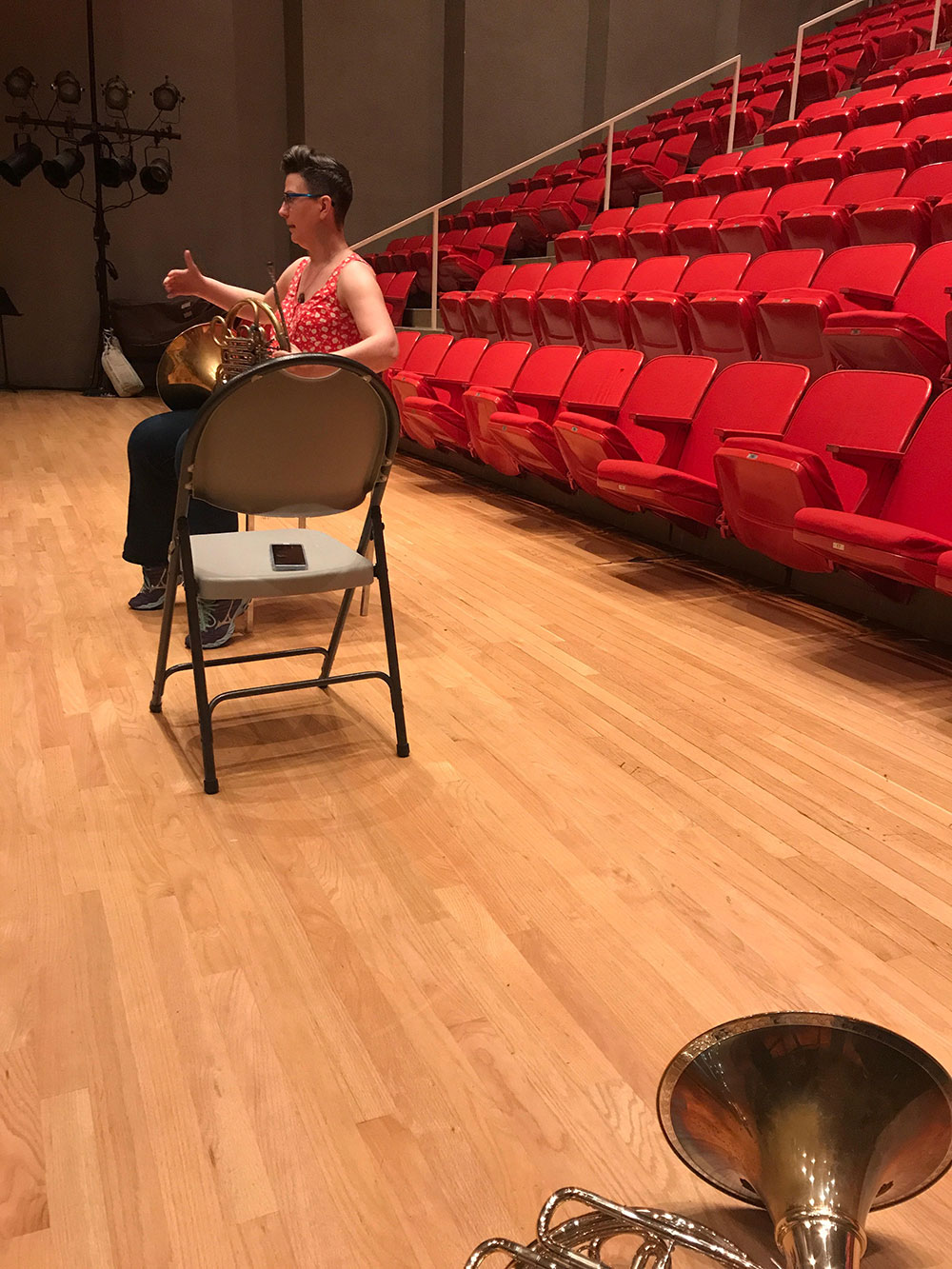 Saturday, July 7
Hannah: NYO in NYC! This morning NYO-USA and NYO2 musicians rode the bus to New York City to perform at 385 Park Avenue with young local musicians. Over 300 musicians gathered together, being by far the largest orchestra in which I have ever played. We performed for parents and locals. Even though I had to use my earplugs half the time, it was a wonderful chance to play with talented and aspiring musicians of various ages. Soon after the concert ended, the NYO-USA and NYO2 staff and students departed New York from Pier 81 on the Hudson River on a cruise! It was fun to get to know other kids and form relationships with people I hadn't previously talked to!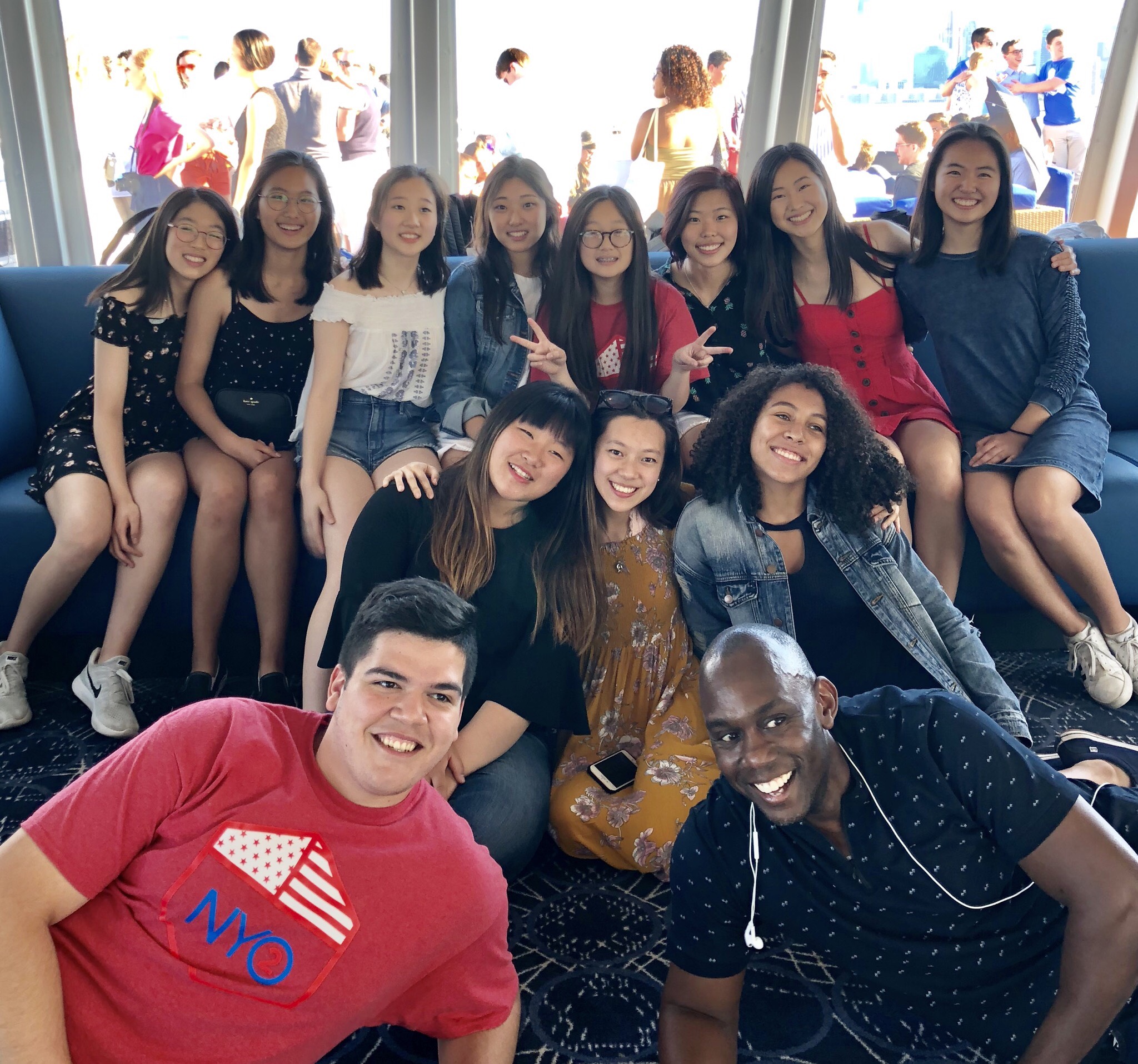 Priscilla: Today after the students gave a performance in New York City, we joined them on the water for a Harbor Tour Cruise. This was another nostalgic experience for me -- during freshman orientation at Juilliard, we took the same harbor cruise! It had been almost 10 years since and it was just as enjoyable. I had some silly fun pretending to confiscate an entire dessert platter for myself after dinner, and savored the gorgeous skyline as we approached the dock. It was great to spend time getting to know new names and faces outside of a work setting.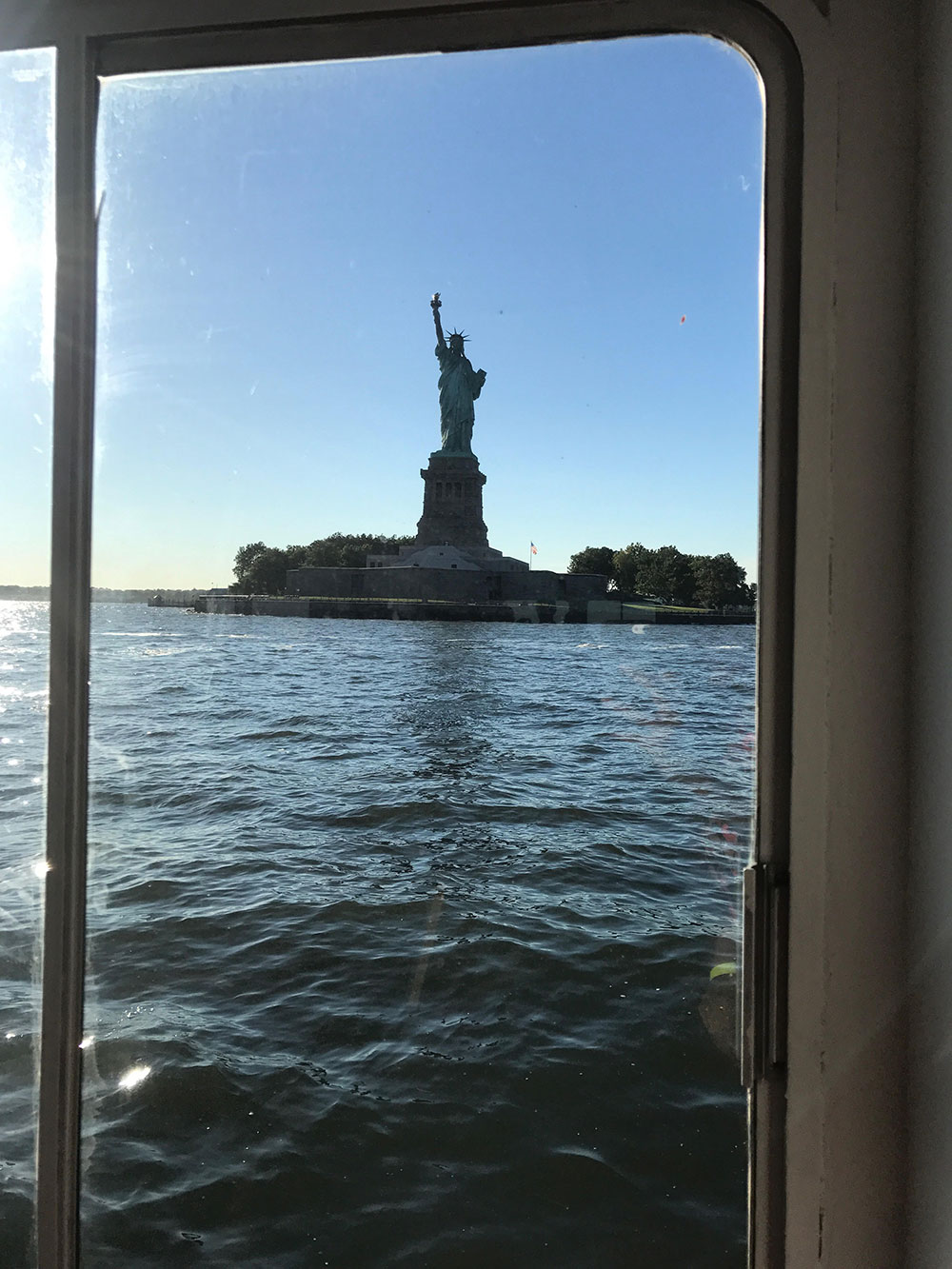 Sunday, July 8
Hannah: Today was our free day! My roommate Tracie and I slept in before breakfast, which was a nice change from waking up at 7:00 every morning. Before lunch, the NYO2 brass/horn section was scheduled for pictures in the Performing Arts Center. I loved the way they turned out! My next activity was a Conducting Lab with NYO Apprentice Conductors. It was a fun opportunity because I was able to rehearse alongside two other NYO hornists and experience the techniques and styles of other conductors. After dinner, my friends and I participated in Werk-It, led by Aaron Lopez. Despite slightly embarrassing myself, I had a blast dancing with everyone.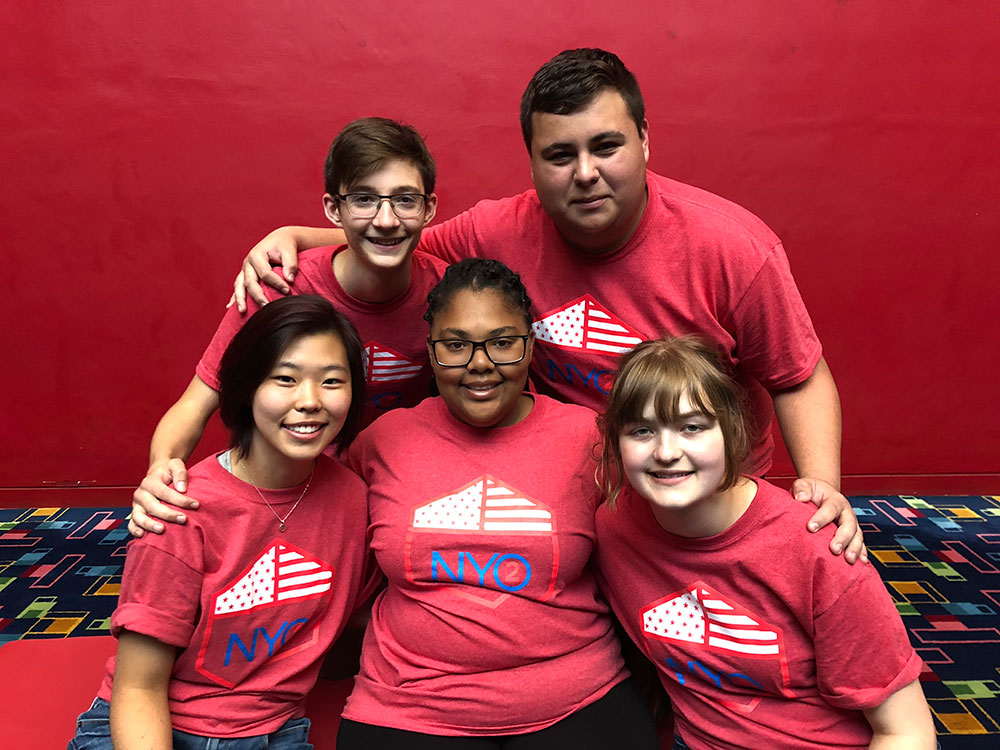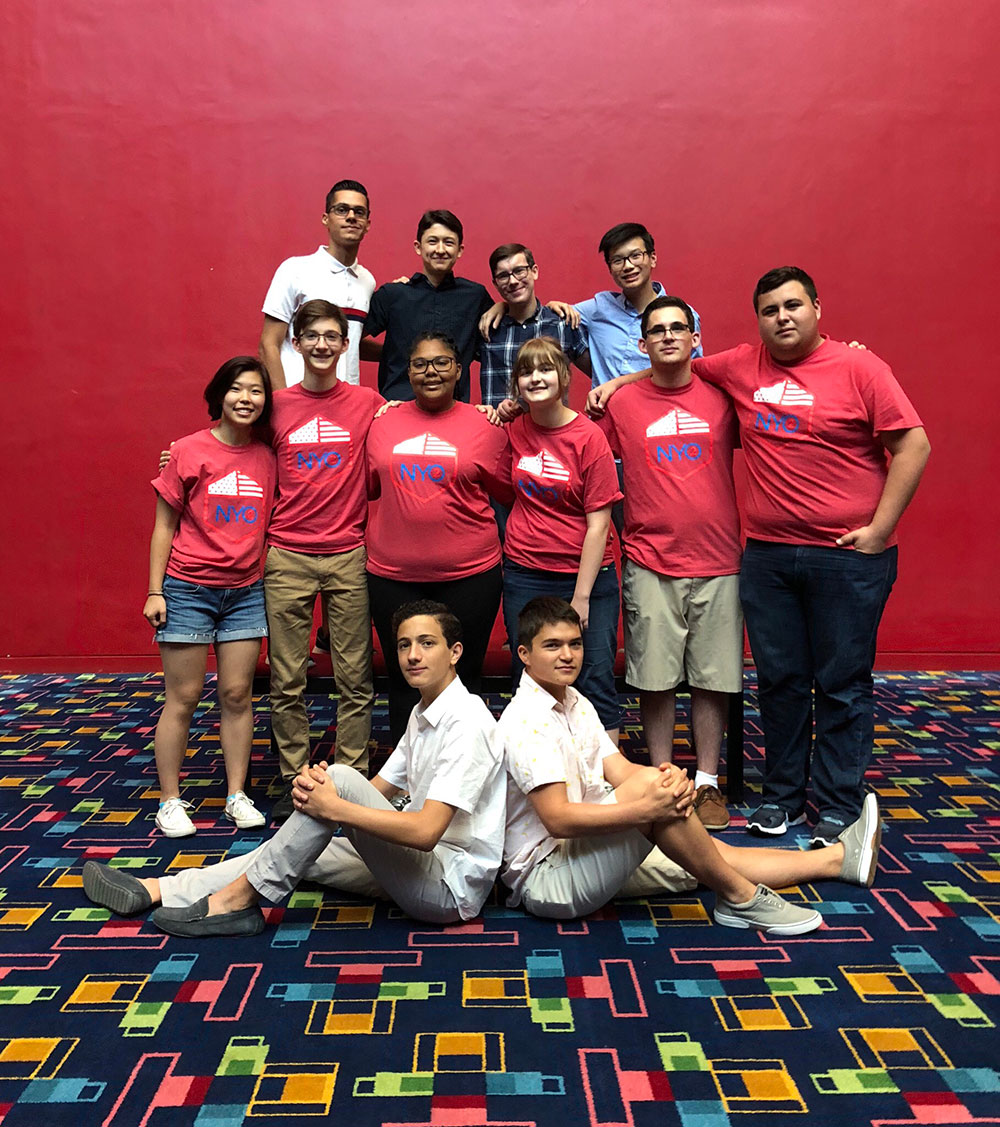 Priscilla: Free day for the NWS Fellows! Sarah Peters (violin alumna) and I went on a long, picturesque walk through Central Park. It was beautiful summer weather both days we spent in NYC. Clear skies and enough breeze to make you want to be outside all day. After lunch at a Thai restaurant with friends, we hopped on a Metro North train back to Port Chester and had a relaxing evening at the hotel.
Monday, July 9
Hannah: This morning I had my first private lesson with Michelle Baker, second horn in the Metropolitan Opera Orchestra and professor at The Juilliard School and Manhattan School of Music. I played excerpts from Bruckner's Symphony No. 4 for her and she corrected mistakes I didn't even know I was making. The lesson was extremely enriching because I learned more techniques on how to breathe and articulate correctly. Looking forward, I am enormously thankful for the opportunity to play for a professional hornist and get her advice on excerpts for upcoming auditions. In the evening the Carnegie Hall team presented an introduction of various non-profit programs they provide for musicians in the community for all of the NYO-USA and NYO2 musicians. It was enlightening to see different music programs that I would be able to participate in later to incorporate my love for music with the community.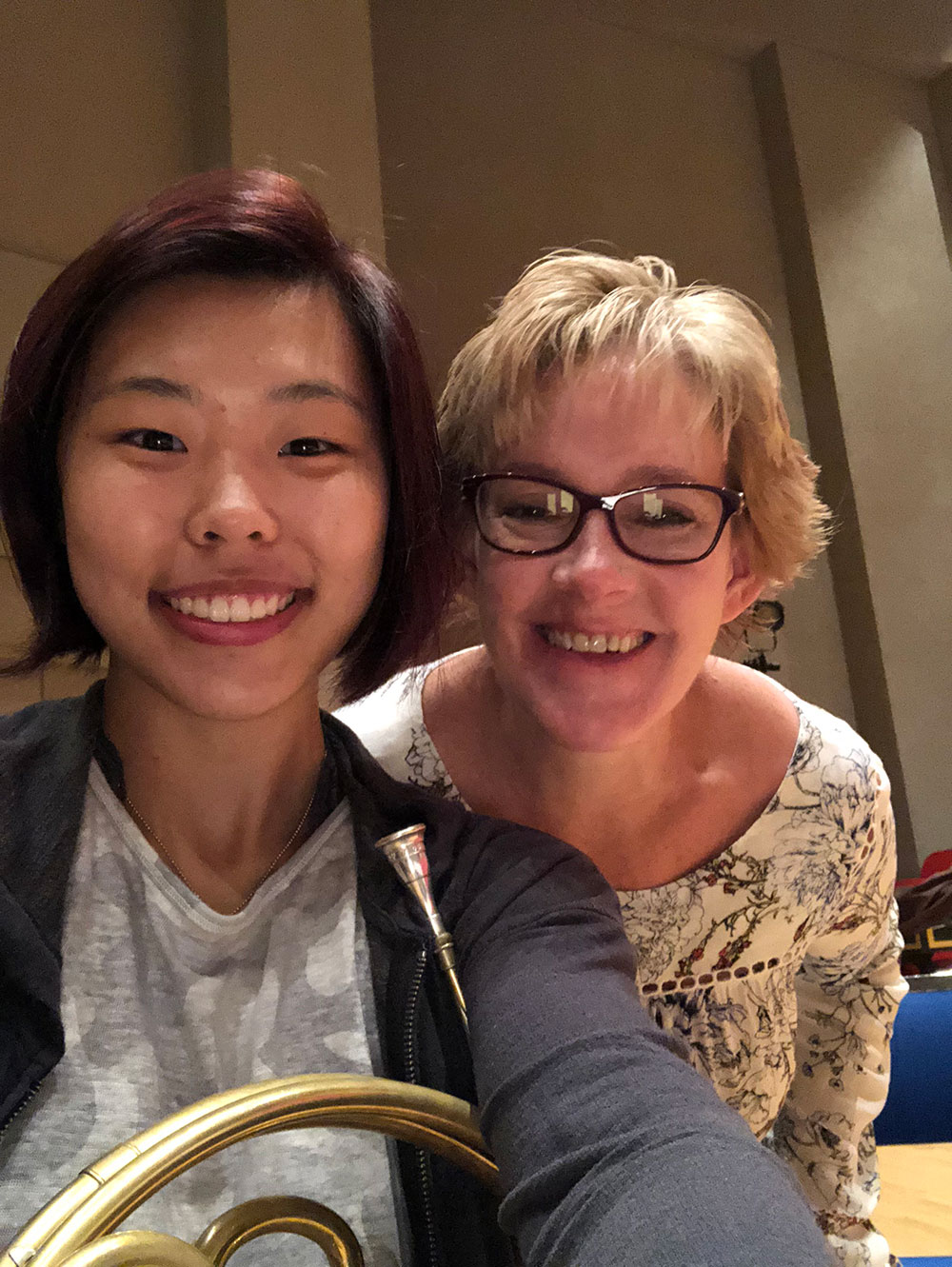 Priscilla: This morning I had the pleasure of working with one of the horn students (Danielle) in a private lesson. We combined minds to manage tasks such as multiple tonguing, different ways of breathing and sustaining an air stream -- all of which have endless room for improvement as a musician. I was grateful to learn about the art of teaching and collaborating with a student by spending that time together. Thanks, Danielle!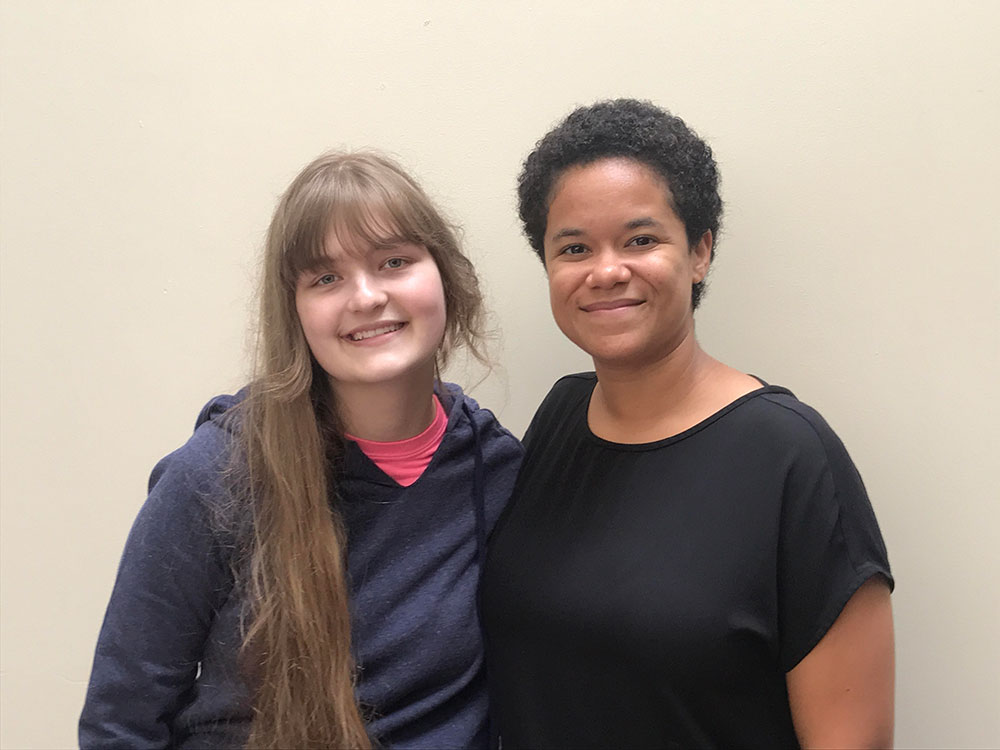 Tuesday, July 10
Hannah: This morning, we continued the discussion from last night, including the roles we play in different communities at home. It was eye-opening to realize how I can contribute to different aspects of my community, whether it's at school, my local orchestra or within my family. After lunch we had brass sectionals. While we mainly worked on Shostakovich Symphony No. 5, the overall session was helpful for me when it comes to working together as a section. In the evening, NYO2 got together to rehearse Shostakovich again and Revuelta's Redes. I was exhausted during rehearsal, but still had a great time listening to the orchestra and hear how the pieces are coming together.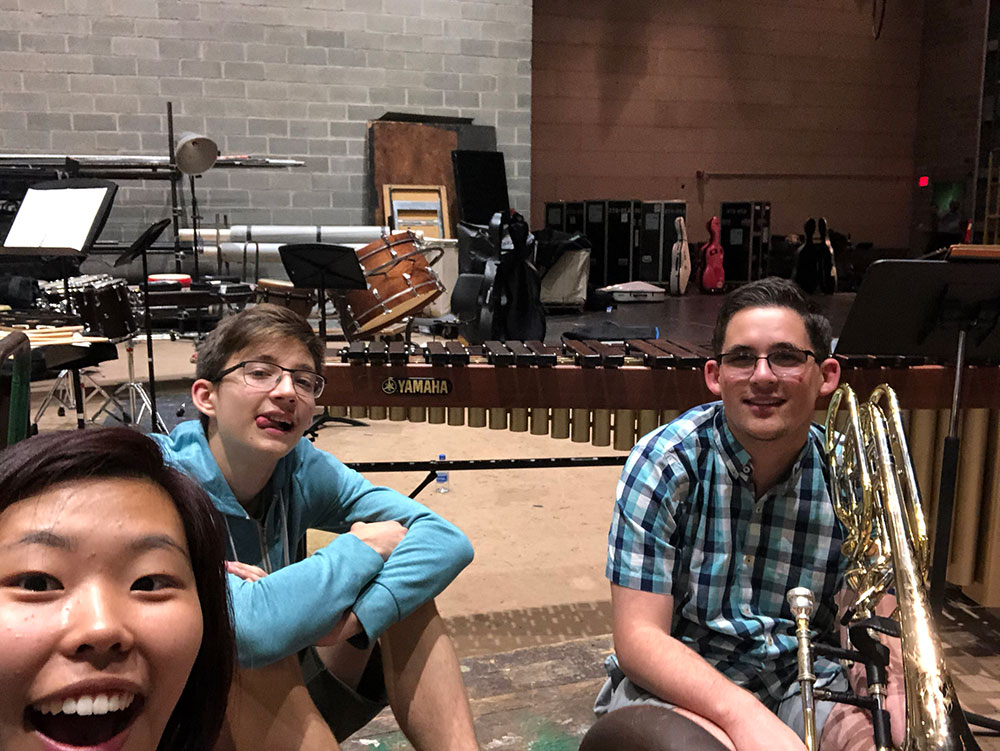 Priscilla: Today, in the afternoon, we separated into smaller groups of strings, woodwinds, brass and percussion to focus on specific areas of the music with similar instrument types -- what's known as a "sectional" rehearsal in the music world. This evening we combined as a full orchestra and rehearsed again. The ensemble is becoming more cohesive with each day we spend on stage. As I sign off, I have to say, I am having a blast with the students and faculty. Everyone is putting in their best effort to play well and grow overall -- thank you to the faculty for setting a very high standard for us.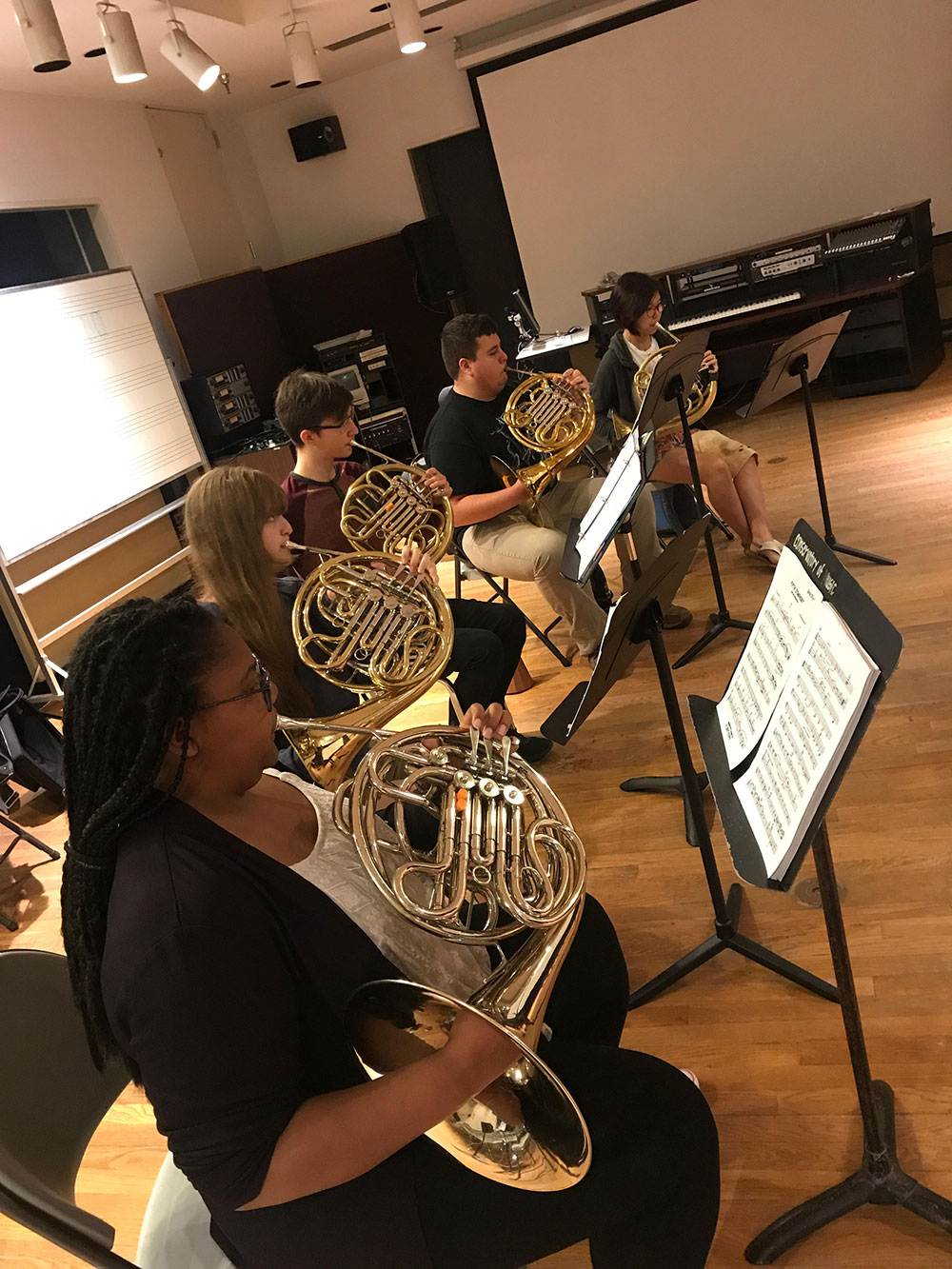 Next up: NYO2 and the NWS Fellows travel down to Miami Beach, continue to build upon the progress we have made and make more memories! Come see and hear us at the New World Center on the 21st! 
Signing off: Hannah and Priscilla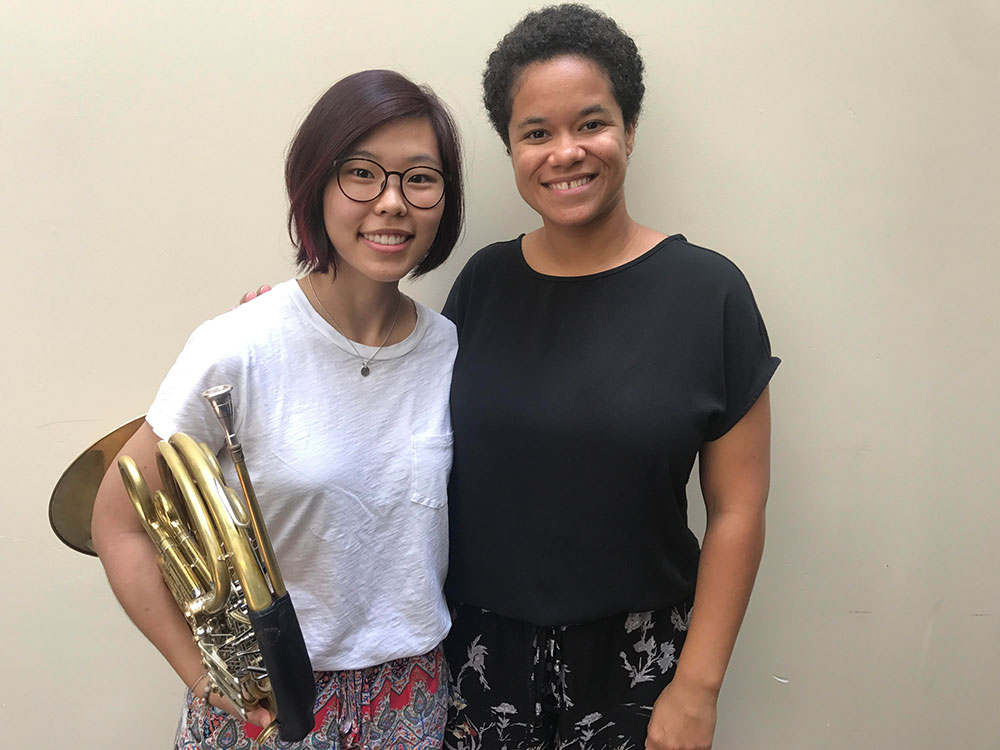 Posted in: Alumni, Community Engagement, Fellows, NYO2, Travel Journal
---