News
October 12, 2020
Percussion Consort showcases world drumming traditions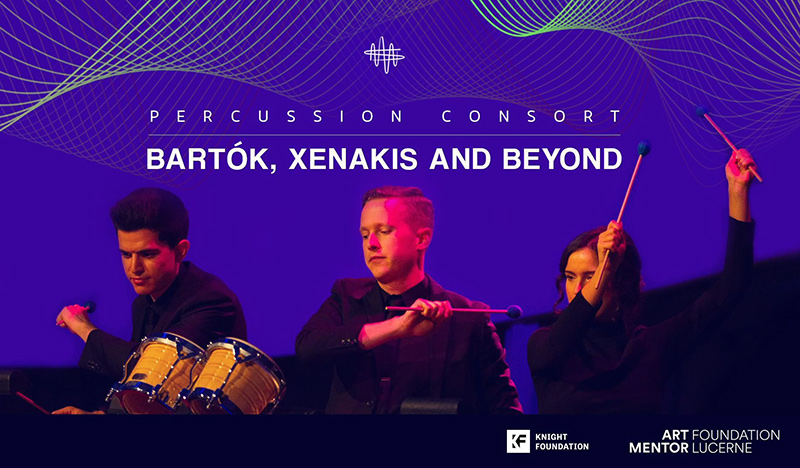 On Saturday, October 10, NWS hosted a global audience to its live Percussion Consort performance. The virtual concert took place on the New World Center stage and included pre-recorded remarks by the four returning Timpani and Percussion Fellows and Michael Linville, NWS's Dean of Chamber Music and Fellow Development and the curator and coach for the program. There was also a live post-concert Green Room experience with Michael Linville, Charlie Rosmarin and Marcelina Suchocka.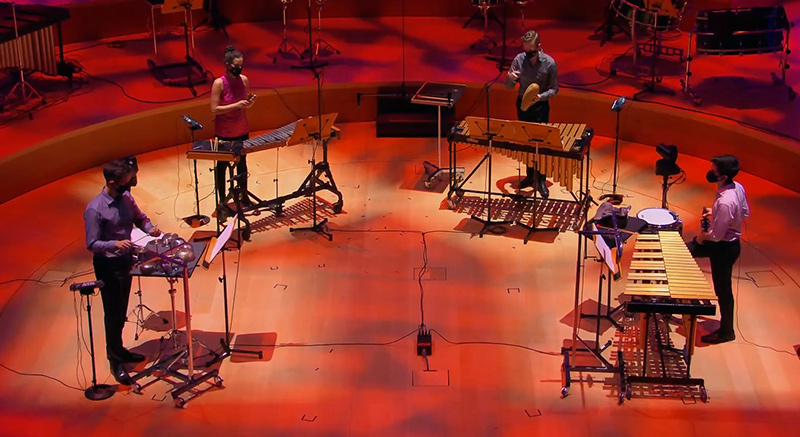 The concert streamed worldwide on IDAGIO's Global Concert Hall and is available to view until 9:00 PM on Tuesday, October 13. Click here for $10 tickets.
For a full review of the concert by South Florida Classical Review, click here.  

In his introductory remarks, Michael Linville explained how this concert's seven works, which span almost 90 years, explored how world music has been a source of inspiration for countless composers, in particular those seduced by the seemingly infinite sounds the percussion universe offers.
"Each piece illustrates how diverse elements of musical cultures take root in the imaginations of those composers," said Linville. "African and Indian drumming traditions, Indonesian gamelan music, Latin percussion and rhythms, machines from the industrial age, folk music, jazz and post-psychedelic pop all find their unique ways into these creations."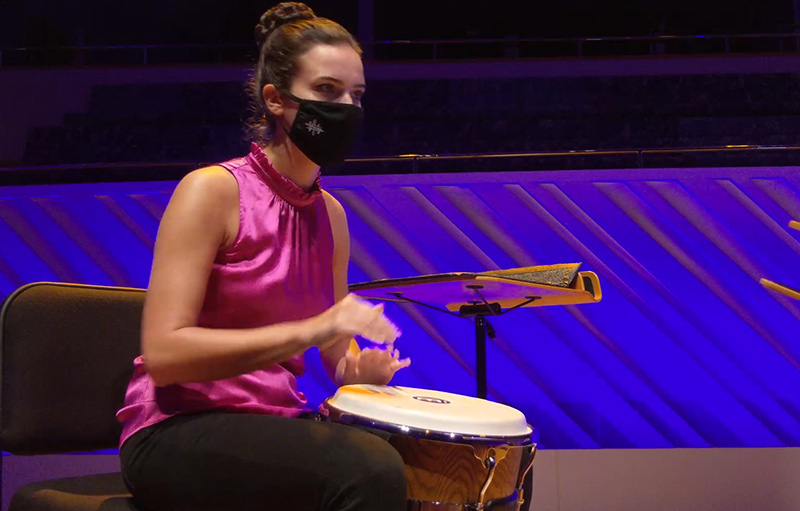 The concert included performances of Iannis Xenakis' Okho for three djembe—a west-African drum pictured above, Tania León's A la Par that features pitched and non-pitched instruments from her Cuban upbringing, William Kraft's jazz-inspired movement from his Suite for Percussion and Lou Harrison's gamelan-influenced Music for Harp and Percussion, featuring NWS's new Harp Fellow Phoebe Powell.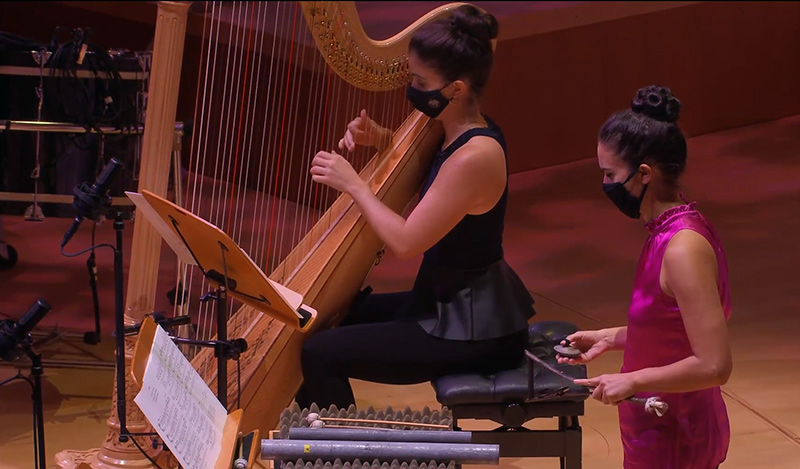 Henry Cowell's Ostinato Pianissimo—one of the earliest percussion ensemble pieces from 1934—has a bohemian feel and uses found instruments like rice bowls and prepared piano. The work featured current Percussion Fellow Charlie Rosmarin as xylophone soloist and welcomed back three NWS alumni who now perform across the country: Matthew Decker (Assistant Principal Percussion, Seattle Symphony), Matthew Howard (Principal Percussion, Los Angeles Philharmonic) and Joseph Petrasek (Principal Percussion, Atlanta Symphony).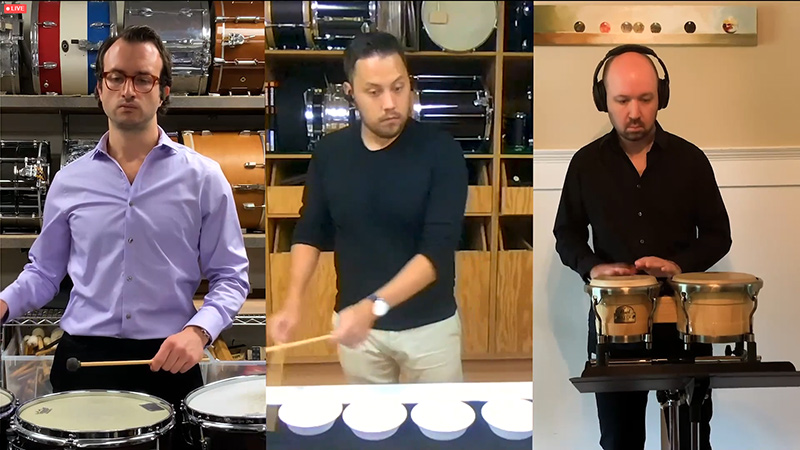 From left to right, NWS alumni Matthew Decker, Matthew Howard and Joseph Petrasek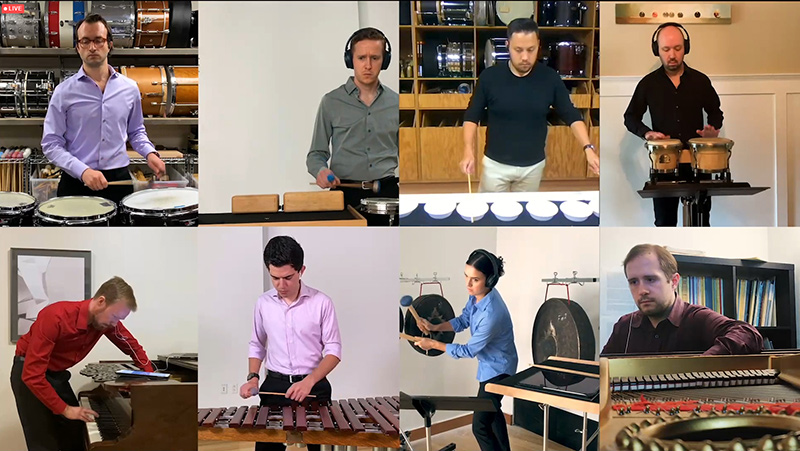 Due to travel restraints due to COVID-19, the performance was pre-recorded in a video edited by NWS Videographer Michael Matamoros.
Daniel Wohl's Replicate (Part 2) featured current NWS Percussion Fellows performing over electronics, which were captured using manipulated instruments. The performance featured introductory remarks by the composer himself, who joined online rehearsals, and original video by Clyde Scott, NWS's Director of Video Production/Resident Projection Designer.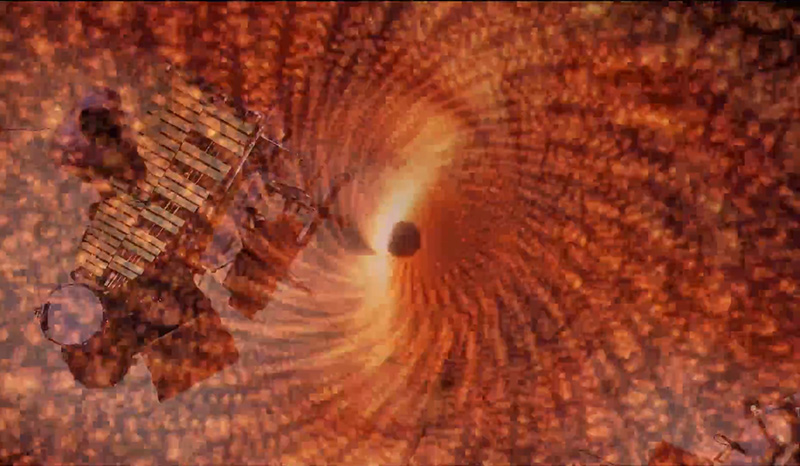 The concert's finale featured Béla Bartók's Sonata for Two Pianos, which highlights lively folk songs throughout and features NWS's two Piano Fellows, Wesley Ducote and Thomas Steigerwald.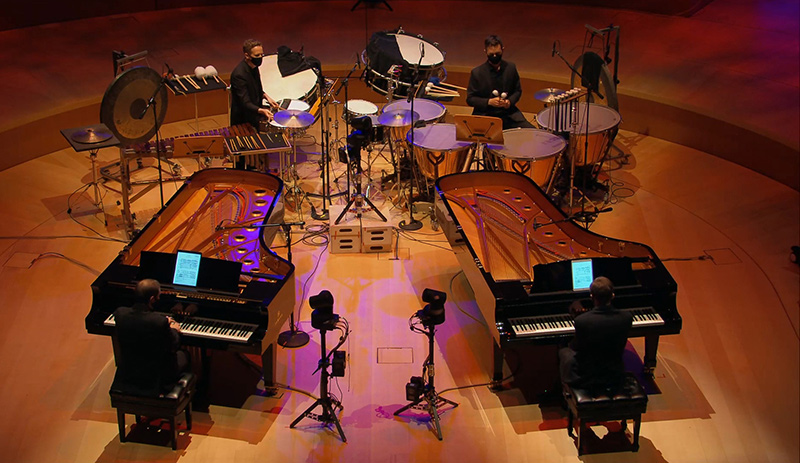 Percussion Consort: Bartók, Xenakis and Beyond was created in the Knight New Media Center as part of NWS Media. The concert was sponsored by Art Mentor Foundation Lucerne and the John S. and James L. Knight Foundation. Knight Foundation and New World Symphony: Reimagining Classical Music in the Digital Age.
Posted in: Alumni, Concerts, Fellows, Knight, Percussion Perspectives
---