News
April 15, 2021
Percussion Perspectives' Latin Grooves
On April 10 NWS Percussion Fellows, under the direction of NWS Dean of Chamber Music and Fellow Development (and NWS alumnus) Michael Linville, presented the second concert in NWS's season-long festival Percussion Perspectives. Titled Latin Grooves, the concert explored how music from the Afro-Cuban tradition has influenced composers from diverse backgrounds. "Though each culture has its distinct musical voice, certain elements of Latin music remain constant: the beats, the tunes and the instruments can be combined in a million different ways to create unique voices and sound worlds," said Michael Linville.
Latin Grooves saw Fellows performing on a variety of instruments, including bongos, agogo bells, cowbells, cuica, tamborim (Brazilian hand drum), steel drum, log drums, conch shells, palitos ("little sticks", solid wood rods like claves), stones, quijado (donkey jawbone with teeth), guiro, castanets, frying pans and even balloons.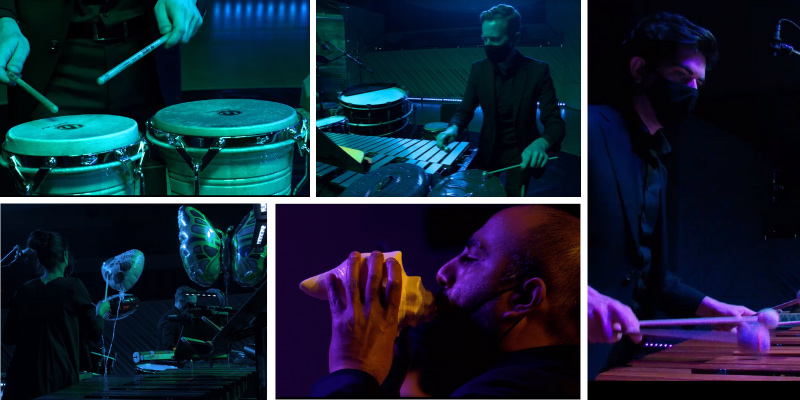 Kicking off the concert was Un ser encantado, aguas saladas, y piedras infinitas (An enchanted being, salty waters, and infinite stones) by Cuban American composer Ileana Perez Velázquez, whose music is considered an expression of magical realism from the literary school.
In opening remarks, she said the piece for two percussion and two pianos provides the experience of a magical world where things reverberate.  
French composer Étienne Perruchon composed a set of five dances for timpani and cello. The Dogorian Dances are character pieces about a mythical civilization that Perruchon himself created. They have a strong Latin flavor with sultry music that evokes Southern, warm climates and an energetic dance-like movement that is extremely rhythmic. Joining Timpani Fellow Matthew Kibort was Cello Fellow Amy Sunyoung Lee.

Claudia Calderón, a Colombian composer, wrote her Albores for the Mexican percussion quartet Tambuco. Meaning Dawns or Daybreaks, Albores is a virtuoso showpiece featuring music for Latin instruments. Joining Fellows for this performance was NWS alumnus Rajesh Prasad, now Assistant Principal Percussion of the North Carolina Symphony.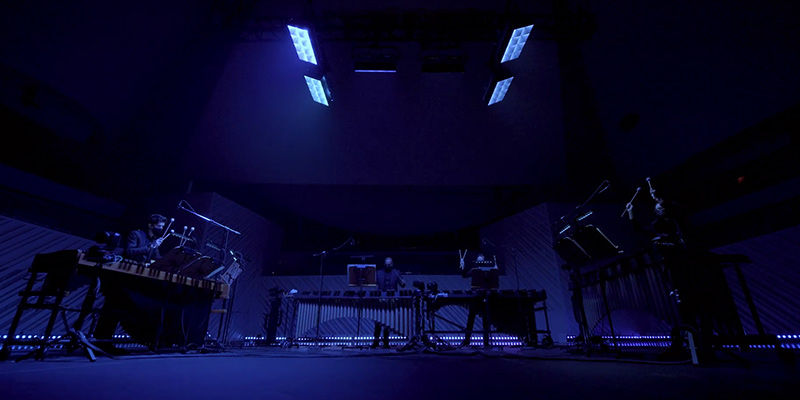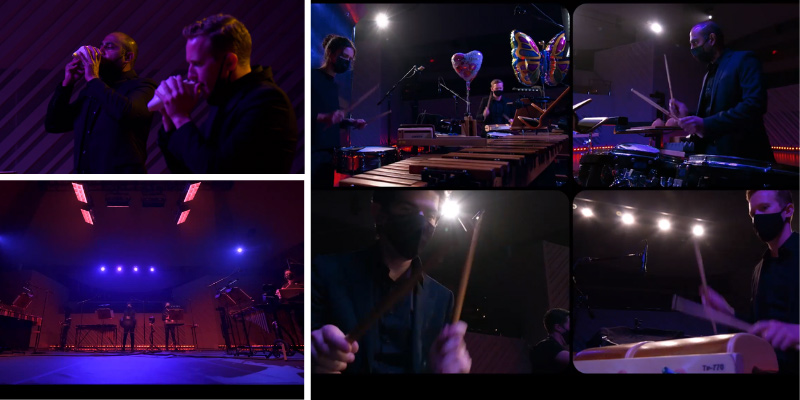 Performance stills from both Calderón and Rosauro works
Composer, musician and educator Ney Rosauro wrote Mitos Brasileiros (Brazilian Myths) for percussion quartet. The two movements on the program reflect different characters from Brazilian folk lore. The first, Saci Pererê, is a young gnome-like character with one leg, who is known as a trickster. Mula sem Cabeça is a headless mule that gallops across the countryside with flames from its neck. Rajesh again joined current NWS Percussion Fellows Kevin Ritenauer, Charlie Rosmarin and Marcelina Suchocka for the performance.
Percussion Perspectives Finale: April 24
Global Beats—the final concert in the Percussion Perspectives festival—takes place Saturday, April 24, 2021 at 7:30 PM ET.  The concert will feature renowned tabla player Zakir Hussain performing alongside Fellows in the world premiere of his own work, Chalan No. 1 in D. Click here for tickets.
Percussion Perspectives is sponsored in part by Art Mentor Foundation Lucerne; NWS Fund for New Ventures and the John S. and James L. Knight Foundation. Knight Foundation and New World Symphony: Reimagining Classical Music in the Digital Age. 
Posted in: Alumni, Concerts, Events, Fellows, Percussion Perspectives
---