News
October 11, 2016
Pianist Emanuel Ax this weekend in the Concert Hall and WALLCAST™ Concert in SoundScape Park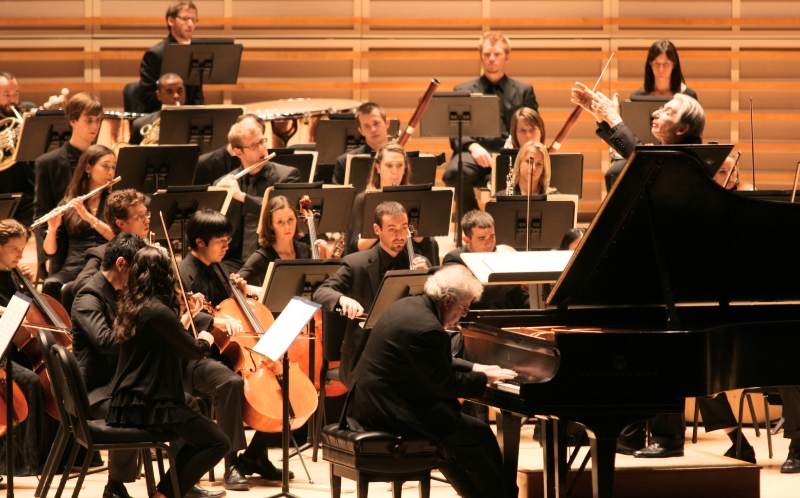 The always highly anticipated guest performer this weekend at the New World Center, famed pianist Emanuel Ax, first performed with the New World Sym­phony a quarter of a century ago in January 1992. While afterwards he didn't return until December 2008, Mr. Ax has been more of a regular guest artist since then. As the 'star' attrac­tion, he appeared sub­se­quently in the NWS Arsht Cen­ter series--in October 2010, October 2013 and March 2016.
Inter­est­ingly per­haps, he has steered away from per­for­mances of the usual piano vir­tu­oso pieces to a more var­ied and skilled reper­toire with NWS. He's per­formed the fol­low­ing concertos for piano and orches­tra: Prokofiev No. 1, Brahms No. 2 and Beethoven Nos. 3, 4 and 5 ("Emperor").

In 2015 SFS Media released the CD record­ing by NWS Artis­tic Direc­tor Michael Tilson Thomas and the San Fran­cisco Sym­phony (of which he is Music Direc­tor) of Emanuel Ax in a dynamic per­for­mance of the Beethoven No. 3. Mr. Ax also per­formed that work with the New World Sym­phony, led by MTT, for the con­certs of Decem­ber 12-14, 2008 at the Lin­coln The­atre. Another recording of Ax/SFS/MTT performing Beethoven No. 4 was released in 2011.

Last season, the follow-up to Ax's New World Symphony concerts of March 4 and 5, 2016 at NWC and the Arsht, was accompanying the orchestra to Puerto Rico for a concert on the 6th as part of the Festival Casals in San Juan.

"… when he sat at the keyboard…, he rolled out the sweeping opening of the Beethoven's Piano Concerto No. 5, known as the "Emperor," with an authority and grandeur few pianists could match. What followed was an exemplary performance of this popular work, big and extroverted, but with a feeling for nuance and lyricism."

CLICK HERE FOR INFORMATION AND TO BUY TICKETS FOR THE SATURDAY/SUNDAY CONCERTS

Interesting note: When fre­quent New World Sym­phony guest artist, the Amer­i­can pianist Gar­rick Ohlsson was the first Amer­i­can to win first prize in the Inter­na­tional Chopin Piano Com­pe­ti­tion in Warsaw, Poland, in 1970, Emanuel Ax got an hon­or­able men­tion.
Pho­tos of the Octo­ber 30, 2010 NWS con­cert at the Arsht Center, MTT con­duct­ing, courtesy of the New World Symphony Archives
Posted in: From The Archives, Guest Artists
---