News
May 4, 2017
#Project305 deadline extended to May 19 – meet us in your neighborhood!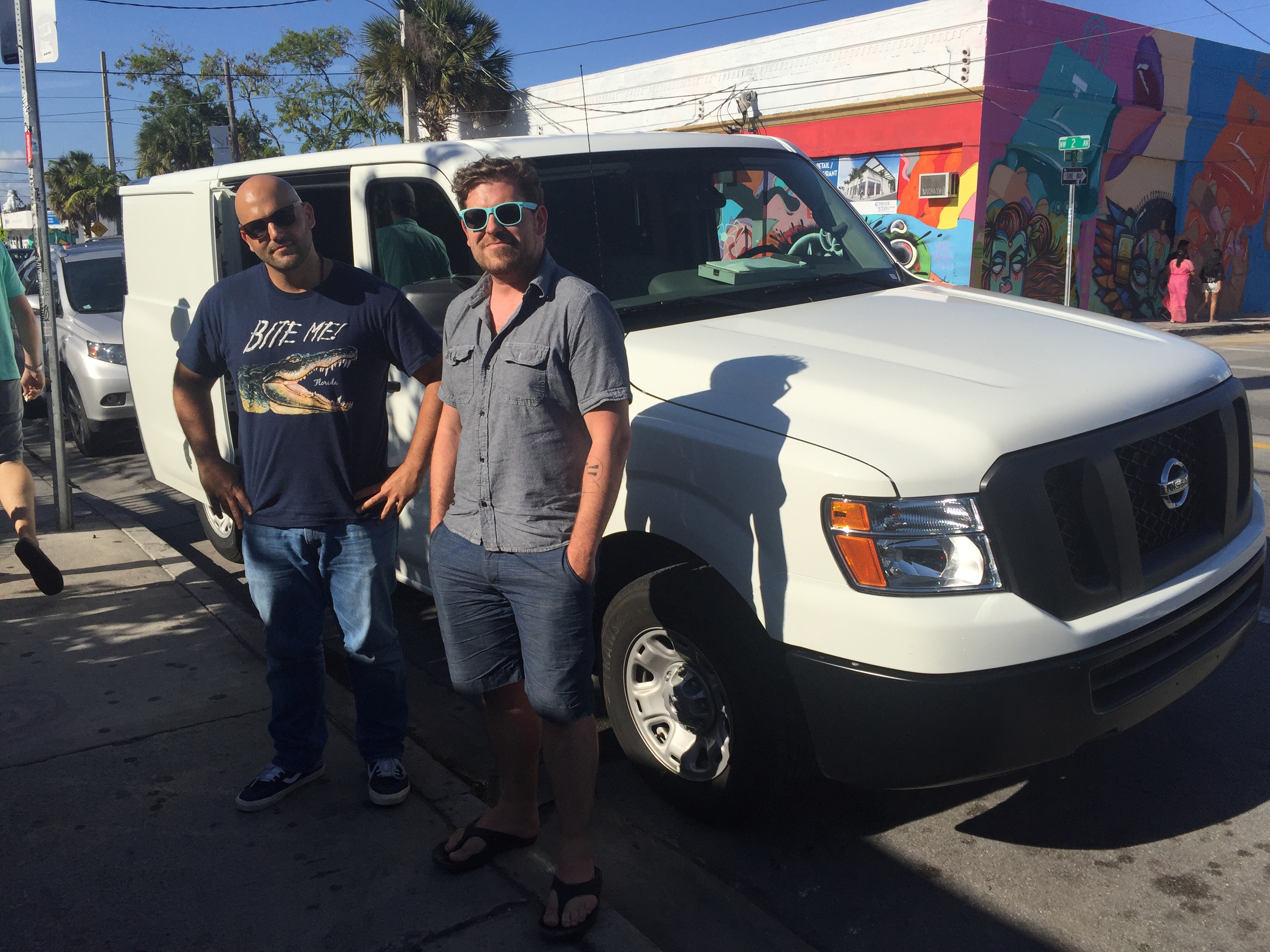 Jonathan David Kane (left) and Ted Hearne (right) in the Wynwood neighborhood in Miami with the mobile recording studio for Project 305.

#Project305—a  community-sourced symphony created for Miamians, by Miamians—is  92 days into its 100-day submission period.

With more than 930 entries, the project is on track to meet its original goal of 1,000 submissions for a final symphonic and video piece that will be produced by local filmmaker Jonathan David Kane and composer Ted Hearne.

The completed piece will represent Miami from a variety of perspectives, as captured by its residents, and will debut as a New World Symphony WALLCAST™ concert on October 21, 2017.

"This really is an opportunity for Miamians to share their stories with us—we want to know where you came from, why you're here, what you hope to see change in this city…we're looking for in-depth accounts of what life is like in Miami," said Kane. 

The project, a collaboration between Knight Foundation, New World Symphony and MIT Media Lab, has been met with enthusiasm from community partners and individuals alike who have sent in clips of people dancing on Calle Ocho in Little Havana, quiet moments from  solitary walks along the beach and so. much. traffic.

To meet community demand and provide even more Miamians with opportunities to submit sights and sounds of their city: We're extending the #Project305 deadline by an additional week to May 19!

In the final weeks leading up to May 19, we invite you to join us at one of the events below or to just get out and explore your corner of Miami and submit your clips to the project!

• May 5-7: #MiamiWalks Weekend: From Little Havana to South Miami, find a citizen-led walking tour happening near you and join the Jane's Walk movement. Document your explorations using the Project 305 app for iOS and Android. Walk dates and times in Miami can be found here.

• May 5-7: Mobile #Project305 Studio: Filmmaker Jonathan David Kane and composer Ted Hearne are also taking their documentarian efforts on the road to meet residents where they are. They have created a mobile recording studio to capture your stories of Miami. Here's where you can meet them this weekend!

   • Friday, May 5 from 2-5 PM at Hialeah Park (2200 E 4th Ave, Hialeah, FL 33013)
   • Saturday, May 6 from 2-5 PM at Coconut Grove Farmers Market (3300 Grand Ave, Miami, FL 33133)
   • Sunday, May 7 from 2-5 PM at Fairchild Tropical Garden (10901 Old Cutler Rd, Coral Gables, FL 33156)
• Saturday, May 13: Caribbean Market Day: Visit us at the Project305 table during the next Caribbean Market Day at the Little Haiti Cultural Complex, presented by the City of Miami! You can ask us your questions about the project, meet the minds behind #Project305 and capture some amazing Miami moments. Free event, more info here.
Posted in: Project 305
---