News
April 24, 2016
Sarah Peters & John Wilson: Solo Spotlight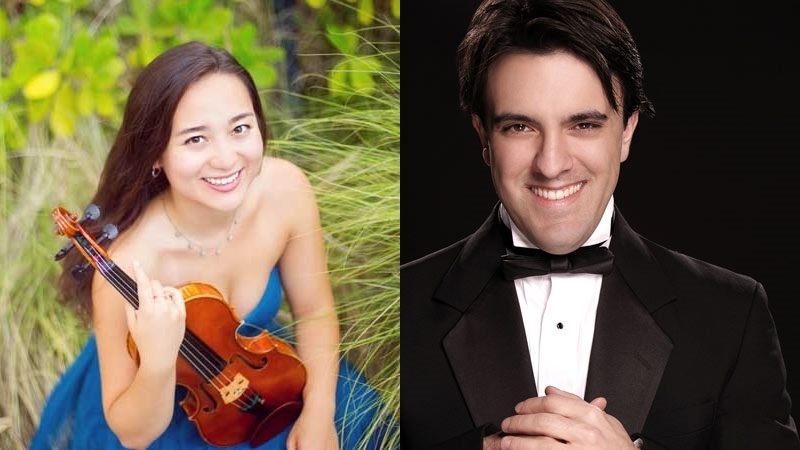 Sarah Peters is a second-year Violin Fellow, and John Wilson is a first-year Piano Fellow, at the New World Symphony. On Monday, April 25, at 7:00pm, they present "Solo Spotlight: Violin Showpieces of the 20th Century" in the SunTrust Pavilion at New World Center. We asked violinist Sarah to share her thoughts on this concert experience.
---
"I will start the program with Eugene Ysaye's
Ballade
, one of six solo sonatas written for six different violinists. The
Ballade
is in one movement and was dedicated to George Enescu. Ysaye was a Belgian violinist and was regarded by many as the "King of the Violin" and I think you'll be able to tell because this piece has many technical difficulties! I first learned this in during my undergraduate studies with Nicholas Kitchen at NEC. It's a beautiful piece that makes me feel like I'm performing a poem; there are sections that sound like they could be from a Bach's solo sonatas, but Ysaye also writes sections that imitate nature, like the sound of wind.
"Next, John and I will play Sonata for Violin and Piano by Claude Debussy. Written not too long before the
Ballade,
and completed in 1917 in close-by France, it was Debussy's final composition. I have wanted to play this piece since I first heard it when I was 13, and I am excited to perform it for the first time at NWS with John. Debussy went to the the world's fair in 1889 and was fascinated by the music he heard from other countries. In this sonata you'll hear some sections that are inspired by American jazz and oriental sounding music. Debussy also grew up during the Impressionism art movement, so a lot of his music to me reminds me of paintings of that era; the opening theme is repeated in the last movement but with different accompaniment, it sounds very different.
"Bela Bartok's Rhapsody No. 1 is dedicated to Joseph Szigeti; there is even a recording of Bartok and Szigeti playing it together, which to me is so interesting and exciting to hear performances of the actual composer and dedicatee! Bartok collected and studied folk music his entire life and I think that's evident in almost every piece he writes. This rhapsody is no exception. Bartok even insisted that Szigeti listen to the field recordings he had of the original melodies and the slow
Lassu
and fast
Friss
imitate the traditional Hungarian style of dances.
"For the final piece on the program, Moritz Moskowski's Suite for Two Violins, I'll be joined onstage by my friend
Maria Semes
. We met as fellows at Tanglewoood four summers ago and have been playing duos together since then. I first played the second movement of this Suite with my teacher in high school and since then, I have wanted to play the rest of the piece; I am so excited to play it with Maria and John as it is such a treat to be able to perform with close friends."
---
While this event is currently listed at capacity, some seats may be available at the door just before 7:00 PM.
Seating is subject to availability and is not guaranteed.
---
---