News
May 17, 2021
Season Finale Week of Wall Events: May 19-20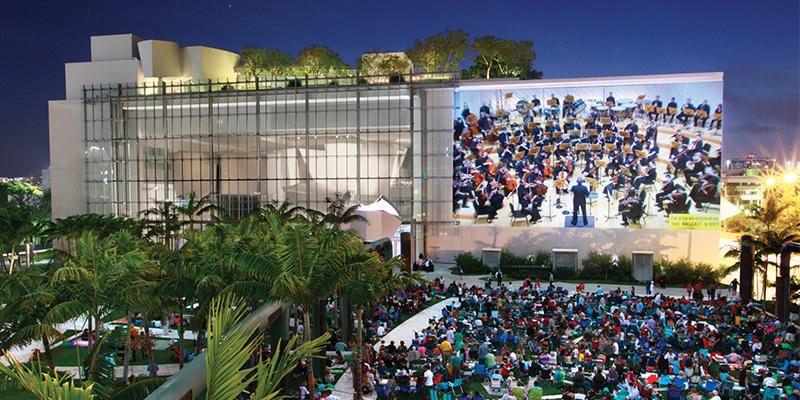 Wednesday, May 19 kicks off two days of events in SoundScape Park that mark the 2020-21 season's final Wall programming. The free events celebrate the community and culture of Miami Beach, including New World Symphony's WALLCAST® concerts and partnerships with cultural pillars like the Miami City Ballet. Starting May 21, the New World Center's Wall will go offline for the summer for routine maintenance and equipment upgrades.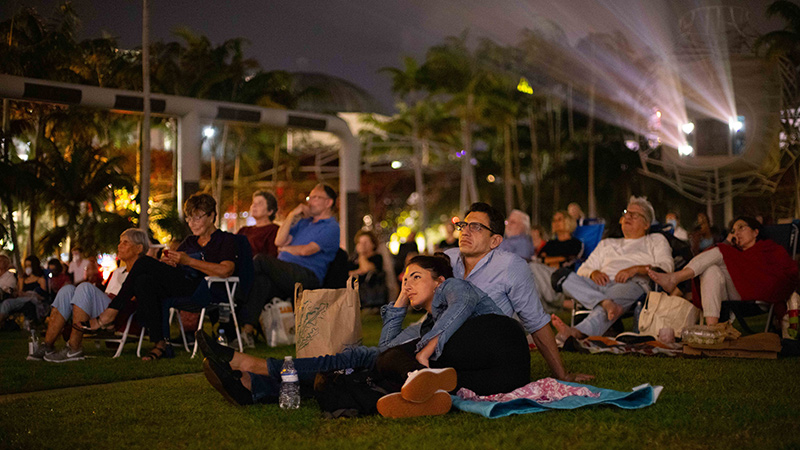 Photo by Ezequiel Williams, moment77.com 
About the Wall and Park
With 2.5 acres of lush green lawns, towering palm trees, and winding vines, SoundScape Park is a lesson in landscape harmony. An urban oasis created by a renowned team of Dutch designers, the park is a work of art all in itself. Nestled in the heart of Miami Beach, SoundScape Park serves as a scenic backdrop for communal gatherings and casual moments alike.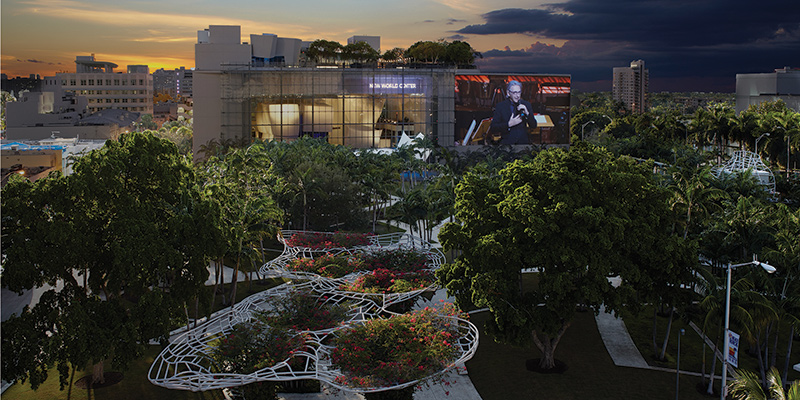 The ample open space ensures that Miami music lovers can comfortably gather for outdoor NWS concerts and other events, providing plenty of room for picnic blankets and comfortable chairs. The adjacent New World Center, home to NWS, has a 7,000 square-foot projection wall where you'll see a larger-than-life display of the performance. Cutting-edge technology offers an alternative to the traditional concert experience; you can enjoy the same exceptional-quality entertainment in a stunning outdoor setting.
Finale Week Events
For anyone who appreciates movies as much as they do music, the SoundScape Cinema Series hosted by the City of Miami Beach is a can't-miss weekly event. Films selected for screening range from timeless classics to new releases, so there is something to suit every age and taste – don't be surprised if you discover a new film favorite when you attend! Bring a large blanket to stretch out on, and your preferred movie snacks, and the entertainment and good company will be provided for you.
This season's Cinema Series finale features Pavarotti, a documentary by director Ron Howard that shares the life, works and achievements of opera legend Luciana Pavarotti.
For a special Culture Crawl, NWS and Miami City Ballet will host a free encore WALLCAST® concert from their joint performance on February 1, 2020 that celebrated Igor Stravinsky and George Balanchine, two icons of the 20th century whose decades-long friendship proved to be one of the most prolific artistic pairings of their time. Blending music and movement, the two cultural giants gave the world unforgettable productions and inspired students Michael Tilson Thomas and Lourdes Lopez, who now embolden the next generation of artists in our Miami Beach community. Included in this tribute is Apollo—their first collaboration inspired by the Greek God of music and his muse visitors. World-renowned violinist James Ehnes performs Stravinsky's Concerto, which becomes even more mind-blowing when paired with Balanchine's choreography. Stravinsky's raucous Circus Polka comes alive with immersive projections by video artist Emily Eckstein.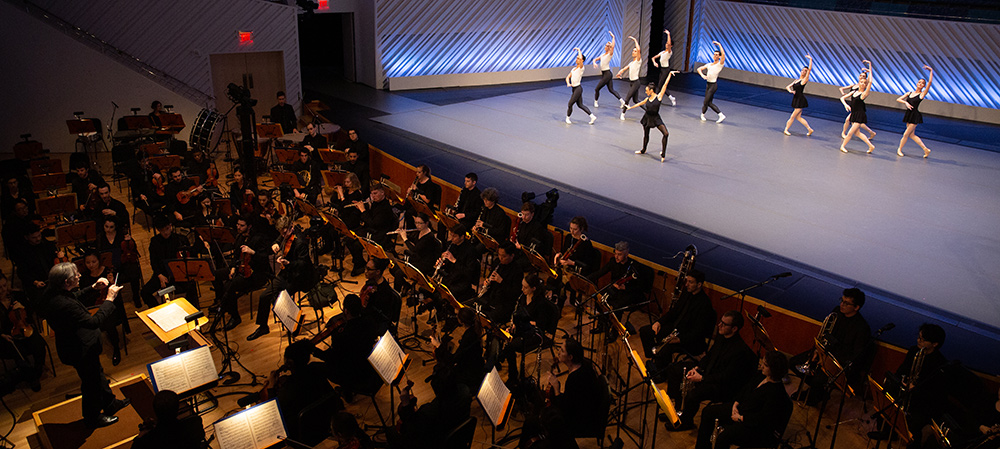 New World Symphony, MTT and Miami City Ballet Company Dancers perform Stravinsky Violin Concerto. Choreography by George Balanchine © The George Balanchine Trust. Photo © Alexander Iziliaev.
New World Symphony WALLCAST® concerts are one of the community's most beloved cultural events and a must for Miami locals and visitors alike. Hosted at SoundScape Park, the NWS WALLCAST® concerts are one-of-a-kind entertainment experiences that combine the best of visual and audio technology with the striking talents of the NWS Fellows.

POSTPONED: 
The Bass x Daata at SoundScape Park
The May 21 Bass x Daata event has been postponed. For more information, please email info@thebass.org.
Posted in: Concerts, Events, SoundScape Park, Wallcast Concerts
---