News
March 24, 2016
Sounds of the Times Concert: FAQs
The New Music concert to be held this Saturday March 26, features guest conductor Stefan Asbury and guest violin soloist Anthony Marwood, performing three contemporary works by Helen Grime, Thomas Adès, and Michael Tippett, works composed in 2009, 2005, and 1977, respectively.

Interestingly, the conductor, guest performer, and three composers are all British.

Maestro Asbury has performed with New World Symphony on two previous occasions. He conducted new music concerts in May 1998 and December 2004. Mr. Adès took the podium with NWS for a new music concert in November 2008, featuring both his and other composers' works. And Mr. Marwood makes his debut appearance with NWS.
---
Excitingly, Ms. Grime will be a guest at Saturday's concert, also marking the first time New World will perform one of her works. Her piece, A Cold Spring, receives its United States premiere here on Saturday. It was originally commissioned by Aldeburgh Music with funds provided by the Birmingham Contemporary Music Group and Sue Knussen Composers Fund, and had its world premiere in the UK by BCMG conducted by Oliver Knussen at the Aldeburgh Festival in June 2009. And perhaps not coincidentally, Stefan Asbury studied composition and conducting with Knussen.
---
Saturday will be the first time NWS has performed Mr. Adès' Violin Concerto "Concentric Paths" which was written for and first performed by our guest violinist Anthony Marwood. One review from the time said that Mr. Marwood played it "…with grace and panache. In all, it was 17 minutes of pure enchantment." The concerto was premiered by the Chamber Orchestra of Europe, conducted by Adès himself and first performed in September 2005 at the Berlin Festspiele and the BBC Proms in London, followed in 2006 by the U.S. premiere by co-commissioner Los Angeles Philharmonic.

Click here to read the review (in German) of the world premiere
Click here to read the review of the London performance
Click here to read the notes on the Los Angeles performance
Click here to read how Marwood approached playing the piece
---
Finally, it's also the first performance by NWS of Michael Tippett's Symphony No. 4. NWS has performed four of his other works in prior seasons, in 1994 and 1995, 2012 and 2015. Sir Michael  established the Michael Tippett Musical Foundation in 1979 with funds from the sale of his manuscripts to the British Library. The Foundation's goal is "the development of group music making, especially involving young people in projects incorporating composition and creative ideas."
---
CLICK HERE FOR MORE INFORMATION & TO PURCHASE TICKETS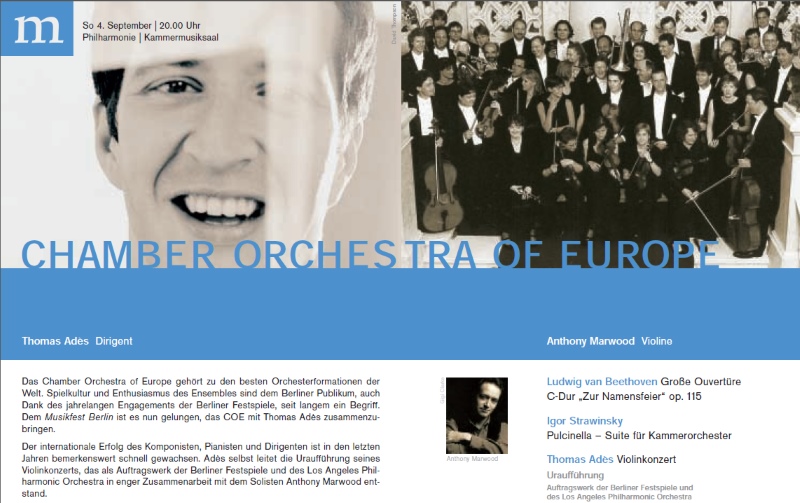 program from world premiere of Thomas Adès' Violin Concerto
Posted in: Composers, Concerts, Guest Artists
---