News
July 21, 2016
Study of New World Symphony WALLCAST™ Concerts Reveals Diverse Audiences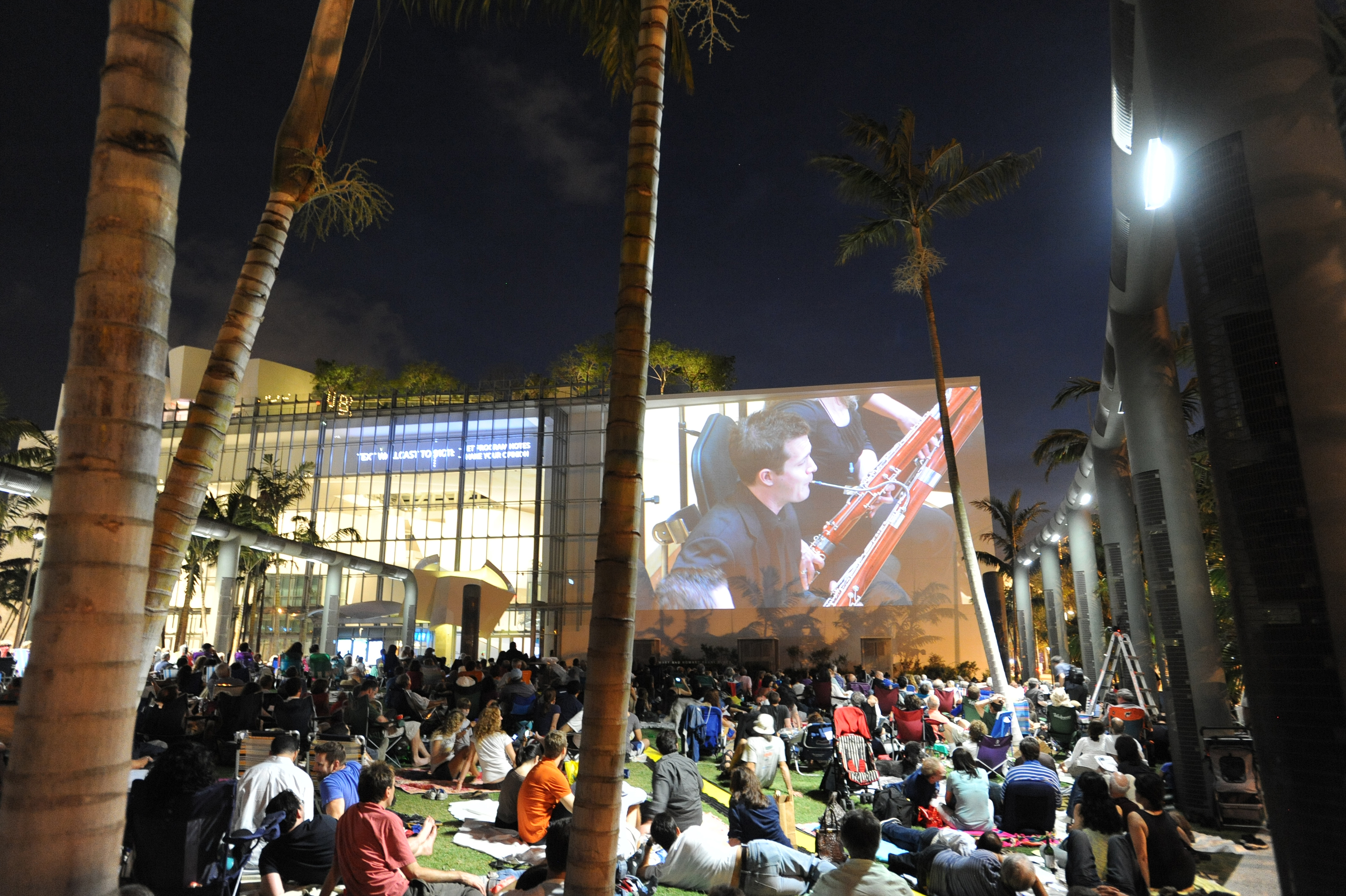 The WALLCAST™ Concert Experience, a yearlong independent study about the New World Symphony's WALLCAST™ concerts, is now available to the public. The study reveals that audiences for the format are far more diverse than audiences for traditional classical music concerts, reflected across multiple indicators—primarily the age, ethnicity and socio-economic backgrounds of attendees.
Click here to read the full report by WolfBrown.
WALLCAST™ concerts are free outdoor simulcasts of live concerts performed on stage inside the New World Center. Live video from the hall is projected onto the Center's 7,000-square-foot eastern façade and viewed from adjacent SoundScape Park, which was designed as an extension of the Center. Audio from the performance is transmitted through the park's virtual-acoustic sound system. Noting that other orchestras and presenting organizations across the country are experimenting with similar formats, the study posits that orchestras and presenters are interested in creating events as a way of bringing the classical music experience to a larger public, breaking down barriers related to "cost and negative perceptions of classical music as intimidating and inaccessible."
Quoted recently in a Musical America special report on WALLCAST™ concerts, NWS President and CEO Howard Herring remarked: "We are bringing new people to this art form … with an experience that is social and comfortable and inviting, yet there is no diminishment of the power of classical music."
The New World Symphony commissioned the study to assess the impact and role of its WALLCAST™ concerts in the community.  Funded in part by The Miami Foundation and led by consulting firm WolfBrown, the study investigates the WALLCAST™ concert format's effectiveness in attracting and engaging new audiences for classical music, reflecting not just NWS' commitment to audience development, but its mission to educate the next generation of musicians in these new approaches.
The findings of the report confirm the positive impact of the WALLCAST™ concert format in furthering NWS' broader effort to bring in new listeners, while also shedding light on the effectiveness of the simulcast format.
In conducting the study, WolfBrown researchers used a mixed-method approach incorporating surveys, short-and long-form interviews and focus groups over the course of the 2014-15 season.
The study provides a demographic profile of the WALLCAST™ concert audience, revealing that attendees are both younger and more ethnically diverse than those who attend traditional concerts. While 81% of the audience for NWS' traditional concerts is over age 65, WALLCAST™ concerts are reaching nearly the opposite age demographic, with 70% of the audience under age 65. Moreover, 34% of WALLCAST™ concert attendees self-identify as people of color, compared to just 12% of traditional concert attendees.
In analyzing the audience's motivations for attending, the researchers found that for most respondents, the opportunity to interact with other concert-goers is an attractive part of the WALLCAST™ concert experience. The top three motivations cited were "to experience music in a relaxed and social environment" (50%), "to spend quality time with family or friends" (44%), and to "enjoy SoundScape Park and being outside, in general" (42%). Through further statistical analysis, the research team was able to articulate three general points of attraction that attendees have to the WALLCAST™ concert experience, namely "Social Fulfillment and Sense of Belonging," "Setting and Casual Atmosphere," and "Music and Affirmation."
The research shows that audience members develop a deep affinity for WALLCASTTM concerts and, in turn, for NWS, over time and with repeat exposure. Several interviewees noted that they come to every WALLCASTTM concert that they can—it is just a "habit," a part of their regular routine, and that they would be heart-stricken if the concerts were to go away. One interviewee called WALLCASTTM  concert "one great landmark," another lamented that she would lose her "bragging rights" if they went away, and another stated "it becomes an instant community."  Focus group participants described similar habits and sentiments, referring to their "usual" way of preparing for a WALLCASTTM concert, demonstrating how it has become a regular and valued part of their life. Their responses provide additional evidence of the tremendous sense of ownership that many have for WALLCASTTM concert programs, in particular those who have been attending for a long time.
Many attendees of WALLCASTTM concerts become ambassadors for the experience, telling family members, friends, people in their office, apartment building and on social media about WALLCASTTM concerts. One woman recounted how she invited a friend, who now attends regularly and has in turn invited her friends, who have invited others, and so on. Interviewees and focus group participants described how they communicate about upcoming concerts widely across their social networks, through email or text messaging, and are excited to run into friends and neighbors who start to come independent of their invitation.
New World Symphony co-founder and artistic director Michael Tilson Thomas offered his perspective, stating "The New World Symphony's WALLCAST™ concerts have become a social phenomenon surpassing all our expectations. Week after week it's amazing to see thousands of people gathering to hear sophisticated programs of classical music that explore the full range of the repertoire. In attendance are people of all ages—families, young singles, retirees, and people of every ethnic background and gender. They listen with complete attention. Their enthusiasm for the performances is huge and they eagerly gather to meet members of the orchestra after the performances. For the audience and for us it has been a transformative experience."
While the findings emphasize the new faces in the NWS crowd, Mr. Herring emphasizes that the WALLCAST™ concerts are but one component of a broader effort to expand—rather than replace—its existing audience. "We have a strong audience for [our traditional concerts]. They love it, and we love them. The future is a progression toward multiple audiences. If you have four or five formats, each with its own audience, you are way better off. More formats, more people, more penetration into the community... That's how we see the future" (Musical America).
Posted in: Concerts, In the News
---