News
November 6, 2018
Support New World Symphony on #GiveMiamiDay, Nov. 15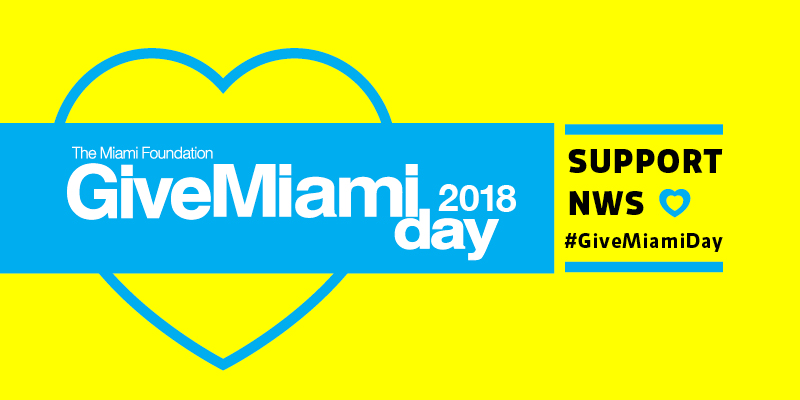 For the seventh year, New World Symphony (NWS) joins more than 700 local non-profit organizations for Give Miami Day, 24-hours of online giving hosted by The Miami Foundation on Thursday, November 15.

Each year, NWS features select facets of our fellowship and community programs for our annual Give Miami Day campaign. This year, we're highlighting how NWS Fellows extend their reach beyond the concert hall to bring music to your neighborhood, helping to bring South Floridians together through shared stories and interests while underscoring the importance of the arts in daily life.

In April 2018, NWS Fellows created 21 music projects that spanned a variety of causes, topics and audiences in South Florida, including a listening journey in Everglades National Park, helping soothe kenneled animals at Miami-Dade County Animal Services with live classical music, performing recitals for independent and assisted living communities, and so much more. Each project leveraged a single unifying theme: music.
For this year's Give Miami Day campaign, we've chosen four of the 21 musical projects created and executed by NWS Fellows to reach, connect and augment the voices of diverse communities and causes in South Florida through music.
Peruse the videos below and please consider making a gift to New World Symphony on Give Miami Day to continue supporting our free community programming and to enable us to bring classical music to all of South Florida.

Farm to Stage celebrated the many people whose work cultivates our community's land and fills our plates with food, with the Florida Farmworkers Association, based in Homestead.



Transmuse was a collaboration with TRANSSOCIAL and Pridelines to present a musical event in celebration of South Florida's transgender community.
Music For Animals featured three parts to NWS's collaboration with Miami-Dade County Animal Services, culminating with an adoption drive before a WALLCAST® concert to help adoptable animals find homes.
Bach in the Wild reimagined the listening experience for visitors in Everglades National Park with a program that included performances by Fellows alongside guided narration from an interpretive park ranger.
Did you know? Your gift in the amount of $25 to $10,000 goes further on Give Miami Day, thanks to a partial match from The Miami Foundation.

To make a gift to New World Symphony on Give Miami Day, November 15, simply return to this page and use the embedded form at the bottom of this blog post.

If you would prefer to secure your Give Miami Day gift before November 15, please find us at these events with pledge cards:
     Inside the Music, New World Center – Tuesday, November 6
     Concert For Kids, New World Center – Sunday, November 11
     Musicians' Forum, New World Center – Monday, November 12
When you support New World Symphony, you are supporting arts and music education, the future of classical music, community engagement programs and so much more. 

Thank you for supporting the New World Symphony.
After you make your gift, spread the news by tagging @nwsymphony on Twitter and Instagram, or @NewWorldSymphony on Facebook!
Posted in: Community Engagement, Fellows, Give Miami Day
---