News
November 11, 2016
Support the future of classical music on Give Miami Day, Nov. 17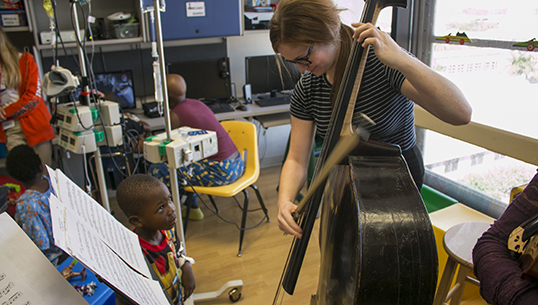 NWS Bass Fellow Mary Reed plays for one of Holtz Children's Hospitals' young patients during a community visit.

New World Symphony joins more than 650 local non-profit organizations for Give Miami Day 2016 on November 17!
Your contribution to New World Symphony, its fellowship and community programs goes further on Give Miami Day, thanks to support from The Miami Foundation, Knight Foundation and the Arison Arts Foundation. Learn more about the various matches your gift can receive and join us back here on November 17th to make your gift using the form below!
Three ways to increase your impact on November 17: 

• Make a donation in the amount of $25 to $10,000, to receive a percentage match by The Miami Foundation. 

• Become a new donor to New World Symphony, or if you're an existing donor who increases their gift from previous years, your new or increased gift may receive an additional dollar-to-dollar match, thanks to a matching grant challenge from the Arison Arts Foundation.

• Make a gift of $25 to $100 at exactly 7:10 a.m. OR 3:05 p.m., for a 100% match until the minutes are over, or until each $7,500 match pool has been exhausted. Thanks to The Miami Foundation and Miami FC for this added bonus!
Your gift supports our Fellows, the future of classical music and our community programs in South Florida for residents, students, teachers, families and others: 
     • WALLCAST ™ Concerts in SoundScape Park 
     • Education concerts and rehearsal observations for teachers and students
     • Instrument petting zoos for children and families
     • Community concerts hosted by NWS Fellows
     • NWS in the Schools program
     • Free community yoga 

To learn more about our Community Engagement programs in South Florida, click here.
---