News
November 20, 2020
Symphony in Place: Fellows bring music to America's heartland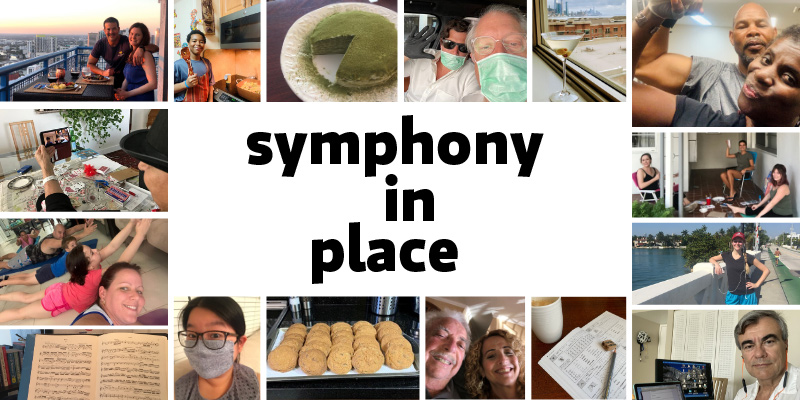 Symphony in Place is a blog series that chronicles the happenings of NWS Fellows, Alumni, Trustees, Volunteers and Staff during the COVID-19 crisis. Click here to access all posts in the series. 
In a typical summer, you can find NWS Fellows scattered across the globe performing and teaching, but 2020's pandemic caused many festivals and performance series to cancel. Flute Fellow Johanna Gruskin saw it as an opportunity for a musical reunion with her woodwind quintet, Midic Winds, in an unexpected place – the plains of western Kansas.
Goodland, Kansas is over 1,640 miles from Miami Beach and in September it welcomed Midic Winds for a series of socially-distanced outdoor concerts, pop-up concerts around town and educational presentations. Midic Winds also joined NWS's Live from our Living Room series from Goodland's Carnegie Arts Center.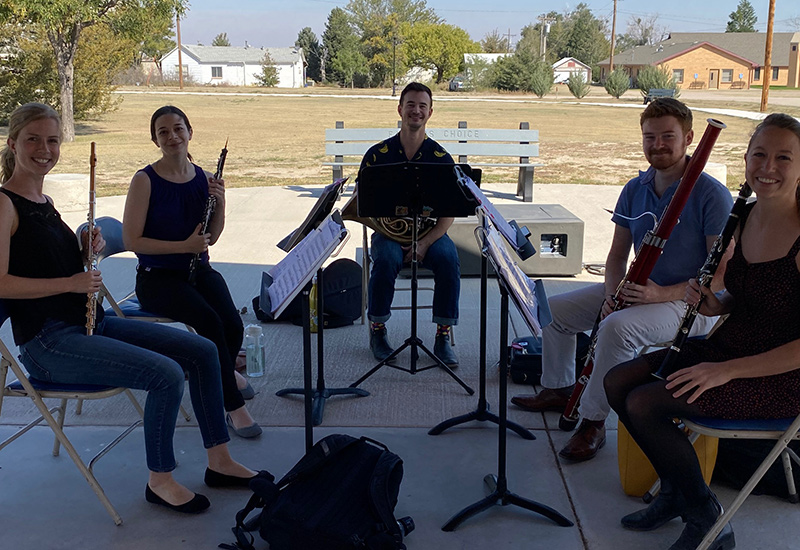 Midic Winds in Weskan, Kansas
The quintet was comprised of two current NWS Fellows—Johanna Gruskin (flute) and Justin Cummings (bassoon), one NWS alumnus (Russell Rybicki, horn, San Antonio Symphony), oboist Katie Hart and clarinetist Rebecca Tobin. Midic Winds formed in 2012 while its founding members were studying at the Eastman School of Music. Before becoming impromptu artists-in-residence in Goodland, Kansas, they were medalists at the 2013 Fischoff National Chamber Music Competition and have held several residencies across the U.S.
Johanna Gruskin shares how they came to choose Goodland, Kansas and reflects on their special summer together.
Every summer and Christmas during my childhood I would go back to visit my mom's hometown of Goodland, Kansas, a town of 4,400 people, about 200 miles east of Denver and 400 miles west of Kansas City. I have fond memories of playing cards with my relatives, going to the county fair, and riding along on the combine at harvest time. As I moved away for college and got busier with my own schedule, I hadn't been able to visit my extended family in Goodland for many years. Last year my grandmother there passed away at the age of 103, and her house with so many of my childhood memories hadn't yet been sold.
This summer my woodwind quintet, the Midic Winds, was talking about how much we missed playing together and wondered if there was some way we could possibly get together safely during the pandemic. I don't think my mom ever imagined we would take her up on this offer, but she reminded me about the empty house in Goodland which could be a place for the quintet to quarantine together. Western Kansas has many beautiful parks and hardly any rain in September, making it an ideal place for outdoor performances. (It ended up snowing the week before we got there, but we managed to get by with the biggest challenge being 35mph winds...)


Midic Winds perform in Goodland, Kansas' Topside Manor nursing home (left) and Pioneer Park
This became my NWS BLUE project, and the New World Symphony provided mentorship and funding for us. One of my cousins in Goodland connected me with local arts organizations to start setting up performances. Justin and I flew in early and quarantined in the house before the rest of the group arrived. Katie, Rebecca and Russell quarantined at home in Texas before driving up to meet us in Goodland. We performed outdoor, socially-distanced concerts in Oakley, Colby, St. Francis and Goodland. We also enjoyed giving outdoor presentations for the schools in St. Francis and Weskan (population 335).
This was quite an experience of worlds colliding for me! I was very anxious beforehand, but once we arrived I realized that I shouldn't have been. My quintet colleagues and I were struck by the enthusiasm and graciousness of our audience members who don't often get to hear live music performed by young professionals like us. My extended family welcomed my quintet friends, dropping off dinner at the house for us and showing us the ranch and the farm. The quintet got to see the tractor, combine and grain elevators up close, and ask questions about what life is like as a farmer in Kansas. My uncle took us on a tour of his ranch in a school bus that he usually uses as a windbreak for cattle.


Midic Winds members on the combine, at the Van Gogh easel and by the school bus on Johanna's uncle's ranch
This was the first time any of the quintet members had played for an in-person audience since the start of the pandemic, and we were thrilled! We commissioned a new piece, Epitaph, by composer Nick Davies that is dedicated to Goodland and my grandmother, and based on the world's largest easel and replica of Van Gogh Sunflowers located in Goodland. I hope our performances gave listeners an expanded idea of who composes classical music and what it can sound like, and I'm so glad my quintet colleagues had a chance to learn about Goodland, a place that holds so many fond memories for me.
Midic Winds perform in Live from our Living Room
** Midic Winds' portion begins at 13:15 **
NWS BLUE Projects are made possible with support from the Maxine and Stuart Frankel Foundation. Photos provided by Johanna Gruskin.
Posted in: Alumni, Fellows, Symphony in Place
---