News
April 7, 2020
Symphony in Place: NWS Trustee launches Meals for Heroes Miami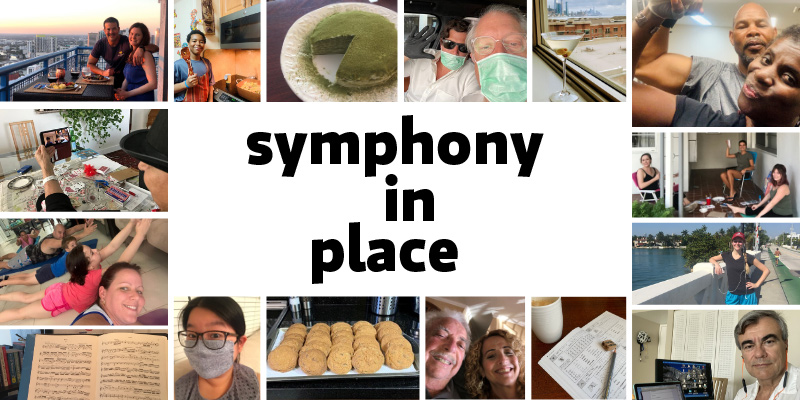 Symphony in Place is a blog series that chronicles the happenings of NWS Fellows, Alumni, Trustees, Volunteers and Staff during the COVID-19 crisis. Click here to access all posts in the series. 
In response to the COVID-19 pandemic, Will Osborne—Vice Chairman of NWS's Board of Trustees—has launched Meals for Heroes Miami. On April 1, the nonprofit, donation-based organization hit the ground running to feed the stressed and exhausted first responders risking their lives daily, and provide revenue and protect jobs at Miami restaurants.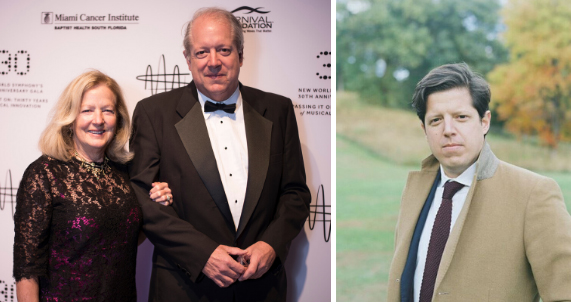 Left to right: NWS Trustee Will Osborne (with Karen Bechtel) and Mac Osborne
Meals for Heroes Miami was founded by Will, philanthropist and Miami resident, and his son, New York-based restaurateur Mac Osborne. The younger Osborne was in Miami for a brief visit in mid-March, and found his stay extended indefinitely when quarantine for New York visitors were set in place. Eager to help support his industry, and inspired by the men and women who put themselves in harm's way to protect the population, Meals for Heroes was born.
"It was a pretty simple concept that I brought up to my dad," said Mac Osborne. "There are hungry first responders and cooks who needed work. I thought we would just do it once to support his favorite restaurant and a local hospital. A week later and we have served 1,000 meals from five restaurants and purveyors to six different front-line facilities." 
Some of Meals for Heroes Miami's front-line recipients include Jackson Memorial Hospital, Miami Beach Fire Department, Miami Baptist Hospital and Miami Baptist Hospital Miami Beach.
The culinary partners for Meals of Heroes Miami includes the New World Center's exclusive caterer: Thierry Isambert Culinary and Event Design. The growing list of restaurant partners also includes Yardbird Southern Table and Bar, Joe's Stone Crab, Red South Beach and Stubborn Seed.
Will Osborne commented, "How much Netflix binge-ing can one person watch? I know that people everywhere are wondering what they can do to help, and this is a way for people to donate to help those helping us. Miami is a city built on the hospitality industry, which is being crushed by this pandemic. This is a fight that is going to be won by our healthcare front-line workers, in conjunction with our first responders. These three constituencies, hospitality, healthcare, and fire/EMS/police need our support. Purchasing meals to deliver to these stressed professionals is a sign of support from a grateful community."
"Meals for Heroes has brought a needed respite for our front-line nurses and staff at our emergency rooms and ICU's." said Joe Arriola, Chairman Public Health Trust, Jackson Memorial Hospital. "We all truly appreciate this show of support by our community for donating dinners for our healthcare professionals who are putting their own health on the line to support and comfort their patients. Clear proof that we are all in this together. Thank you Meals for Heroes!"
HOW IT WORKS
Meals for Heroes Miami reaches out to hospitals and testing centers to determine their needs. In partnership with local restaurants, orders are placed for 50 to 500 meals daily to be delivered to each facility. Restaurant partners take all necessary precautions outlined by the CDC, and working with each facility, ensure a contact-less delivery of the meals.
Meals for Heroes Miami is a donation-based organization. All administrative, legal and financial and operational expenses are borne by the founders; therefore 100% of donations go towards restaurants in the purchase of meals. A $15 donation will support a first-responder meal, $500 will provide meals for one ICU shift, $5,000 will support an Emergency Room for two shifts, and $10,000 ensures meals for one day at three Miami front-line hospitals. Click here to donate.
Posted in: Symphony in Place, Trustees
---