News
April 24, 2020
Symphony in Place: Teen violinist brings joy to neighborhoods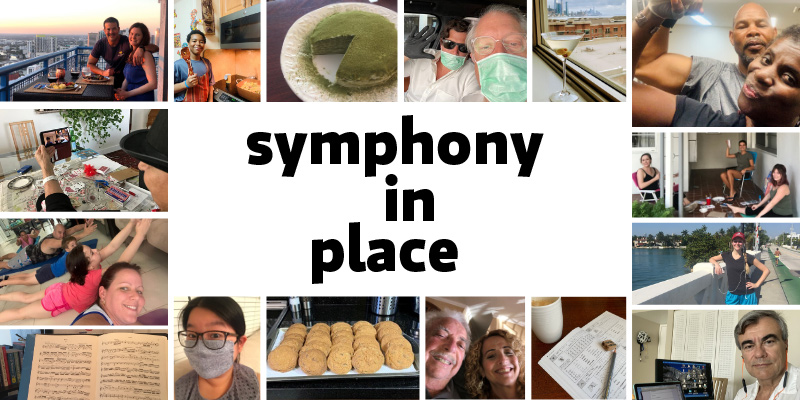 Symphony in Place is a blog series that chronicles the happenings of NWS Fellows, Alumni, Trustees, Volunteers and Staff during the COVID-19 crisis. Click here to access all posts in the series. 
Zach Buttrick, the 18-year-old son of NWS Trustee Matthew Buttrick and Jennifer Stearns Buttrick, is lifting spirits with impromptu concerts in neighborhoods around Miami. The Miami Herald shared his story in this feature. 
If you would like to reach Zach and schedule a concert, write to zachsmusic@bellsouth.net.
'Highlight of the quarantine.' Teen violinist brings joy to neighborhoods amid pandemic.
When people suddenly hear the music, they come out of their homes or stop their bike rides.
They practice social distancing, and wear their masks to listen to a teenager play his violin.
For more than a month, Zach Buttrick, 18, has performed his mini-concerts in neighborhoods all over Miami. He brings people together in joy, as they stand, or sit, apart.
One listener called it the "Highlight of the Quarantine."
Zach, a senior at Ransom Everglades School in Coconut Grove, has been playing impromptu and planned violin concerts on neighborhood streets since March 23. He is up to over 60 concerts and will play even more this weekend.
Zach has lifted the spirits of a grandmother who lives alone and could not celebrate her birthday with her family due to the coronavirus pandemic.
They requested he play "En Mi Viejo San Juan," Zach learned the piece immediately, so he could perform it in a parking area outside the building.
The family looked up while the grandmother looked on from her balcony.
Zach's mom, Jennifer Stearns Buttrick, said the older woman's daughter-in-law wrote to her later saying, "Thank you, thank you so much! This past year was hard for my mother-in-law, since we lost our father-in law almost a year ago. This simple yet beautiful musical gift Zach has given her (and the rest of the building) is a moment that we shall never forget!"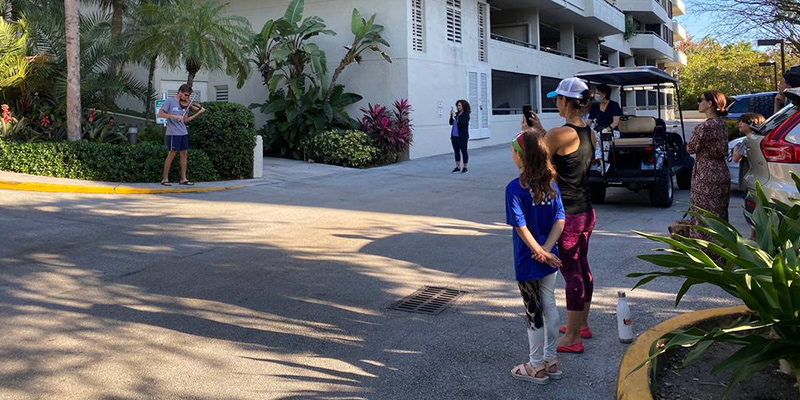 Photo by Jennifer Stearns Buttrick
Zach said he decided in mid-March to start performing his violin concerts.
"When the COVID-19 crisis began to affect South Florida last month, I thought about what I could do to make a difference in my community. Inspired by Yo-Yo Ma, who has called upon musicians everywhere to share their talents with others virtually in order to bring some joy and comfort to the world in this difficult time (#SongsOfComfort), I decided to perform a series of in-person mini-concerts," he said.
And while they are all special, some of the concerts are especially moving for him.
"One of the audience members subsequently told me that, just before I came to her home, she had made the decision to cancel the 25th season of the theater company she had founded. She was profoundly sad, but said my performance 'softened the blow,'" Zach said.
"Another audience member spoke up between pieces and said my performance meant a great deal to him, as his father had passed away only a few hours earlier. His appreciation was heartfelt and his words sincere. All I could do was pour the raw emotion of the moment into my version of Leonard Cohen's 'Hallelujah.'"
In addition to Key Biscayne, Zach's concerts have been performed in Coconut Grove, Pinecrest, Coral Gables, Miami Beach and Miami Shores.
"My mother has been doubling as my booking agent and helping coordinate all of my performances. I could not have done this without her," he said.
Last Friday, he performed at an apartment building on the Key," Jennifer Stearns Buttrick said.
"The manager arranged to have a microphone at the valet parking area at the entrance to the building, so the violin could be heard from all the residents' balconies for the eight-story building.
"The applause was amazing! You could not see much of the audience but they were listening," she said.
Zach, who lives in Key Biscayne, has played the violin since he was 5 and takes weekly private lessons with Ashley Liberty of Palmetto Bay. He plays a variety of music, ranging from classical to American fiddle.
"He also enjoys listening to music not written for violin and then figuring out how to play it on his instrument," his mom said.
"He has done that with Bach's famous 'Cello Suite No. 1' and Leonard Cohen's 'Hallelujah,' which he has been performing in our community. He has also done that with a few choice '80s rock hits, such as U2's 'With or Without You,' which has also been featured in his performances."
She said Zach is not accepting payment for his performances, but, if pressed, he has requested that donations be made either to the Key Biscayne Community Foundation's Emergency Relief Fund for COVID-19 or to Feeding South Florida, the food pantry that is feeding local families during the pandemic.
"There have been a lot of touching moments, but some of the most poignant have been when Zach has helped families celebrate birthdays during this unprecedented time," she said.
"On April 3, for instance, local icon Joan Gill Blank, the author of 'Key Biscayne: A History of Miami's Tropical Island and the Cape Florida Lighthouse,' turned 92. Zach played 'Happy Birthday' and other pieces for her from the parking lot of her apartment building as she looked on from her balcony.
Mom Jennifer said another comment she received was from someone in Pinecrest last weekend.
"They said, 'My in-laws were so touched. My mother-in-law said she was almost in tears so you do know how much it means to them since they've been so isolated. Thank you again.'"
When he started the mini-concerts, Zach said, there might be just a couple of people listening.
"My mother and I sent word out to local residents that they could request that I come play the violin for them and their neighbors in their front yards, parking lots, or anywhere else that social distancing rules could be observed," he said.
"My hope was to put a smile on people's faces and offer a brief respite from our new 'normal.' The response has been incredible. In the past three weeks, I have put on almost 50 mini-concerts, each 10 to 20 minutes in length, for audiences ranging from a mom and two kids to dozens of people (all appropriately spread apart, of course)," Zach said.
"It has also been amazing to see the looks on people's faces as they are just walking or biking by and realize they have happened upon a live concert!" his mom said.
The requests keep pouring in, Zach said, and his plan is to continue offering this service "for as long as my community needs it and local regulations allow."
Playing his violin for others during the pandemic has been a moving experience for Zach.
"I had never met many of the individuals I have played for, but they have all treated me like family, without the hugs. Indeed, their gratitude has been overwhelming," he said.
"They just wanted something to take their minds off everything going on in the world, and I have been fortunate enough to be able to give them that."
Posted in: Symphony in Place, Trustees
---