News
June 11, 2020
Symphony in Place: The Digital World of Cello Ben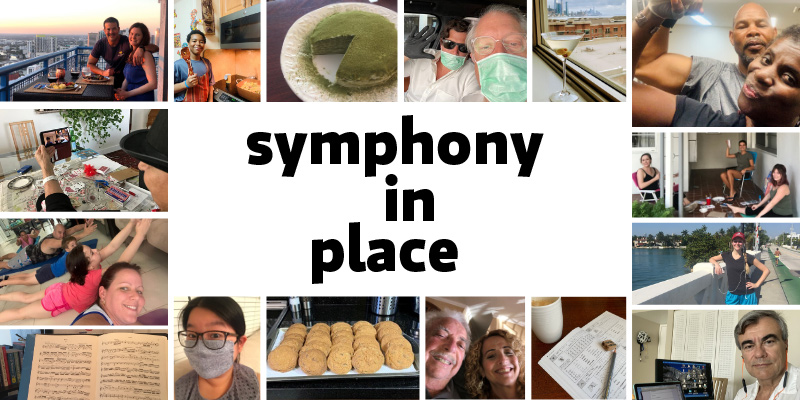 Symphony in Place is a blog series that chronicles the happenings of NWS Fellows, Alumni, Trustees, Volunteers and Staff during the COVID-19 crisis. Click here to access all posts in the series.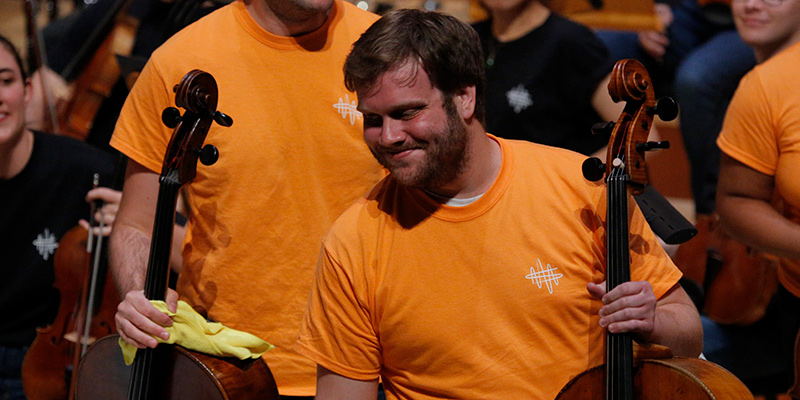 Ben Fryxell at Face Off after leading the cello section to victory
Ben Fryxell's first year of his NWS fellowship was eventful, including highlights such as being named a winner of NWS's Concerto Competition, performing alongside his father (and fellow NWS alum) at the NWS Gala, and leading his section to victory in the second installment of Face Off: A Battle of the Instruments.
But his fellowship year was also cut short due to the pandemic. Since then he has launched the world of Cello Ben and cultivated a digital community where he shares performances, tips, full master classes and, soon, his own online course for adult beginners. Follow Cello Ben on YouTube, Instagram and Facebook for these series and more.
On June 15 Ben will release a new online cello course for adult beginners, which includes video lessons accessible any time, method books and other resources. The course is intended for someone picking up a cello for the first time, or one who is interested in re-learning or exploring a neglected hobby. Click here to learn more. To celebrate the launch, Ben will be performing all six of J.S. Bach's Suites live on Facebook that day! 
"I'm one of those people who thrives on structure," said Ben. "So after the rest of our NWS season got cancelled, I felt the need to create a structure of my own after I went home to be with my family. I embarked on several projects, with the largest one by far being this course. As the years go by, I've been getting more and more teaching experience, including with the students at Medellín's Iberacademy through its partnership with NWS, and I wanted to take the pedagogical skills that I've learned and turn them into something tangible. I felt that this would be the perfect way for me to do it, and it gave me a chance to re-explore the technological skills that I was so passionate about as a teenager, as I ventured back into the vast and ever-changing world of online media."
Here's a sample of Ben's many pandemic projects: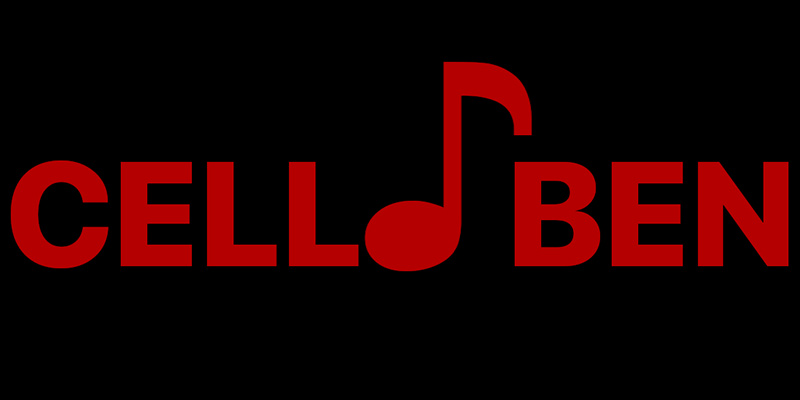 36 Days of Bach
At the start of the pandemic, Ben performed each of J.S. Bach's Six Suites for Solo Cello – one movement a day for 36 days. 


Me, Myself and I
In this weekly YouTube series, Ben tackles making music while social distancing by performing multiple cello (and sometimes piano!) parts from some of his favorite music.
Cello Bites
Each Thursday on Instagram (@cello-ben), Ben breaks down one thing about cello playing in under 60 seconds. Each video also includes Spanish subtitles.

Worldwide Day of Gratitude
In honor of the Worldwide Day of Gratitude on April 30, Ben paid tribute to first responders and front-line healthcare workers with this performance of Bill Wither's "Lean on Me."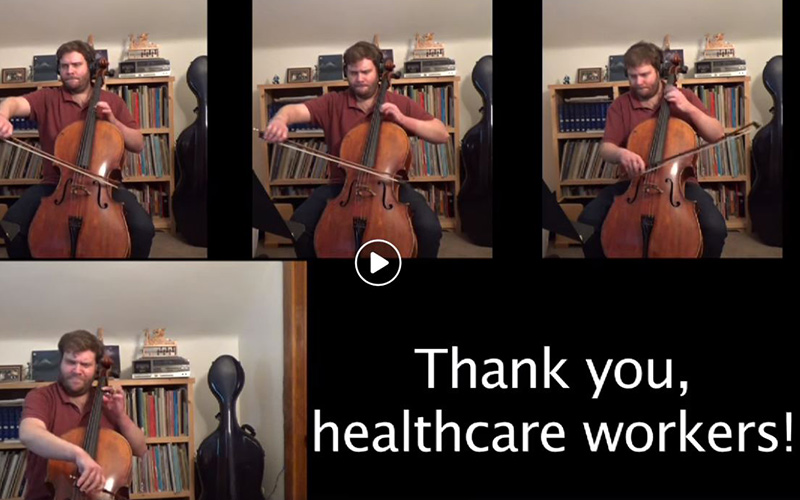 Posted in: Alumni, Fellows, Symphony in Place
---