News
May 11, 2020
Symphony in Place: The Virtual Symphony, Part II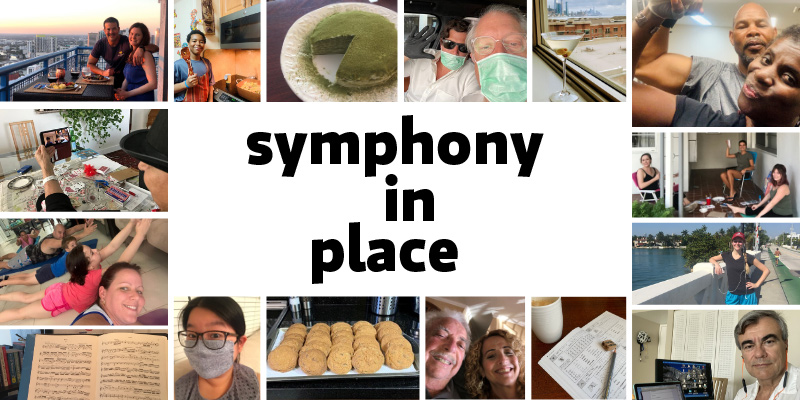 Symphony in Place is a blog series that chronicles the happenings of NWS Fellows, Alumni, Trustees, Volunteers and Staff during the COVID-19 crisis. Click here to access all posts in the series. 
Alumni across the nation are joining their colleagues in virtual performances of full orchestral works. Enjoy these creative and heart-warming offerings:
Boston Pops
Members of the Boston Pops paid tribute to the pandemic's first responders with this performance of John Williams' Olympic fanfare, Summon the Heroes. NWS alumni include violinists Glen Cherry, Jason Horowitz, Lisa Ji Eun Kim and Wendy Putnam; violist Kathryn Sievers; bassist Thomas Van Dyck; flutist Clint Foreman, and trumpeter Thomas Siders.

Toronto Symphony
Toronto Symphony musicians performed Aaron Copland's Appalachian Spring with its uplifting "Simple Gifts" melody. NWS alumni include violinists Eri Kosaka and Clare Semes; Principal Flute Kelly Zimba, clarinetist Miles Jaques, Associate Principal Bassoon Darren Hicks, and percussionists Joseph Kelly and Charles Settle.

Indianapolis Symphony
Musicians of the Indianapolis Symphony performed the second movement of Beethoven's Eighth Symphony. NWS alumni include Associate Principal Viola Amy Kniffen, Principal Bass Ju-Fang Liu, Principal Flute Karen Moratz and Principal Oboe Jennifer Christen.

Utah Symphony
Utah Symphony musicians continue the Beethoven party with a virtual performance of his Fifth Symphony finale. The orchestra has one of the highest numbers of NWS alumni in its ranks. They include violinists Joseph Evans, Laura Ha, Claude Halter, Alexander Martin, Hugh Palmer, Ju Hyung Shin, Bonnie Terry and Karen Wyatt; cellists Andrew Larson, Anne Lee and Louis Philippe Robillard; bassist Thomas Zera; Associate Principal Flute Lisa Byrnes; Principal Clarinet Tad Calcara; Principal Bassoon Lori Wike; Principal Trumpet Travis Peterson; and Principal Harp Louise Vickerman.

Milwaukee Symphony
Musicians of the Milwaukee Symphony are tugging all the heartstrings with this moving performance of "Nimrod" from Elgar's Enigma Variations. The orchestra's NWS alumni include the orchestra's President and Executive Director Mark Niehaus; violinists Jennifer Startt (Principal Second) and Lisa Johnson Fuller; violist Elizabeth Breslin; cellists Peter Thomas and (recently appointed!) Nicholas Mariscal; Principal Oboe Katherine Young Steele and Assistant Principal Kevin Pearl; Principal Clarinet Todd Levy; Principal Horn Matthew Annin; Bass Trombone John Thevenuet; percussionists Christopher Riggs and Robert Klieger; Principal Harp Julia Coronelli; and librarian Paul Beck.
Posted in: Alumni, Symphony in Place
---