News
January 31, 2017
Team NWS: Musical Miami Marathon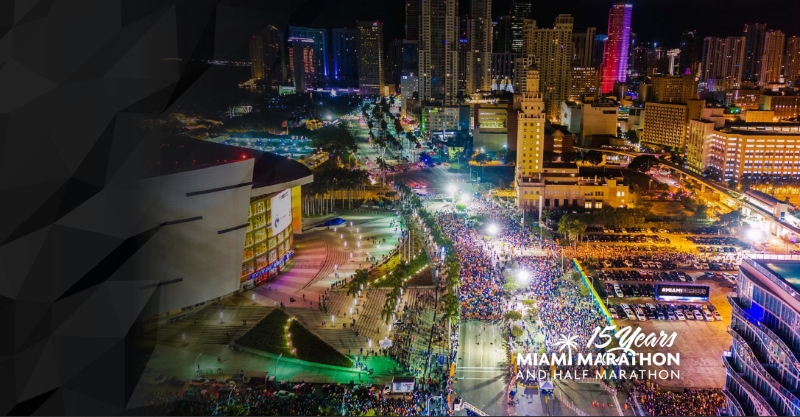 A baker's dozen Fellows plus staff members and Friends of NWS made up Team New World Symphony for the 15th annual Miami Marathon and Half Marathon this past Sunday, January 29, joining more than 20,000 athletes in tackling the 26.2-mile course (or 13.1 for the half).

The runners assembled near the American Airlines Arena in downtown Miami at 6:00 AM (it took till sunrise an hour later for all the runners to cross the starting line). The Marathon route ran east over the MacArthur Causeway to Miami Beach, north to 17th Street, westward past SoundScape Park at New World Center (also designated as an official cheer zone!), back to the mainland over the Venetian Causeway, then south through Miami all the way to Coconut Grove and back, to the finish line at Bayfront Park. The Half Marathoners round-tripped on the MacArthur via Miami Beach, finishing in downtown Miami.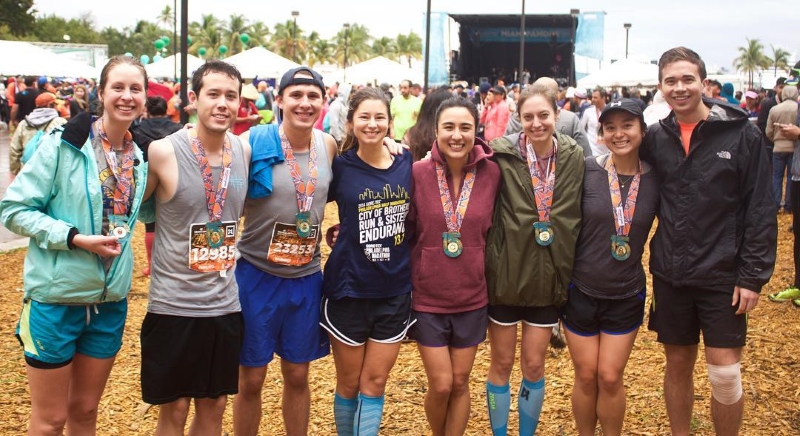 NWS Fellows who were entered for the Half Marathon were Violin Fellows Clare Semes, Sarah Peters, Jessica Ryou, Rachel Sandman and Maya Cohon; Viola Fellows Jane Mitchell and Caroline Gilbert; Cello Fellows Hilary Glen and Alan Ohkubo; Clarinet Fellow Zach Manzi; Trumpet Fellow Mark Grisez and Percussion Fellow Bradley Loudis. First-year Violin Fellow Ludek Wojtkowski ran the full marathon.

NWS Director of Lighting Luke Kritzeck returned for his third full Miami Marathon. In 2015 he finished in the top quarter of runners. Last year, he improved his finish to the top 10% - 291 out of 3046 - finishing in three and half hours. And this weekend, he improved to number 183 out of 2957 to finish the Marathon in a top 6% time of three hours twenty-three minutes!

Other staff members who ran the race were Production Technician Mike McEvoy - Marathon time 3:57, and Facilities Director Azael Ceballos, 2:21 for the Half.



Rounding out Team NWS, Friends of NWS Executive Committee member Austin Rhoads (1:39) also ran the Half Marathon.

Here are the results (chip time, starting line to finish line) for the Fellows of Team NWS:

Ludek Wojtkowski - 4:17
Maya Cohon - 1:48
Alan Ohkubo - 1:51
Hilary Glen - 1:52
Jane Mitchell - 1:57
Mark Grisez - 1:59
Bradley Loudis - 2:06
Sarah Peters - 2:06
Caroline Gilbert - 2:16
Jessica Ryou - 2:17

Clare Semes (whose father and sister also ran) and Zach Manzi made it through mile 8, but had to pull out due to injuries, and Rachel Sandman couldn't race due to illness. Alan Ohkubo was the 'star' for NWS as he went from the finish line back to New World Center for rehearsal of that afternoon's chamber music concert!

Congratulations to all Team NWS Miami Marathon participants!





Bottom 4 and group photos were taken by NWS Tuba Fellow Jarrett McCourt
Posted in: Events, Fellows, Patrons, Staff
---