News
September 24, 2018
The Bernstein Connection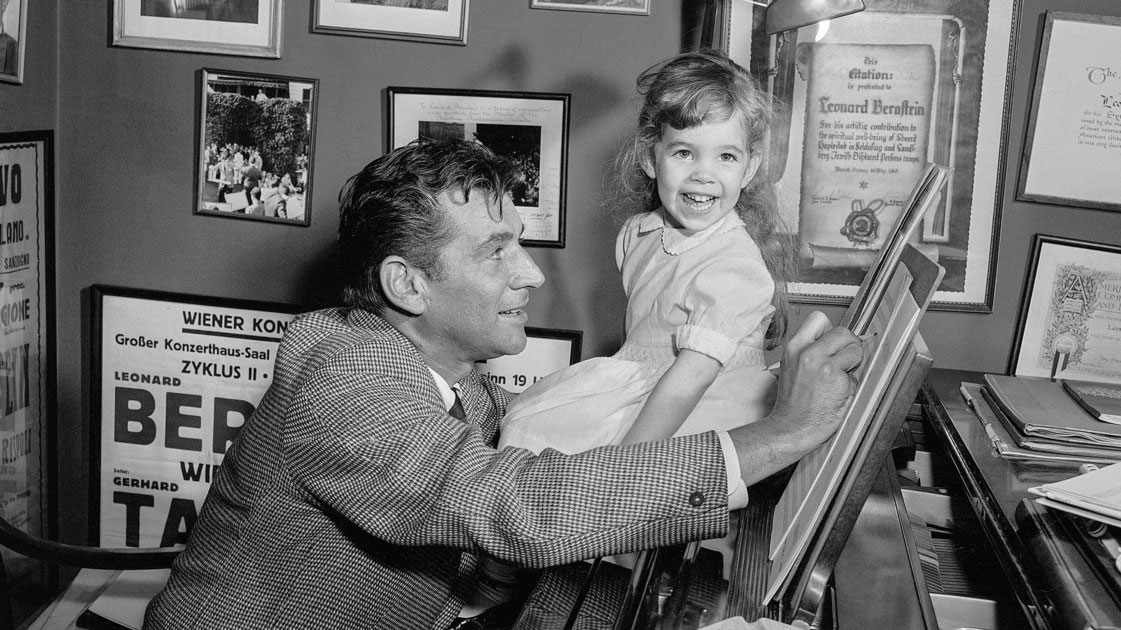 Photo: Bettmann/Getty
2018 marks the centennial of famed composer and conductor Leonard Bernstein. In celebration, NWS welcomes his daughter, author, narrator and filmmaker Jamie as host of Unanswered Questions: A Leonard Bernstein Journey on October 6. Jamie and her siblings have attended many of the 2,000+ global #BernsteinAt100 festivities and earlier this year Jamie released her book Famous Father Girl – A Memoir of Growing Up Bernstein.
In the book, hailed as "a great American story about one of the greatest Americans of the modern age," Jamie pulls back the curtain on life with Lenny, sharing the humorous, heartbreaking and unbelievable moments that peppered their family life. From rubbing elbows with everyone from The Kennedys to Michael Jackson to the frequent visits from other cultural royalty like Adolf Green, Betty Comden, Steve Sondheim, Jerry Robbins, Lauren Bacall and Isaac Stern, "it seemed as if all grownups ever did was have fun, with Daddy as their audible ringleader."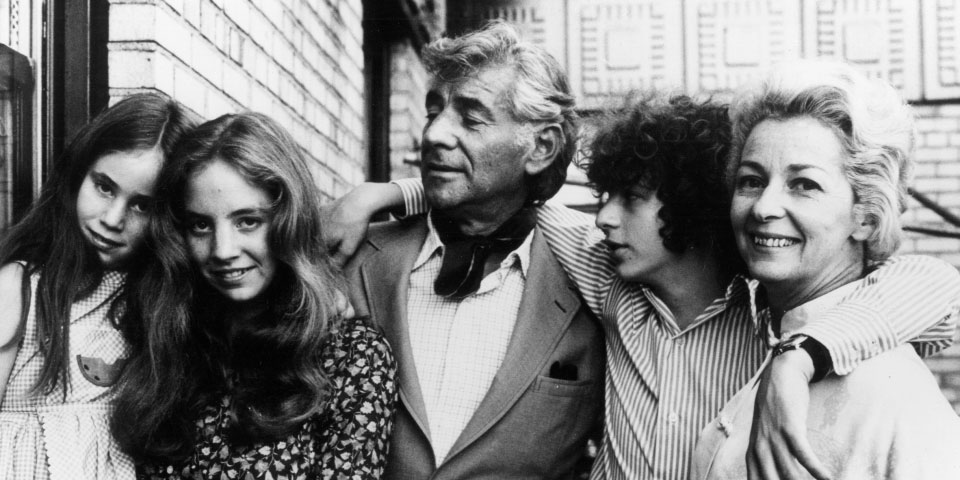 Photo: John Jonas Gruen
With Chilean actress mother Felicia Montealegre and siblings Alexander and Nina, Jamie navigated the surprises, trials and joy of having a celebrity in the family. In his review of Famous Father Girl, NWS Artistic Director Michael Tilson Thomas (MTT)—who himself was protégé and friend of Leonard and will make a special appearance at the October 6 concert—said "Growing up in the presence of a superfamous parent is no easy thing. Jamie Bernstein presents an undisguised and understanding picture of her father, family and friends. She chronicles her emergence as a partisan of ideals in which they believed. The book is full of inside stories and personal perspectives on the inspiring, spontaneous and often no-holds-barred challenges of Bernstein's multiple worlds."

From left to right: Nina, Jamie and Alexander Bernstein
In hosting NWS's Unanswered Questions: A Leonard Bernstein Journey, Jamie will explore his equally glamorous and complicated life through the music that has won the world over—music, she says in the book, that itself reveals best who Lenny was.
"As Alexander, Nina and I go about sharing the official legacy of Leonard Bernstein, we cling all the harder to the father we lived with. But nothing conveys Daddy's deepest essence better than his own music. The notes he strung together are as uniquely, identifiably him as a fingerprint. We listen to the wrenching violin solo in the solo movement of Serenade, the rollicking "Profanation" from the Jeremiah Symphony, or the jagged, propulsive "Rumble" from West Side Story, and there he is—in all his tenderness, his raunchiness, his intellectual panache, his agonizing over God, his despair over humanity, his cautious but dogged hope that we're all getting somewhere. When we listen to that music, it's the next best thing to getting a hug from Daddy himself."
In addition to these excerpts from Serenade, the Jeremiah Symphony and West Side Story, the Journey Concert also features selections from Candide, On the Town, Trouble in Tahiti—one of Jamie's favorite "LB" works, calling it a "miniature masterpiece," Mass, Kaddish Symphony and more. The program's final work is the Love Duet from Arias and Barcarolles, a song cycle originally for four voices and four-hands piano that MTT premiered with Leonard in 1988. Another of its movements (At My Wedding) even carries the dedication "for M.T.T."
Named after a humorous quote to Lenny by President Eisenhower, Arias and Barcarolles' was Leonard Bernstein's last major piece and its subject matter is love—all kinds of it—with most of the text coming from LB himself, including his favorite childhood bedtime story that won his mother an ASCAP credit. To Jamie, the work "strikes me as one of my father's most mature and nuanced pieces: wry and touching and full of delightful surprises." In honor of the composer's centennial celebrations this year, MTT and the San Francisco Symphony unveiled a digital release of the work, now in an orchestral arrangement that MTT says "is everything that Bernstein would have wanted it to be."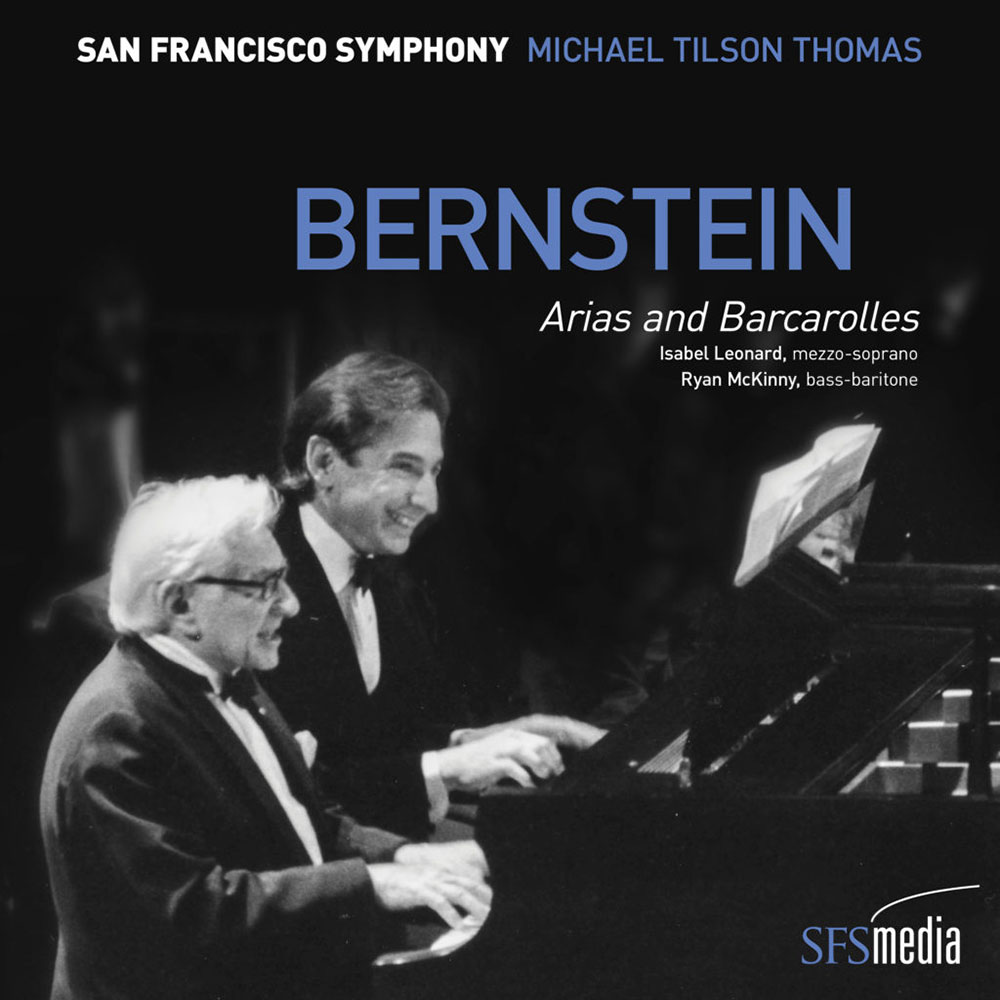 "Reflecting on the world's season-long celebration of Bernstein's centennial, it occurs to me that this performance of Arias and Barcarolles speaks far more eloquently than any words I might offer. It illuminates what he was actually like and shows the range of his omnivorously curious, confrontational, and generous spirit. It delights and challenges us at every moment." – MTT
Jamie made her first appearance with NWS at the Lincoln Theatre in 2004 when she presented The Bernstein Beat, an educational concert she modeled after her father's Young People's Concerts with the New York Philharmonic. Since NWS opened the New World Center in 2011, she has returned every year as designer and host of NWS's former Encounters series—what in the book she calls "the best job ever"—and last spring's Concert for Kids Birthday Bash for her father.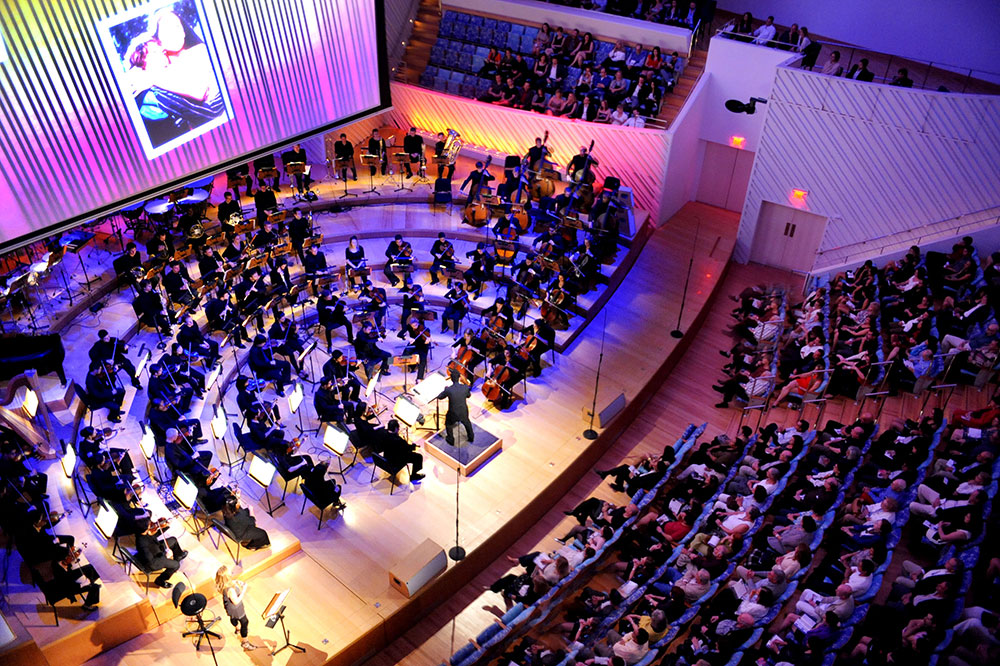 Jamie, bottom left, hosting an Encounters Concert in 2012
Join Jamie and MTT as NWS honors composer, conductor, pianist, educator, mentor and celebrity Leonard Bernstein on October 6, and be sure to get your copy of Jamie's poignant memoir Famous Father Girl.
"Famous Father Girl is unique among classical-music memoirs for its physical intimacy, its humor and tenderness, its ambivalence toward an irrepressible family genius.... the existence of this well-written book, with its poignancy and its shuddery detail... is a mark of [author Jamie Bernstein's] sanity and survival. In telling [her father's] story, she got to write her own."  --- The New Yorker


UNANSWERED QUESTIONS: A LEONARD BERNSTEIN JOURNEY
Saturday, October 6, 2018 at 7:30 PM, New World Center
Journey Concerts are flowing explorations of a composer or type of music, which also showcase the versatility of the New World Center's performance hall. Using both its main stage and multiple smaller stages, they are continuous performances that transition from one stage to the next, enveloping the audience in the music. Journey Concerts are approximately three hours in length.
Jamie Bernstein's Famous Father Girl: Amazon, Barnes & Noble, IndieBound

MTT's Arias and Barcarolles: Amazon, iTunes, Spotify


Posted in: Concert, Events, News
---