News
September 8, 2023
'This is my mission': New World Symphony's new artistic director ready for his first season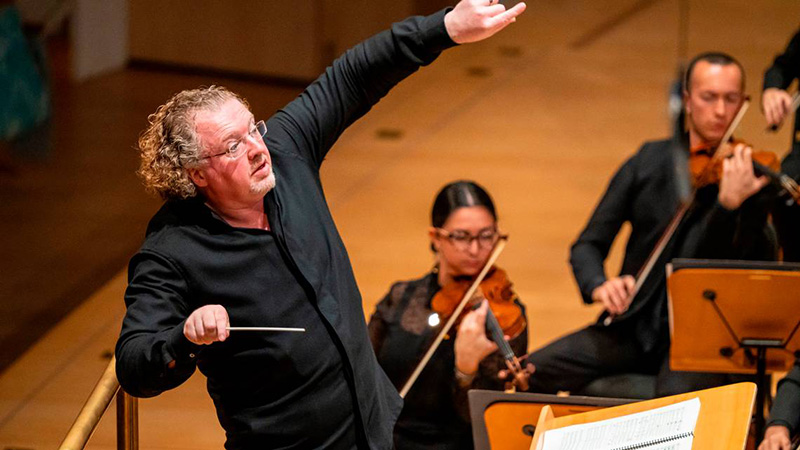 Stéphane Denève might be alone in this opinion, but he thinks summer break is too long.
The world renowned conductor is on the heels of his inaugural season as the artistic director of the New World Symphony, Miami's prestigious three-year fellowship program and ensemble for young musicians. He can't wait to get started.
"I feel impatient," Denève said during a recent video call. "I can't wait to meet the new fellows."
Denève, an acclaimed French classical music conductor, is only the second artistic director in New World's 36-year history. Michael Tilson Thomas, the symphony's co-founder and internationally acclaimed conductor, announced last year that he would step down from the artistic director role due to health concerns. While this is Denève's first full season at the symphony's helm, he made his debut as artistic director with a concert in March.
"With over 1,200 alumni sharing their art and a strong and vital future secured for the institution, I feel we have realized our dream," Tilson Thomas said in a statement after Denève's appointment was announced last year. "How reassuring to know that Stéphane Denève will carry that dream forward."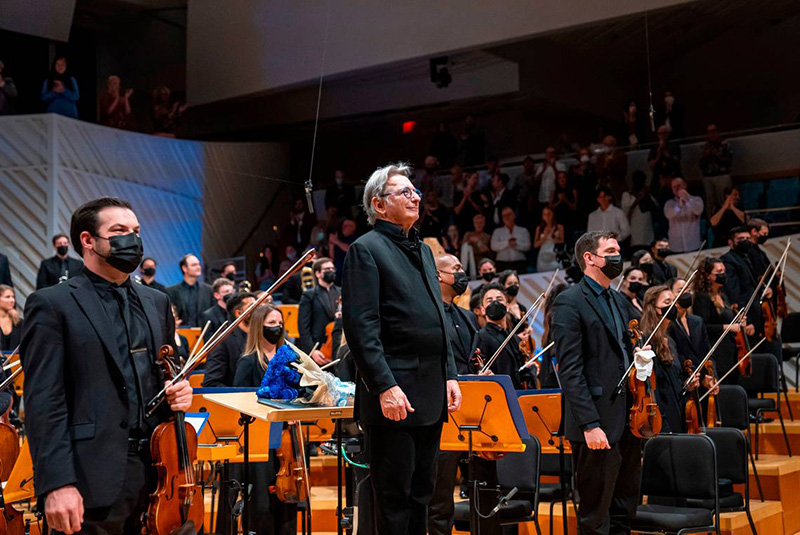 Michael Tilson Thomas conducts the New World Symphony on May 6, 2022. Tilson Thomas stepped down as the symphony's artistic director due to health concerns. Alex Markow Courtesy of New World Symphony
New World Symphony's reputation undoubtedly proceeds itself, as its alumni go on to perform around the world. In fact, Denève held up his phone to his computer camera to show a group photo he took with former fellows at a music festival. Just about anywhere he travels, he runs into alumni, he said.
This job is a responsibility Denève does not take lightly.
"New World Symphony is a pipeline for so many orchestras all over the world," he said. "It is therefore, for me, a huge responsibility to help the new generation musically but also in their attitude, in their values and their understanding of what it means to be a musician in the 21st century."
And Denève plans on taking a 21st century approach to his tenure at New World Symphony, following Tilson Thomas' lead. He looks forward to experimenting with performances, connecting with the community and championing music he hopes will be "the new classics." The symphony's 2023-24 season kicks off with a concert Sept. 16.
"That is what is so exciting," he said. "The New World Symphony is forever new."
THE BOY IN THE CHAPEL
Denève's story begins in a small city in the north of France, just on the border of Belgium. It wasn't supposed to end up like this in Miami Beach.
"This life is a permanent bonus that I was not supposed to have," Denève said.
His great grandfather worked in construction, his grandfather worked in construction, his father worked in construction. And that was the pattern Denève would have continued.
But one day, as a little boy attending a Catholic school, he hid in the chapel as a nun played an organ. The nun noticed him and asked, "What are you doing?" He responded, "I am listening."
The nun offered him lessons and noticed his musical talent. She suggested to his parents to send him to the conservatoire, a music school. He became a pianist and eventually took up conducting. He conducted his first piece during a concert on his 14th birthday.
"Thanks to music, I went to Paris. I was the very first in the family to move from the village," he said. "And I started to meet incredible people. And I started to learn amazing things."
An impressive career ensued.
He was the principal guest conductor for The Philadelphia Orchestra, chief conductor of the Brussels Philharmonic, chief conductor of Stuttgart Radio Symphony Orchestra and music director of the Royal Scottish National Orchestra. He regularly conducts the New York Philharmonic, The Philadelphia Orchestra, The Cleveland Orchestra, Los Angeles Philharmonic, San Francisco Symphony, Toronto Symphony and, of course, the New World Symphony. Denève has also worked with young musicians at Tanglewood Music Center in Boston, the Colburn School in Los Angeles, the European Union Youth Orchestra, and the Music Academy of the West in Santa Barbara, Calif.
Stéphane Denève conducting in France at age 20. Courtesy of Stéphane Denève
Denève also serves as the music director of the St. Louis Symphony Orchestra. He still lives in St. Louis with his family, and plans to regularly travel to Miami Beach. He doesn't plan on relocating while his 15-year-old daughter is still in school.
On a personal level, Denève, who is 51, said his tenure at New World Symphony has given him "a sense of purpose in my life." He especially looks forward to being an educator.
"I have the incredible opportunity to influence and try to help the new generation of musicians," he said. "I'm humbled by it, but I feel really a sense of purpose. This is my mission. This is what I'm doing with my life."
'BREAK THAT FOURTH WALL'
Before every concert at New World Center, the symphony's campus and concert hall, hundreds of music fans gather outside to get a nice spot at the park to watch the Wallcast, the free live broadcast of the show projected onto the outside wall.
Years before his appointment as artistic director, Denève had returned to Miami Beach to perform with the symphony as a guest conductor. Musicians tend to walk around the massive crowd outside and head straight to the stage door, said Howard Herring, New World Symphony's president and CEO. It's faster that way.
"That is not Stéphane's way," Herring said. Denève walked through the crowd, introducing himself to people and shaking hands. It took him about 20 minutes to make it to the front door, Herring recalled.
"He is about community," Herring said. "He's about getting to know people in the community, and getting them to know him and his commitment to the joy of making music."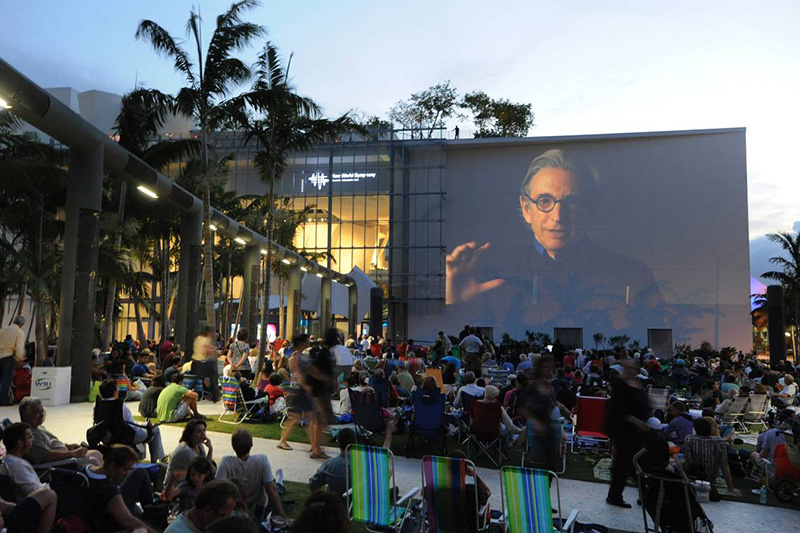 The New World Symphony's WALLCAST's fill the park outside the New World Center on Miami Beach with viewers. WorldRedEye.com
Denève's eagerness to engage with audiences was one of several reasons why he was chosen to succeed the symphony's co-founder, Herring said. He added that the symphony's board was also taken by Denève's "digital point of view" and his deep understanding of Tilson Thomas' vision.
Each year, New World Symphony graduates a third of its musicians to welcome a new cohort. The impact an artistic director, like Tilson Thomas or Denève, would have on a fellow in their early 20s cannot be overstated, Herring said.
This industry is competitive. Just preparing for an audition for a slot at an orchestra is as intense as a law student studying for the bar exam or a medical student entering a residency program. And the audition process is nerve wracking, as hundreds of aspiring musicians vie for the same opportunity.
"It's a grueling thing. You need confidence," Herring said. "And one of the ways you get confidence is to play this music under the most demanding conditions, i.e. in public on a weekly basis, with someone who's going to guide you. When you walk into that audition, you can remember that Stéphane Denève or Michael Tilson Thomas has looked you in the eye and said, 'That was beautiful. That was excellent.' You have a level of confidence that others don't."
And on top of all of that, Herring said, Denève is passionate about his craft.
Caleb Breidenbaugh, a second-year percussion fellow at New World Symphony, saw that passion years ago when he was still a student at Temple University in Philadelphia. Denève would perform with the Philadelphia Orchestra as a principal guest conductor, and his love for music -- and for connecting with audiences -- was undeniable, Breidenbaugh said.
As an audience member and now as a fellow, Breidenbaugh said he appreciates the time Denève takes during concerts to address the audience candidly and explain the story behind music the orchestra was playing, who composed it and why it was important.
"That's really significant, actually," Breidenbaugh said. "To break that fourth wall and really invite the audience into what we're doing."
Each conductor has their own style, Breidenbaugh said. Some are extremely granular, others allow musicians to have more leeway in their interpretation of the music. Denève is able to strike a balance, both as a conductor with an artistic vision and as an educator eager to share tidbits with fellows. "He leads by lending us his artistic vision, but he won't try to do our job for us," Breidenbaugh said.
In rehearsals, Denève discerns which details need to be nitpicked over to achieve the sound he is looking for, even if it's something as simple as the way Breidenbaugh strikes a triangle.
"The moments that he chooses to be particular about is a testament to his study, his expertise and the depth of his vision that he has for the art that we're creating," Breidenbaugh said. "There are some details that really tie a piece of art together, and those are the things that he'll get particular about. But he's letting people be who they are as musicians."
THE 21ST CENTURY ORCHESTRA
The opening concert on Sept. 16 will be a glimpse into the symphony's future under Denève's leadership. The show's program is what he calls an "homage to the color blue."
Denève was inspired by the blue that surrounds New World Symphony. The ocean, the sky, the center's seating, even Tilson Thomas' glasses.
"The future is blue at the New World Symphony," he said. "It's full of hope."
The sea-faring show opens with Adolphus Hailstork's "An American Port of Call," which will be conducted by Molly Turner, New World Symphony's first female conducting fellow. The program continues with "Escales (Ports of Call)," "Four Sea Interludes from Peter Grimes" and ends with Claude Debussy's "La mer."
For the final performance, Denève planned an experimental visual component of atmospheric video art to play along with the music. The visual component consists of paintings that Debussy himself loved, Denève said.
"All of that is an experiment to not disturb the listening but to enhance the listening, and that is really a very difficult thing to do," Denève said. "I'm very, very happy that the New World Symphony is a lab where everything is possible."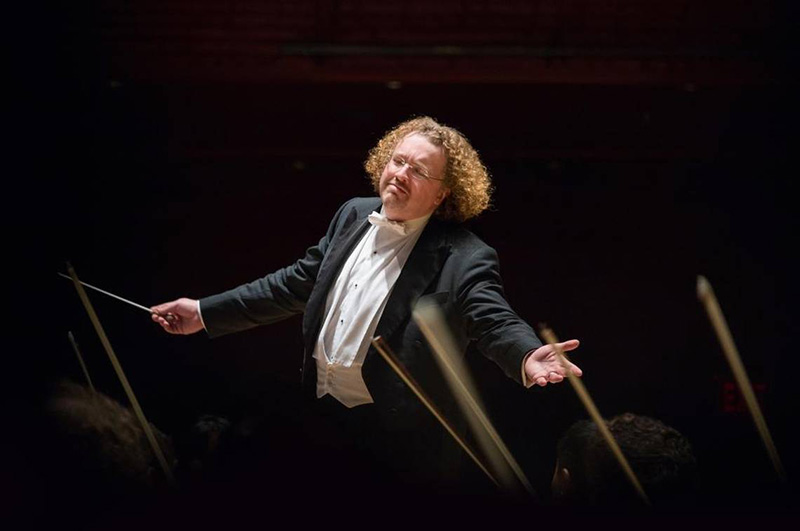 Conductor Stéphane Deneve Cortesía Arsht Center
Experimentation will be a major theme throughout Denève's tenure, from collaborating with other arts organizations to exploring social media and community outreach with the fellows. For Denève, experimenting is about having an open attitude toward music, and he wants the fellows to be curious.
"When you're a young musician you are very focused on the excellence of your playing, your virtuosity and your instrument," he said. "But I like to experiment always about what it means to be a musician in the 21st century."
One of his (many) goals at New World Symphony is to make sure the fellows know that when they follow their passions, incredible things are possible.
"I feel so privileged," Denève said. "I am proof that when you love something very strongly, it can enhance your life very strongly."
Original article published by The Miami Herald.
This story was produced by The Miami Herald with financial support from The Pérez Family Foundation, in partnership with Journalism Funding Partners, as part of an independent journalism fellowship program. The Miami Herald maintains full editorial control of this work.
Posted in: Concerts, Denève, Events, Fellows
---