News
May 4, 2016
This Week in Classical Music History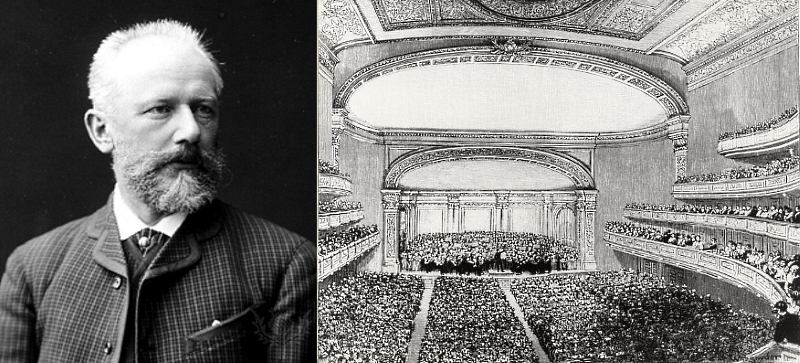 Thursday May 5 is the 125th anniversary of the very first concert to take place at Carnegie Hall in New York City. The Hall opened in 1891 with a five-day music festival from May 5 to May 9. The New York Symphony Orchestra, Walter Damrosch, Conductor, was featured at six concerts that week. Amazingly, the guest artist was world-famous composer Tchaikovsky himself. He conducted his own works at four of those concerts, including the Festival Coronation March (Marche Solennelle) on opening night, the Suite No. 3 in G Major, Nine Sacred Pieces: Otche nash (Our Father) and Legenda (US premieres), and the Piano Concerto No. 1.

Click here to view an online exhibit about this milestone
---
Tchaikovsky would have celebrated his birthday during one of those Carnegie Hall concerts.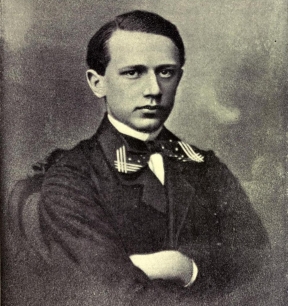 Two super­star com­posers who have always figured prominently in the New World Symphony repertoire were May 7th babies, and they lived pretty much con­cur­rently. Ger­man com­poser Johannes Brahms was born in 1833 (d. 1897) and Russ­ian com­poser Pyotr Ilyich Tchaikovsky was born in 1840 (d. 1893).
Tchaikovsky debuted first with New World Sym­phony. Guest vio­lin­ist Daniel Heifetz per­formed the Vio­lin Con­certo in D Major with NWS at the Big Sky Music Fes­ti­val in Mon­tana on August 8, 1988, Don­ald Lewsader con­duct­ing.
Their NWS debuts in a reg­u­lar sea­son con­cert fea­tured both of the birth­day boys in our sec­ond sea­son on Octo­ber 8, 1988 at the Gus­man Cen­ter. MTT con­ducted, with per­for­mances of Tchaikovsky's Romeo and Juliet Over­ture and Suite No. 1 in D Minor, and Brahms' Hun­gar­ian Dances Nos. 1, 3, and 10.
Tchaikovsky's crowd-pleasing 1812 Over­ture may have been the work NWS per­formed most out­doors — Feb­ru­ary 1994 and 1995 at Doral Coun­try Club, July 4, 1996 in North Miami Beach, and March 1997 at South Pointe Park.
---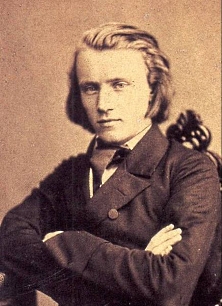 Brahm's pop­u­lar Aca­d­e­mic Fes­ti­val Over­ture, most recently per­formed last season, may be one of MTT's 'chest­nuts' hav­ing con­ducted it in a baker's dozen per­for­mances going back to Decem­ber 1989, and includ­ing per­for­mances in Cal­i­for­nia and on the UNICEF tour of March 1990 in Hous­ton, Chicago, and New York.
One of Brahms' other crowd favorites, the Vio­lin Con­certo in D Major, was per­formed by NWS with none other than super­star vio­lin­ist Itzhak Perl­man, across the street at the Jackie Glea­son The­ater on March 1, 1989. It was also performed in 2004 and 2013 with NWS by Christian Tetzlaff.

Just during this almost-past season, New World Symphony performed Brahms' works some nine times, including at Pulse, Chamber Music, Education, and Orchestral concerts, as well as various workshops. Tchaikovsky's works were performed eleven times, at String and Full Orchestra, Kids, Holiday, Education, and Side-by-Side concerts, and on the road in Puerto Rico, at the Arsht Center, Miami, and Kravis Center, West Palm Beach.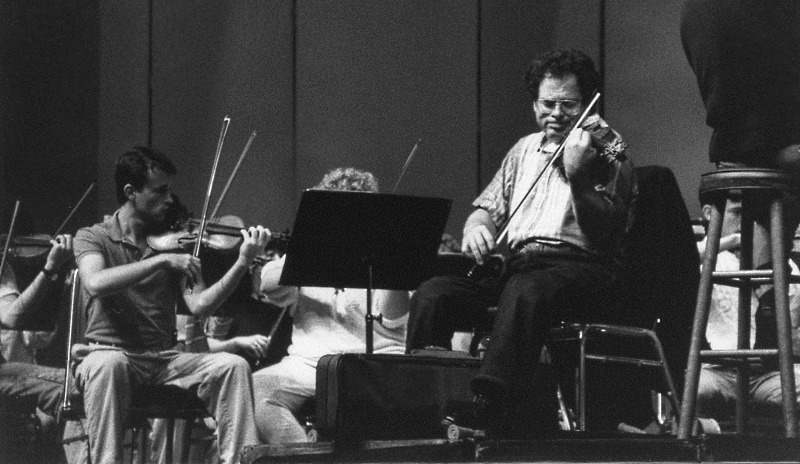 Photo of Carnegie Hall Grand Opening courtesy Carnegie Hall Archives; photos of Itzhak Perlman rehearsing Brahms Violin Concerto, by Todd Levy, courtesy New World Symphony Archives
Posted in: Composers, Events, From The Archives
---