News
April 28, 2016
Three World Premieres on Saturday
The long-anticipated New Work concert of this Saturday April 30 includes world premieres by three composers. And all three have previously already had world premieres of their works performed by the New World Symphony.

Of course NWS Artistic Director, and this weekend's conductor, Michael Tilson Thomas has had a number of works first performed by NWS. The first was From the Diary of Anne Frank, commissioned by UNICEF and performed by New World Symphony on its UNICEF "Concerts for Life" Benefit Concert Tour. The work had its world premiere on the first stop of the tour, March 19, 1990 at the Academy of Music in Philadelphia. MTT conducted and actress Audrey Hepburn was narrator. Subsequent performances on the tour took place in Chicago, Houston, and New York.






For the NWS Season Finale concert of May 2, 1999, MTT debuted two songs that he had composed in the 1980s but were just seeing their first performances. Tony-Award-winning singer/actress Audra McDonald was the guest artist. The songs were Sentimental Again and New Year's Song.

April 13, 2003 was billed as an "MTT World Premiere Event." As part of the NWS 15th anniversary celebration, MTT composed Island Music. A work for two solo marimba players and a small ensemble, the work was part of a concert that was also streamed live over the internet from the NWS website to a worldwide audience.
---
Composer and guest pianist Timo Andres premieres his Tides and Currents this weekend, but he was also composer of one of four NWS-commissioned works, all NWS world premiere performances, for the concert of January 30, 2009. That was entitled "The Ives Effect: Musical Xchange" and was a musical tribute to composer Charles Ives, who NWS featured in a festival of his work the next month.

Andres was only 24 years old at the time, and still a graduate student at Yale, but his reputation as a composer was already on the rise. The work NWS premiered was Some Connecticut Gospel, for an octet ensemble performance.
---
Composer Amy Beth Kirsten, along with playwright Lauren Yee, premiere their work Stereo | Blind this weekend, and Ms. Kirsten similarly made her debut with NWS at the New Work concert of April 20, 2012. She was also composer of one of four NWS-commissioned, world premiered works. The piece was entitled Little Alice for String Quartet, in three movements.

The review of that concert characterizes the dynamic that New World Symphony attracts with its popular New Work concerts: "The New World Symphony drew an enthusiastic audience of South Beach hipsters, patrons, and the artistically curious Friday night for a boundary-pushing program of new works that exploited the full resources of the New World Center."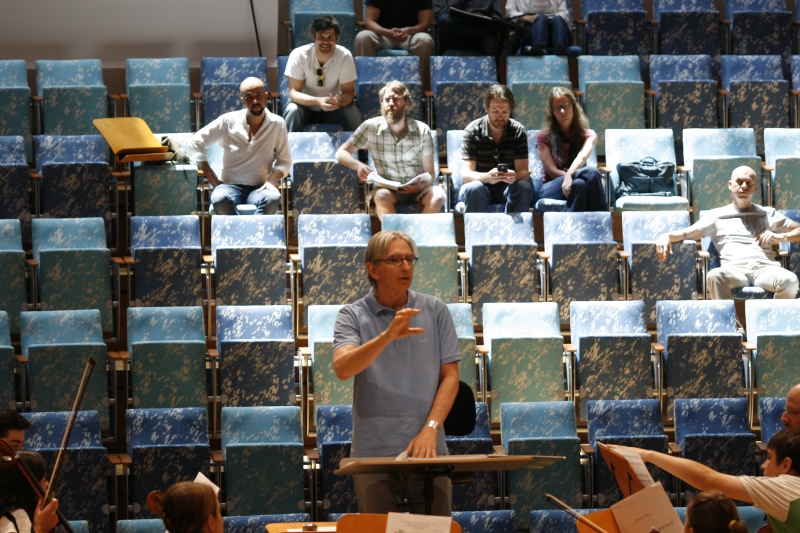 MTT rehearses NWS for New Work concert of April 20, 2012, composer Amy Beth Kirsten at top right
Photos courtesy of New World Symphony Archives

Posted in: Composers, Concerts, MTT
---