News
March 25, 2016
Town Hall Master Class Streams Live Tuesday March 29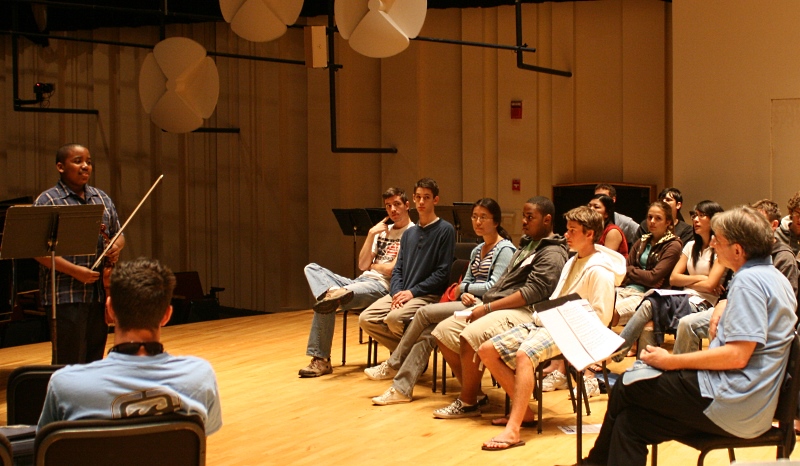 The New World Symphony's Town Hall Master Class is an annual tradition of NWS Music Director Michael Tilson Thomas. The open forum master class uses technology to bring together NWS Fellows and student performers from around the country. This year Teddy Abrams, Music Director of the Louisville Orchestra and a New World alumnus, will host the event at New World Center in Miami Beach, and MTT will host online from Symphony Hall in San Francisco.

Through the use of the ultra-high-speed Internet2 and LOLA technologies - which allow for no noticeable delays between input and output - students, teachers, conductors, and performers in different locations will interact in real time with no apparent streaming delays in audio and video.
---
Last year's Town Hall Master Class in February 2015 was the first to use this technology, previously used for conferences, online coaching, and long-distance teaching, but the first time for a public performance - the annual Side-by-Side concert was held right afterwards. It was called "a remarkable evening of music, education and technology at the New World Center" by the Knight Foundation, a longtime supporter of NWS's exploration and use of digital technologies for both teaching and performance. And who can forget last year's Master Class soloist, Charles Comiter, from West Palm Beach, playing his own arrangement for marimba of Gershwin's Rhapsody in Blue!

The previous year in January 2014, MTT led another Master Class and Side-by-Side event, but without the distance technology, and featuring three of the Competition winners as soloists. The roots of MTT's Town Hall Master Class go back to the Lincoln Theatre in the 2000s. In March 2006 and March 2008, he held "Town Meeting" and "Inside the Music" student mentoring sessions, also in connection with those years' Side-by-Sides. These themselves were outgrowths from the high-school musicians mentoring program that was started by NWS Fellows in the 1990s.
---
Trombonist Austin Canon, a student at Riverview High School in Sarasota, won third place in this season's New World Symphony Side-by-Side Concerto Competition and he will be the featured soloist for the event, performing part of the Concerto for Trombone and Orchestra by Launy Grøndahl.

A woodwind quartet from the Atlanta Symphony Youth Orchestra (who participated last year) will perform a movement from Mozart's Sinfonia Concertante, and the Greater New Orleans Youth Orchestras will perform the Festive Overture by Shostakovich.

---
This event is sponsored in part by Sir Michael Moritz and Ms. Harriet Heyman, and The Rockefeller Foundation.

The Town Hall Master Class will be streamed live on Tuesday, March 29th starting at 7:30 pm (ET).

CLICK HERE TO STREAM THE CONCERT LIVE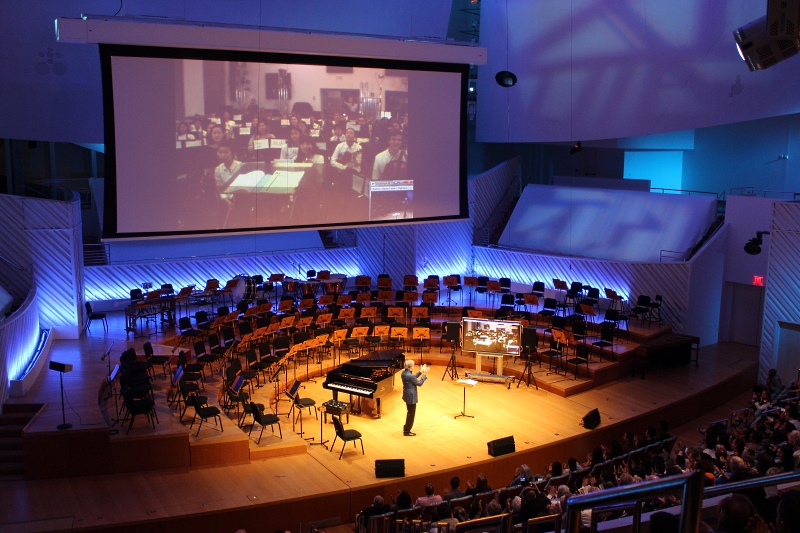 Michael Tilson Thomas workshops with the Atlanta Symphony Youth Orchestra via Internet2 in NWS' 2015 Town Hall Master Class and Side-by-Side Concert (Photos courtesy of NWS Archives)

Posted in: Community Engagement, Concerts, Events, MTT
---