News
January 17, 2017
Twenty-Fifth Anniversary of NWS Tour of the United Kingdom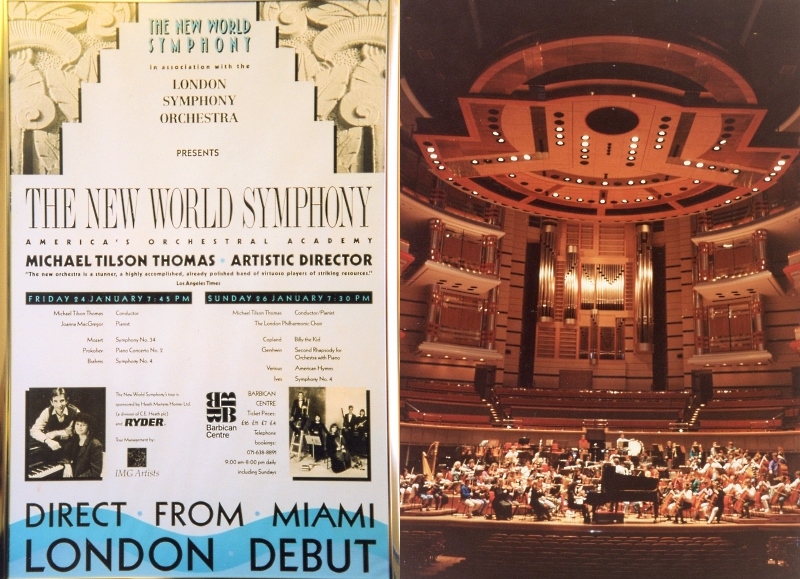 A quarter of a century ago this week, the four-year-old New World Symphony embarked on part two of its international adventure, following a December 1991 tour of Japan, to a multi-concert tour of the United Kingdom.
Fellows and staff travelled a circuitous route, flying from Miami to Chicago to Glasgow, Scotland. Using the British term, NWS spent a fortnight on this tour, giving major concerts in four cities. A day following arrival, the first concert was at Glasgow Royal Concert Hall on January 17, 1992. The next day, half the orchestra flew to Birmingham in central England, while the other half travelled by train. That night saw another concert, held at Birmingham Symphony Hall. On Sunday, after being treated to "the full English" breakfast at their hotel, musicians and staff took buses to London.

On Monday the 20th, Fellows had more 'treats' in store – rehearsals with famed conductor Sir Georg Solti (also a supporter of NWS) at the Abbey Road Studio, and master classes with members of the London Symphony Orchestra. On Tuesday, an NWS ensemble travelled to Oxford to perform a Mozart piano quintet with Solti. Wednesday was another busy day, playing with the musicians at the Guildhall School of Music and a repeat of the chamber concert at the Royal College of Music. There was also a reception sponsored by Ambassador and Mrs. Raymond Seitz at the U.S. ambassador's residence, Winfield House, for selected guests and NWS patrons who were travelling with the tour.





On Thursday, January 23, the orchestra bussed it to Cambridge, where they presented a concert that evening at The Corn Exchange. The Friday and Sunday January 24 and 26 concerts at the Barbican Centre in London were preceded by a chamber music ensemble "Foyer Concert." The flight home the next day was easier than the flight over, direct from London's Heathrow to Miami.

Michael Tilson Thomas conducted the five major tour concerts. The repertoire included several variations on programs which included Copland's Billy the Kid, Brahms' Symphony No. 4 [both repeated from the Japan tour], Mozart's Symphony No. 34, Prokofiev's Piano Concert No. 2 performed by guest pianist Joanna MacGregor and Gershwin's Second Rhapsody for Piano and Orchestra played by MTT. And a number of American and other pieces were reserved for encores. A highly anticipated work was saved for the final concert in London – the Symphony No. 4 by Charles Ives. That concert was also broadcast on BBC Radio 3.

Reviews in the U.K. newspapers were uniformly enthusiastic. "[If the New World Symphony] had been mercilessly drilled, and if the high quality of the ensemble were therefore only to be expected, it would be even more remarkable that it plays with such freshness and commitment as well as vitality… [Michael Tilson Thomas] clearly knows how to engage the passions as well as the professional conscience of his young ensemble." "No one brings off the dizzy street car ride of Gershwin's Second Rhapsody like Tilson Thomas, directing from the piano with an air of inspired improvisation – pure adrenaline with lashings of desire." "Every American in London seemed to have become part of Friday's audience. By Sunday, the English accents had re-taken the foyer in a late surge of interest… Sunday's all-American concert was the greater success of the two, with the riskiest work, the Charles Ives Fourth Symphony, scoring the final definitive triumph." And in an article entitled Pioneers on Starship America, The Independent described this tour in a nutshell: "There can be no greater gesture of magnanimity from the New World to the old country."
All images courtesy of the New World Symphony Archives:
From top - Barbican concerts poster, Birmingham Symphony Hall rehearsal; rehearsals with Sir Georg Solti; U.S. Ambassador's reception, Amb. Seitz with Lin and Ted Arison, Sherwood and Judy Weiser with MTT


Posted in: From The Archives, Tours
---