News
March 16, 2016
Viola Quartet Entertains Hundreds During Lunch Hour at Jackson Memorial Hospital
Hundreds of staff members and patients were drawn to Jackson Memorial Hospital's atrium on Monday, March 15th by the sounds of four violas. 
New World Symphony Viola Fellows Helen Hess, Esther Nahm, Jesse Yukimura, and Jarrett Threadgill played a one-hour live performance for staff members on their lunch breaks, patients, and passersby. One of the pieces played was "Romanza" by Christopher Lowry, who viewed the live performance on New World Symphony's Facebook page. 
"Thank you guys for your tremendous work on my piece!" Lowry commented on the video.
Marsha Curry, who works for the hospital's finance department said, "I thought it was wonderful, awesome. I arrived here at 6:30 in the morning with a whole lot of patients and at lunch time I was looking forward to it! It was very soothing and relaxing. Bring more!"
This initiative is part of New World Symphony's ongoing partnership with Jackson Health System and its continued commitment to sharing the art of music with the community.
The Fellows have performed at Jackson Memorial Hospital throughout New World Symphony's 2015-16 season, including this performance at Holtz Children's Hospital in January. Their final performance of the season will be held in Alamo Park on April 25th at 12PM.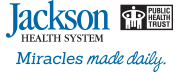 Posted in: Community Engagement, Events, Fellows
---