News
April 29, 2020
Where are they now: College Track Mentorship students reflect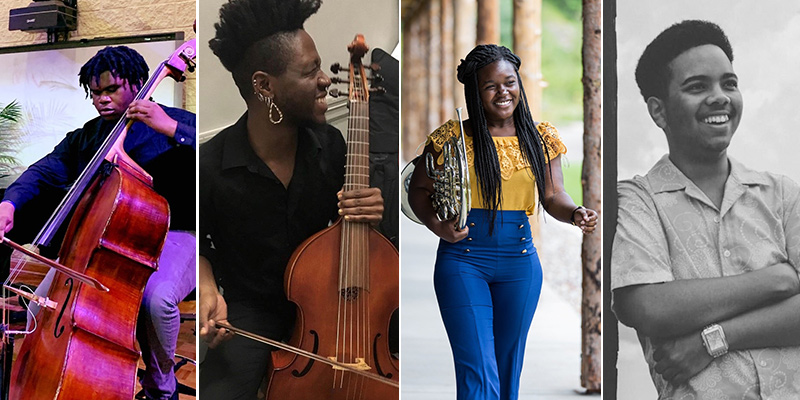 Each season through its College Track Mentorship Program, NWS offers private lessons to select talented students of diverse backgrounds who would otherwise not have the opportunity to work with a private music teacher. These students are strong middle and high school players whose dream it is to attend university and conservatory in pursuit of a career in classical music. Students chosen for this program are each matched with a Fellow who provides between 20 and 25 lessons per season and assists the students in choosing and acquiring new instruments and accessories as needed.
The College Track Mentorship Program is made possible with support from Dorothy Terrell, who made a significant leadership commitment to fund the program for three years, ensuring that gifted local students will enjoy access to NWS Fellow mentors, free lessons, and tuition and travel expenses to attend summer music festivals. The program also helps young musicians of color select and purchase an instrument to ensure they can participate in collegiate-level music programs.
The College Track Mentorship Program has four graduates now studying at top music programs around the country.  
"NWS is extremely proud of our Mentorship students and their accomplishments," said Cassidy Fitzpatrick, NWS's Vice President for Musician Advancement. "They have each taught Fellows valuable lessons about being teachers and advocates while traveling their own musical paths. We cannot wait to see how they contribute to the field of classical music. We are grateful to the students and their support networks for being our passionate supporters and a part of the NWS extended family."
Where are they now? Mentorship Students reflect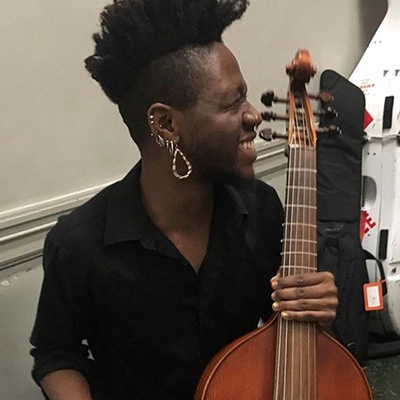 Kebra-Seyoun Charles
New England Conservatory, Class of 2020

This is the final year of my undergraduate degree at New England Conservatory (NEC), and it has been an incredibly formative time for me. I have focused my efforts on the many facets of my musicianship: from learning what it takes to achieve a homogeneous sound within an orchestral bass section to truly parsing out what makes me a unique and individual player. For me, NEC wasn't as big an adjustment as "college" was made out to be. I have been an incredibly driven and goal-oriented person since my childhood, so getting the opportunity to focus on my musicianship, to me, felt like a chance to really devote myself to a craft.
This year, I believe I have come full circle. I realized that I don't and can never create music in a vacuum, that there are other things besides nailing one of the many passages required of me in Mozart's 45th Symphony. I also have come to terms with the fact that winning doesn't equate to musical depth, skill or even preparation. Although this view certainly isn't one that I have fully subjected myself to, the truthfulness of this is prevalent in my career. I cannot name the number of times I'd spent months preparing for a 15-minute audition thinking, "my entire career on this instrument has led to this moment, and if I mess up, well, that's it." Of course, more often than not, I fell short of my goals, but each time I "failed," I still achieved something I would have considered impossible just a short time ago. I auditioned for the Philadelphia Orchestra sub-list this year, along with many other orchestral and musical milestones; I didn't quite meet my goals, but I still ended up being named a Tanglewood and Spoleto fellow, section leader of the Boston Philharmonic Youth Orchestra, member of the Boston Philharmonic and even playing with one of my mentors from NWS, Charles Clements, in A Far Cry. I auditioned for Tanglewood in my junior year and was put on the sub-list, but I was eventually accepted this year. Furthermore, I was rejected from Juilliard in my senior year of high school, but I ended up receiving a full scholarship to complete my master's degree.
Put bluntly, failure stinks, but in my own experience, it is a true precursor to success.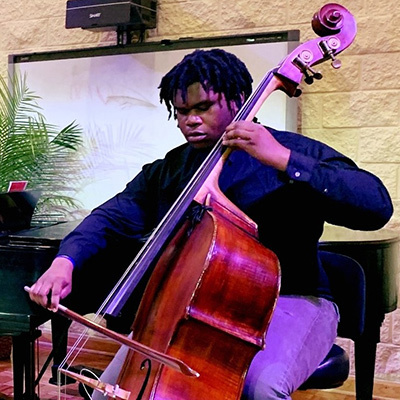 Elisha Martin
Florida International University, Class of 2021
I never cease to come across fellow musicians and music lovers in my life who all ask relatively the same question, "Where did you get your training?" I have gained an invaluable experience while being privileged to participate in the New World Symphony Mentorship Program. No matter where I go or whom perform for. Such as my studies with Eugene Levinson, former principal bassist of the New York Philharmonic, or Jeff Bradetich, renowned double bassist and authority on solo bass repertoire and orchestral excerpts, I always remember and seek insight from my nine years of study with the New World Symphony.
Maybe already known, New World Symphony does not ask any form of payment for this program, thus allowing young students, like I was, to be able to gain unbelievable teachings that are rare and wonderful. I have been able to take my NWS teachings to many different places. Recently, as within the past two years, I have been working on creating and arranging music repertoire for the Double Bass with all sorts of instrumentation. Showcasing its voice-like qualities and multicultural significance by using familiar pieces—and some not so familiar yet still moving and just as great. Being also a recipient of the Katcher Family Music Scholarship for the Aspen Music Festival through the New World Symphony, I have been able to put the years of my learning to practice and play and trade ideas with some amazing musicians, one most notably being Edgar Myer. I am deeply grateful for this program and recommend it consistently to students who are eager to learn and peruse music for the rest of their lives. And in my case, I would never change a thing. I thank God for all the New Symphony Administration, Staff, and Fellows.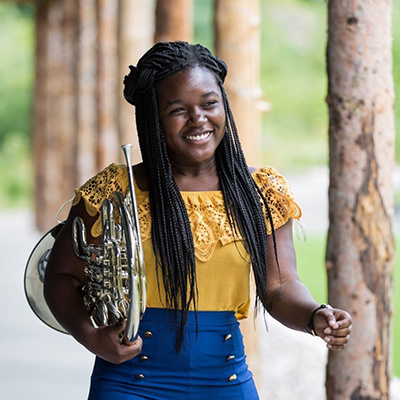 Brianna Garcon
Eastman School of Music, Class of 2022
Since I've attended Eastman, I've grown so much as a musician and as a leader. Eastman has provided me with weekly private lessons, chamber music, and large ensembles from world renowned faculty and staff. Growing up, I was never able to afford my own private teacher and I wasn't a part of quality ensembles with advanced musicians. This is what makes me so grateful for all the opportunities I receive everyday by being here. This past semester I was accepted to the Brevard Music Center and the National Music Festival. Where I would've been able to study with Elizabeth Freimuth, principal horn of the Cincinnati Symphony and Pops Orchestras, and Thomas Jöstlein, Associate Principal Horn of the St. Louis Symphony Orchestra. However, due to the COVID-19 pandemic, both of these festivals were canceled.
Attending Eastman and being a part of the mentorship program at NWS has opened my eyes to the disadvantages so many minorities face. We are not only hindered by financial constraints, but also cultural isolation. I'm one of only 20 black students in my entire school. Some of the top orchestras in America have as few as one black musician. This is what sparked my interest in minorities within music, and my desire to find ways to provide opportunities for other low-income minorities in music. I've tried to accomplish this by joining and creating groups on campus that promote diversity. My freshmen year I helped create the Black Students Union at Eastman (BSU). We created this group to build a community within the black students on campus through social events and concerts. In addition to this, we promote diversity on campus by creating events and concerts that highlight African American musicians and bring awareness to adversities minorities face in classical music and in real life. I've also joined Sigma Alpha Iota, (SAI), an International Music Fraternity formed to "uphold the highest standards of music" and "to further the development of music in America and throughout the world". In addition to this, my sorority creates lifelong bonds between women in music and strives to empower all women in music regardless of their race, ethnicity, and or sexuality. I have also become a Resident Advisor, with the help of an outstanding letter of recommendation from Cassidy Fitzpatrick. Being an RA means more to me than just free room and board, it's a leadership position that focuses on creating a respectful and inclusive community within the Student Living Center at Eastman. The money is just a great plus.
Through my many groups on campus, I was able to speak at the inaugural Gender Equity Conference at the Eastman on March 3, 2020. I was a part of and created a panel titled "No Gender Equity without Intersectionality: A panel on Race, Ethnicity, and Sexuality" with five other female students from BSU and SAI. We lead a paneled discussion on microaggressions, representation, and other adversities experienced by women from marginalized groups. The panel engaged the participants with personal statements about how our own identities have shaped our experience in music. Participants left this session with a stronger understanding of intersectionality within music. Multiple deans, faculty, staff and students attended and we had over 400 Facebook views. The overwhelming amount of support I received from students and faculty, and being able to spark a conversation on real issues that so many minorities face, will forever be one of my greatest achievements as a student leader so far.
 I hope to continue my studies at Eastman as not only a musician, but as leader and advocate for diversity in music. Next year I'm going to add an Artist Leadership Diploma along with my Music Performance degree. I hope that through both of these degrees, I will be able to win an orchestral job while also creating and or working in programs that provide opportunities for minorities. I'm so grateful for all the help NWS provided me my senior year and continues to provide me to this day.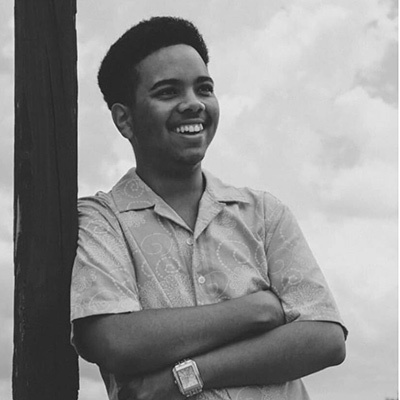 Isaac Sepulveda
University of Michigan, Class of 2023
During my time at the University of Michigan I have truly accomplished a lot, not only playing-wise, but I have grown a lot as a person. I'm a very abstract thinker, and so a lot of my creative ideas I see very clearly in my head when a lot of other people can't. I used to think sometimes that since other people couldn't see what I thought to be brilliant ideas, then maybe they weren't as great as I thought they were. But during my time at the University of Michigan School of Music, Theater, and Dance, I've learned that since art is one of the purest forms of creativity, it is perfectly fine to have ideas that are not traditional and are unheard of.
It's important to always follow your dreams and not let other people influence how you feel in a negative manner, especially when you know in your heart that what you're doing is correct. Over the course of my freshman year, I have been able to develop not only as an artist, but as a person as well considering that I am now more comfortable with sharing my own ideas and conveying them to others. Everyone wants to belong and fit in, and I've realized that a lot of what I feel and see is not identical to how others perceive things, and I'm more comfortable with that now considering that it makes my creativity and art that much better.
Since music is such a personal thing, what really matters most is that the message I'm trying to convey comes out and that I am musically fulfilled. And despite a lot of people not really seeing my concepts and ideas that I come up with, once I produce a product out of them, like a different way to play a phrase or a unique interpretation, it is usually met with praise. I've learned that there is beauty in being myself and being confident in who I am, and this has brought a new sense of peace in my life.
Musically speaking, over the course of the past year, I was accepted into the music festival Domaine Forget in Canada for the summer, got into the University of Michigan's Symphony Band which is an upper level ensemble on campus, performed a piece with a harp player for the first time, and learned that music and I are one and the same.
I have always placed such high standards on myself and wanted everything that I do as a musician to be perfect. But this school year I've learned that it's okay to make mistakes, and that there is beauty in failure and struggle since it inspires growth. I am proud of the personal growth that I've made this year, but I am never going to settle, and I look forward to becoming an even better artist and person in the future.
Posted in: Community Engagement, Diversity, Fellows
---