Support NWS
NWS Resilience Fund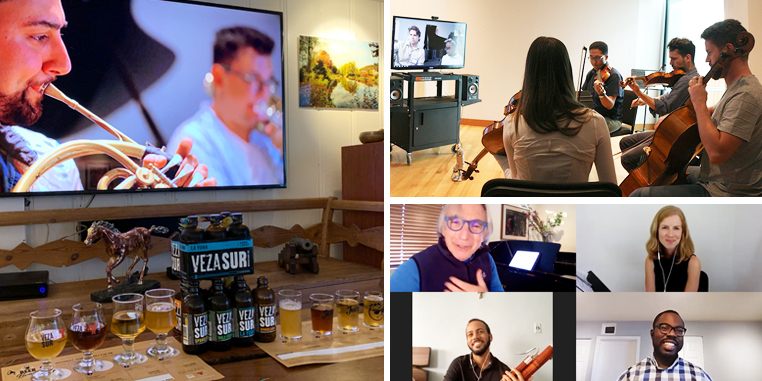 The NWS Resilience Fund was created in Summer 2020 in response to the devastating impact of both COVID-19 and the consequences of systemic racism on the performing arts. Seeded with $500,000 from NWS Trustee Dr. Judith Rodin, the first $100,000 was provided immediately to support the earliest phases of recovery. The Fund supports programmatic and organizational agility, innovation and transformation, and initiatives centered on Equity, Diversity, Inclusion and Belonging.

Dr. Rodin, who has written extensively on the impact of resilience on long-term success explains, "Resilience is the capacity to bounce back from crises more quickly and effectively, to learn from them, and to transform as a result."
Under Artistic Director Michael Tilson Thomas's leadership, the Resilience Fund will allow New World Symphony to expand its work with young musicians from all backgrounds, and to make the digital space more personal and inclusive.
Your gifts to the Resilience Fund will allow NWS to:
Adapt effectively to current and future challenges
Innovate in performance, artistry and education in a way that utilizes current and emerging digital technology to build a global platform and audience
Invest in and utilize the unique talents of NWS Fellows during an unprecedented time
*Under Gift Options, please specify "This gift is being made for NWS Resilience Fund".
Resilience Fund Donors*:
$500,000
Judith Rodin and Paul Verkuil
$100,000
The Micky and Madeleine Arison Family Foundation
Sarah Arison and Thomas Wilhelm
Chanin and Adam Carlin
John S. and James L. Knight Foundation
Karen Bechtel and William Osborne
Susan D. Kronick and Edward Manno Shumsky
The Wege Foundation
Lynn & Louis Wolfson II Family Foundation, Inc.
$50,000
Anonymous
AMD Family Fund
The Samuel Freeman Charitable Trust
Ann M. Drake
Rose Ellen Greene
John and Jama Haley
$25,000
Anonymous
Annenberg Foundation
Mr. and Mrs. Francisco L. Borges
The Clinton Family Fund | Martha and Bruce Clinton
Mr. and Mrs. John Dasburg
Frank Family Charitable Foundation, Mary and Howard S. Frank
Dr. and Mrs. David F. Frankel
The Samuel Freeman Charitable Trust
Goldman Sachs Group
Mr. and Mrs. Harry M. Hersh
Kleh Family Foundation, Mr. and Mrs. William Kleh
Amy and Richard Kohan
Miami Cancer Institute - Baptist Health South Florida
Helena Rubinstein Philanthropic Fund at The Miami Foundation, Diane and Robert Moss
Northern Trust l Sara and John Fumagalli
Kristin Podack
The Barry S. Sternlicht Foundation
Sakana Foundation
Truist Bank
$10,000
Sari and Arthur Agatston
Trudy and Paul Cejas
Mr. Jeffrey W. Davis and Mr. Michael T. Miller
Greenberg Traurig
Ana and Neisen Kasdin
Dr. Frayda Lindemann
Mrs. Beth P. Lotspeich
Mr. and Mrs. William L. Morrison
Mr. and Mrs. Raj K. Nooyi
Mr. David R. Parker and Mrs. Marian E. Davis
Carolina Piña
Mr. G. Daniel Prigmore and Ms. Marcia Hayes
Jackie Soffer and Craig Robins
Dr. and Dr. John Rowe
$5,000
Alan and Jayusia Bernstein
Mr. and Mrs. Ernest Bogen
Dr. Matthew Budd and Ms. Rosalind E. Gorin
Tracey Robertson Carter and Christopher Carter
Mr. Richard Cole Esq.
Danet Linares and Matt Haggman
Mr. and Mrs. Lewis Heafitz
Tom Healy and Fred P. Hochberg
Dr. Bruce Horten and Aaron Lieber
Judith and Richard Jacobs
Kristi and Dean Jernigan
Jane and Gerald Katcher
Richard Koenigsberg
Alan and Diane Lieberman
Olga and David Melin
Nelson Family Foundation
Mr. and Mrs. Edward J. Nicoll
Mr. Daniel Nir and Mrs. Jill Braufman
Patricia Papper
PKS & OIS
Dorothy and Aaron Podhurst and Podhurst Orseck P.A.
Mr. and Mrs. Charles Sands
Lois Siegel
Jean and Eugene Stark
Nadine Asin and Thomas van Straaten
Bill Strong
$2,500
Cassie Arison and Niv Alexander
Helene Berger
Mr. and Mrs. James Bodnar
Pamela Garrison
Ira and Carole Hall
Mr. and Mrs. Enrique Lerner
Jorge and Amanda Mejia
Lesley Goldwasser and Jonathan Plutzik
Jeffrey and Lillian Rosenberg
Mr. and Mrs. Leopold Swergold
Ms. Roselyne Swig
Richard Tager
Robert Rosenberg and Mary Wolfson
$1000
Anonymous (2)
Toby Lerner Ansin
Louise Austin
Mr. Richard D. Banziger
Mr. and Mrs. Pedro Bermann
Al and Lynn Bunis
Tracey Corwin
Empire Entertainment
Arlyn and Edward° Gardner
Pamela Garrison
Lenore Gaynor
Mrs. Molle Grad
Maria Bechily Hodes and Scott Hodes
Dale and Stephen Kulvin
Joy and Fred Malakoff
Ms. Christine Amer Mayer
Bradley Meyer and Sylvia Pope
Mrs. Susan S. Miller
Dr. and Mrs. Andrew Murr
Mr. and Mrs. Alexander Niejelow
Mr. John Palfrey
Roger and Michele Picard
Bill Ross
Ronni and Andrew Smulian
Mr. and Mrs. Henry Speight
Mr. Clifford Stein
Lewis and Margery Steinberg
Dr. and Mrs. Michael B. Troner
John Gibson Verkuil
Viking Fuel Oil Company, Inc.
Dr. and Mrs. Richard J. Wurtman
Fanfare
Anonymous
Mr. Hal Birchfield
Brenda Boleyn and Susan Kadar
Linda Brickman
Mr. and Mrs. Chuck Edelstein
Ms. Gabriela Fanning
Dr. and Mrs. Gary M. Flax
Mr. Daniel Gelfman
Bruce and Margaret Gelin
Rabbi and Mrs. Myron Geller
Ms. Gennifer Golden House
Mrs. Molle Grad
In honor of Ruth Greenfield
Mr. Ohad Jehassi
Clive and Barbara Kabatznik
Clarita Kassin
Mr. Leonardo Lanaro and Mr. Thierry Adam
Mrs. Diane Magida
Richard Mahfood and Nellie James-Douglas
Ms. Janet R. McAliley
Alice Miller and Fran Levey
In memory of Yetta Mintz
In Memory of Cecelia Mooney
Dr. and Mrs. Ramon J. Moran Jr.
Ms. Cherrie Nanninga
Ms. Marie F Pelissier
Faye and Jeffrey Roth
Mr. John Sanders
Rosita Sarnoff and Elisabeth Sapery
Fran Savlov
Sylvan & Sandy Seidenman
Mr. H. James Sigsbee
Sandra and Charles Simon
Dorothy Stein
Mr. Robert Steinberg
Henry and Suzanne Stolar
Ms. Grace Tagliabue
Florence Valkenberg
Dr. and Mrs. Frederick Van Poznak
Ronald Webb
Bruce Wolf and Louise Ross
*as of March 1, 2022