Support NWS
Corporate Partnership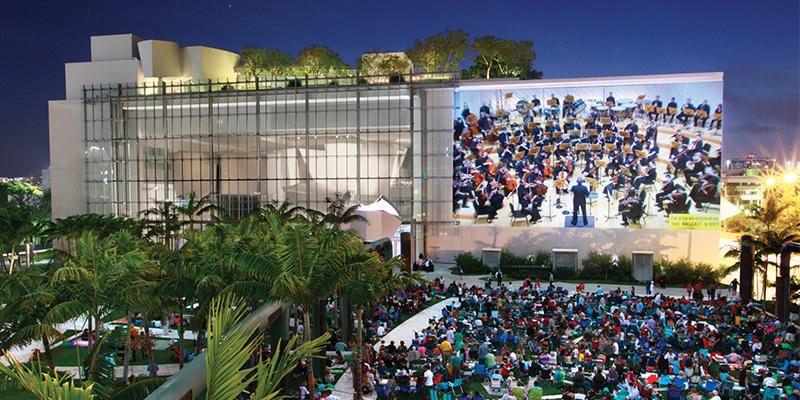 A strategically aligned sponsor partnership with New World Symphony will provide your company with a defined Return on Investment that meets your business objectives. Our recognition and hospitality program offers unique client entertainment opportunities and brand visibility with our supporters.
We will work with you to customize your support in several areas, including technological innovation, community outreach, or educational and training programs. Each category offers unique opportunities to tailor your message. Contact Kewan Smith, Senior Director of Corporate Partnerships, at (305) 428-6734 or kewan.smith@nws.edu for more information.
Sponsorship Examples:
                    $10,000                      Concert Sponsorship
                    $25,000                       Sponsorship of a Community Engagement program
                    $50,000                      Title sponsorship of a concert series
Marketing and Recognition
Corporate sponsors receive targeted exposure to our influential and geographically diverse network of patrons, corporate partners, concertgoers, and the community-at-large. For example:
Name/logo recognition as presenting concert or series sponsor during the event in the concert hall and atrium lobby, in all promotional collateral, and e-newsletters.

Name/logo recognition in the annual program book and/or concert program.

Featured donor video shown on NWS plasma screens and/or profile on NWS website.
Name/Logo recognition in multi-tiered communication platform including:
  o   NWS.edu
  o   Internet2 transmissions (domestic and international)
  o   In-theatre projections at multiple concerts
  o   Donor pages in concert programs


  o   Season brochures
Hospitality
Entertain your guests in our cultural centerpiece—the New World Center. It is a home to musicians who, through MTT's vision, are having a redefining effect on the future of classical music. For example:
Host a post-concert artist reception, either private or including our patrons

Have an ensemble comprised of NWS Fellows perform at your event

Attend a private full orchestra dress rehearsal

Premium seating tickets to sponsored concert/event

Meet the guest artists/conductor

 Take a backstage/VIP building tour

Invitations to special behind-the-scenes events with NWS artists and management including working rehearsals, artist master classes, artist receptions and more

Discount on single ticket purchases to your employees

Discount on one (1) rental at the New World Center